No response from Facebook, Google, YouTube
Jabbar meets Facebook officials today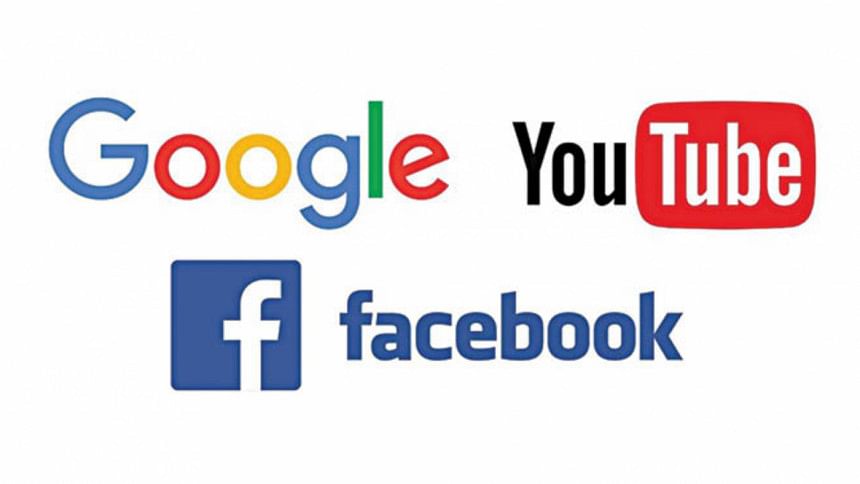 The government has failed to bring Facebook, Google, YouTube and other digital platforms under its tax network three months after the new VAT law came into effect.
The new VAT law, which took effect on July 1, made it mandatory for the tech giants to either set up offices in Bangladesh or appoint agents such that the government can collect value-added tax (VAT) on the advertisements made on their platforms by local firms.
The National Board of Revenue (NBR) took the issue very seriously and sought help from the Bangladesh Telecommunication Regulatory Commission (BTRC) to ensure that the three social media giants set up shop in Bangladesh.
The commission first asked the three tech giants in February to set up offices in Bangladesh, submit a report on the revenue generated from the country and ad-links accounts and seek information about payment method.
But no response was found.
"We have written to them [Facebook, Google and YouTube] but they are very reluctant," said Md Jahurul Haque, chairman of the telecom watchdog.
Digital advertisement is progressively accounting for a lion's share of companies' advertisement budget. But the government does not get significant amount of VAT from the ads running on Facebook, YouTube, Google and other digital platforms.
Every year Facebook, YouTube and Google earn more than a thousand crores of taka from Bangladesh and the majority of the sum is channelled beyond the banking channel.
For example, six banks were used for sending money to Google and Facebook since 2014 and the value is Tk 205.09 crore and $7.03 million respectively, according to a central bank report placed with the High Court recently. The Bangladesh Bank report came following a writ petition filed by a lawyer.
As per rules, the NBR is supposed to get 15 percent in VAT and another 4 percent in advance income tax.
The telecom regulator also asked the cache server distributors and sought their support to reach Facebook, Google and YouTube.  A cache server is a dedicated network server or service acting as a server that saves web pages or other internet content locally. By placing previously requested information in temporary storage or cache, a cache server both speeds up access to data and reduces demand on an enterprise's bandwidth.
Facebook is taking cache server service from the local office of Ericsson, while Google and YouTube are obtaining the service from local company REVE Systems.
REVE Systems has not replied to the BTRC's letter.
Ericsson Bangladesh said it is not the local representative or distributor of Facebook "and for the sake of clarity, it is not a party to the matter at hand".
But the Swedish company has informed its contract partner Edge Network Service about the matter, according to a letter signed by Abdus Salam, country manager of Ericsson.
Under the circumstances, Telecom Minister Mustafa Jabbar will sit with Facebook representatives, led by its public policy manager Varun Reddy, today in his office in Dhaka. The issues of setting up office and VAT registration will be high on the agenda.
A senior official of the NBR said its infrastructure is ready to register representatives of any companies.
Since July, 25,000 companies and agents have obtained VAT registration, said Syed Mushfequr Rahman, project director of the NBR's VAT online project.
The NBR is preparing a policy note on how to realise VAT from foreign companies that operate in Bangladesh on their ad spending in Bangladeshi television channels or other media. As of August, there are about 9.81 crore active internet connections and 3.50 crore active Facebook accounts in Bangladesh, according to the BTRC.
Currently, more than 50,000 Facebook pages are running e-commerce business and they all have to spend a huge amount for digital ads.