Alibaba buys 20pc stake in bKash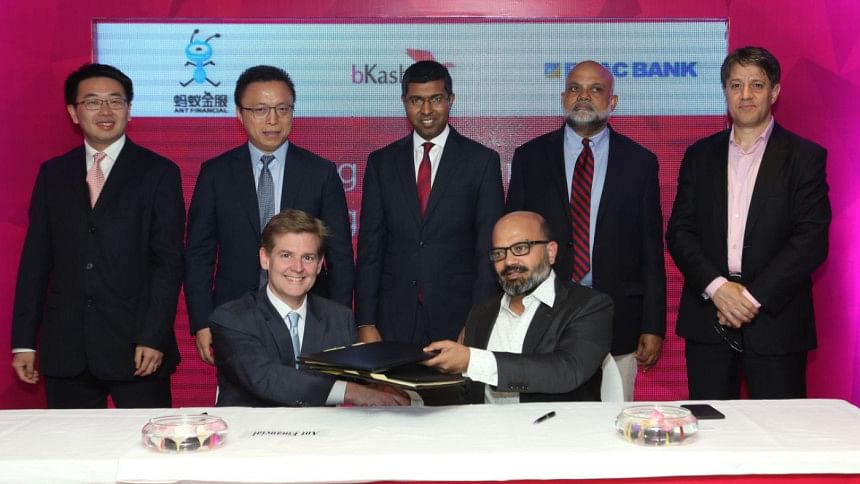 Alipay, a concern of China's e-commerce and tech giant Alibaba Group, has bought 20 percent stakes in bKash, Bangladesh's largest mobile financial service provider.
Kamal Quadir, chief executive officer of bKash, and Doglas Feagin, senior vice-president of Ant Financial, the operator of Alipay, signed the deal at the Radisson blu hotel in Dhaka yesterday.
However, neither bKash nor Alipay gave any financial figure on the deal.
"This new investment opens many new opportunities for bKash and demonstrates the confidence a world class player is placing on Bangladesh," said Quadir after the deal was signed.
He said along with the investment, Alipay will bring the best payment technologies built by thousands of engineers and the knowledge of applying those technologies to the economy like China.
Alipay also expressed high hope about its investment in bKash.
"bKash can tap into the experience Alipay has built over the last decade serving 800 million users together with our strategic partners worldwide," said Eric Jing, executive chairman and CEO of Ant Financial.
Jing said there is a huge potential of mobile banking in Bangladesh as small and medium enterprises are growing rapidly.
As part of Ant Financial's global strategy Alipay is keen to share its technological know-how with partners like bKash, which has successfully brought financial services to the largely unbanked population, he said.
Brac Bank holds 51 percent stakes in bKash, while the remaining 49 percent is held by Money in Motion LLC, a US-based company, the International Finance Corporation and the Bill and Melinda Gates Foundation.
Abdul Kader Joaddar, chief financial officer of Brac Bank, said Alipay will receive 16 percent share in the first phase and the rest 4 percent later. He said the share sale would be finalised after the approval from the authorities concerned and it would take 15 to 20 months to complete the deal.
Selim RF Hussain, CEO of Brac Bank, said the partnership with Alipay will help bKash boost its activities across the country. 
Alipay is a third-party mobile and online payment platform established in Hangzhou, China in 2004 by Alibaba Group Founder Jack Ma.
Alipay overtook PayPal as the world's largest mobile payment platform in 2013.