BTRC starts work on 5G guideline
Committee members highlight spectrum price and security issue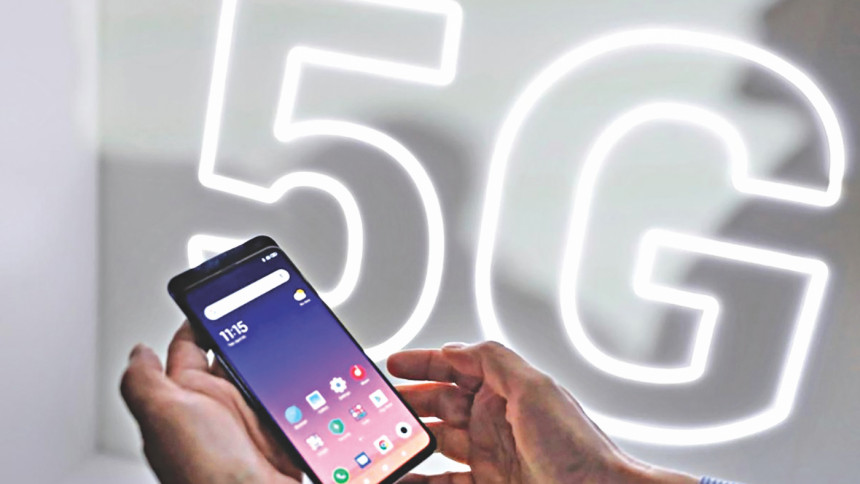 Bangladesh is homing in on a 2022 roll-out of the fifth generation (5G) cellular network technology, with the telecom regulator now working on a guideline for the next generation of mobile internet connectivity that comes with super-fast speeds. 
With 5G, mobile users can expect average download speeds of at least 1 Gigabits per second, in contrast to 7.5 Megabits per second under 4G.
A national committee—led by the Bangladesh Telecommunication Regulatory Commission's spectrum management commissioner Md Aminul Hassan—yesterday convened to discuss issues that the guideline needs to address. 
At the meeting eight subcommittees were also formed to choose the suitable spectrum for the service, fix the price of the spectrum along with ensuring the security issues of the technology.
The committee, which has representation of all stakeholders including intelligence agencies, academics and policymakers, must submit their draft guideline to the commission by January 31, 2020.
5G networks are already starting to appear and are expected to launch across the world by 2020. The Bangladesh government has initially targeted to launch 5G service by the end of 2022 or early 2023.
But leading mobile phone operators said the market ecosystem is not ready yet to reap the full benefits of 4G, let alone the next generation 5G.
In September 2013 four mobile phone operators were awarded 3G licences and in February last year they were given 4G licences.
Mobile operators said so far they have not found any business from 3G and 4G and have wasted huge amounts of money to rollout the technologies.
Their total investment on 3G was upwards of Tk 36,000 crore but they have registered only Tk 7,000 core in revenue against it.
For rolling out 4G services, operators have invested about Tk 11,000 crore and have also paid Tk 5,000 crore to the regulator. But the impact on revenue has been negligible. From the operators' side there is no business case for 5G, Mahtab Uddin Ahmed, managing director of Robi, said at a seminar during the BASIC SoftExpo earlier in February.
"We are in a very critical position in 4G as only 20 percent are using this fastest data network," he said, adding that 5G will not work under the current fibre network.
As of June, there are 1.91 crore 4G connections and 6.17 crore 3G users, according to the BTRC. The government have put 5G in their election manifesto and they want to launch it within next two-three years, said Mustafa Jabbar, post and telecom minister.
"Already different countries have started to move to 5G and within the next few years this will be the prime service," Jabbar told The Daily Star.
However, in a report styled `The Mobile Economy Asia Pacific 2019' the GSMA said 5G can be launched in Bangladesh by 2025.
Pakistan, Myanmar and Thailand will also move for 5G along with Bangladesh in 2025, but neighbouring India and Sri Lanka will adopt 5G by 2020.
Earlier in July last year, Bangladesh became the first country in South Asia to conduct a 5G test run. Download speeds of up to 4.17 Gbps were experienced then.
Already, the BTRC has taken steps to free up spectrum on the 3.5 gigahertz band, which are currently being used by some internet service providers, said a member of the guideline forming committee.
It also has plans to free up spectrum of 2.6 gigahertz that the WiMax operators were using. The Bangladesh Mobile Phone Consumer Association in a statement yesterday said the government should not move for 5G as the operators have failed to deliver even 3G service across the country.
"This will be cheating with users if the government pushes the mobile operators towards 5G. We think the ecosystem is not ready yet and the operators too do not have any preparation," it added.
Ericsson, which has so far rolled out 18 5G networks across the globe, said the technology will change the whole digital ecosystem. 5G will help power a huge rise in Internet of Things technology, providing the infrastructure needed to carry huge amounts of data.