The writers of 'Golden: Bangladesh at 50' tell their tales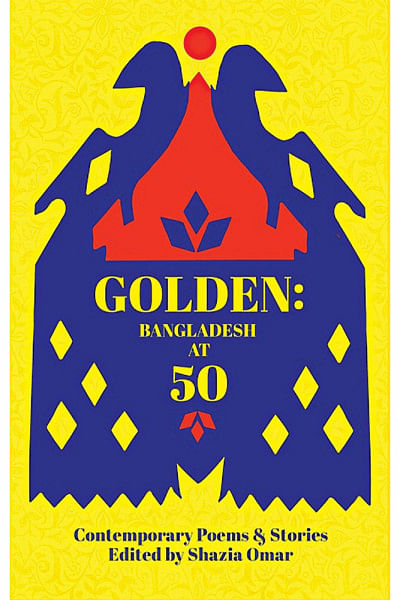 In Golden: Bangladesh at 50 (University Press Ltd, 2021) edited by Shazia Omar, 23 of Bangladesh's eminent writers and poets—including Kaiser Haq, Arif Anwar, Shabnam Nadiya, Farah Ghuznavi, and notable others—find home for their varied expressions of Bangladeshi life, culture, history, love, hate, as well as the lulls that defined our quarantined existence this past year. Earlier this week, Daily Star Books spoke with them about their stories and their inspirations.
"These stories touch upon the plurality of our existence, and the diversity of our ideas", says Mahrukh Mohiuddin, managing director of UPL. "There are Bangladeshi writers living all around the world. I wanted to create a space for them to come together, to share their voices and explore what it is to be Bangladeshi right now. I hope this little taste of who we are will appeal to readers from other countries also and serve as an inspiration to other writers to pick up a pen and share their stories".
Kaiser Haq, the famous poet, translator, and academic, needs little introduction for our readers—a Senior Fulbright Scholar, Royal Literary Fund Fellow, graduate of Dhaka University and the University of Warwick, and winner of the Bangla Academy Prize, the Sherwin W Howard Award, and SALA's Distinguished Achievement Award, Professor Haq contributes "Ode on a Sari" to this collection, a reflection on femininity and the heritage of Bangladesh.
Arif Anwar has contributed "Parched Rice", a story born out of chira and a dark episode in the author's childhood. Anwar has been published in The Daily Beast, VICE Magazine, and Electric Literature, among others, and his debut novel, The Storm (Atria Books, 2018), was released to international acclaim and has already seen translations in multiple languages. His contribution to Golden reminds, however, that no matter where you go, the past has ever the ability to haunt. "Events from your childhood stay with you for years, absorbed but not understood", Anwar said to Daily Star Books, writing from Toronto. "Writing them is one way of understanding them".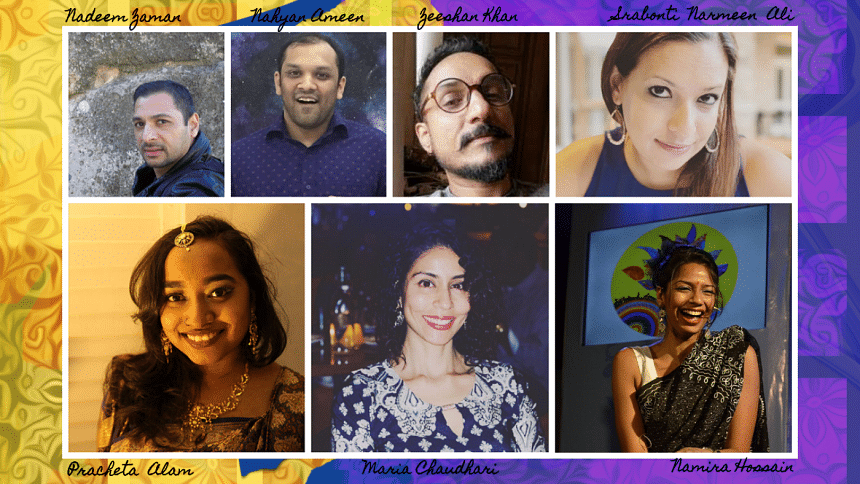 Shabnam Nadiya, who was recently featured by Daily Star Books for her translation of Leeza Gazi's novel Hellfire (Westland Books, 2020) and Mashiul Alam's 2020 Himal Southasian Short Story Prize-winning short story "Milk", has contributed "My First Freedom Fighter" to this collection. As a writer and translator, Nadiya is the recipient of a Steinbeck Fellowship and the PEN/Heim Translation Grant. Residing in California, she loves and misses a great deal of her home, she told The Daily Star, from the after-the-rain smell of the monsoon to the mango blossoms in the summer to the shingaras to the music to the colours we wear for Pohela Baishakh and the first day of Bashanta. Her short story for Golden revisits the first muktijoddha she ever met.
Revisiting such history—whether personal or collective—appears to be a common theme across the short stories in the collection. Italy-based writer, poet, columnist, and poet Neeman Sobhan has woven a tale surrounding the traumas of muktijoddhas and the Italian partisans of the Second World War in "Bengali Lessons". "The intimate connection of memory and story-telling fascinates me, especially the umbilical link between remembering and forgetting, or what we choose to forget, or what triggers recall, and ultimately, what a resurrected memory reveals or hides", Sobhan shared. "Another thing that fascinates me is the Banyan tree. In my story, it looms large as two parallel strands of narrative bring a present-day Italy and a Bangladeshi past to bear on each other like the aerial roots and the grounded branches of a bot gaachh".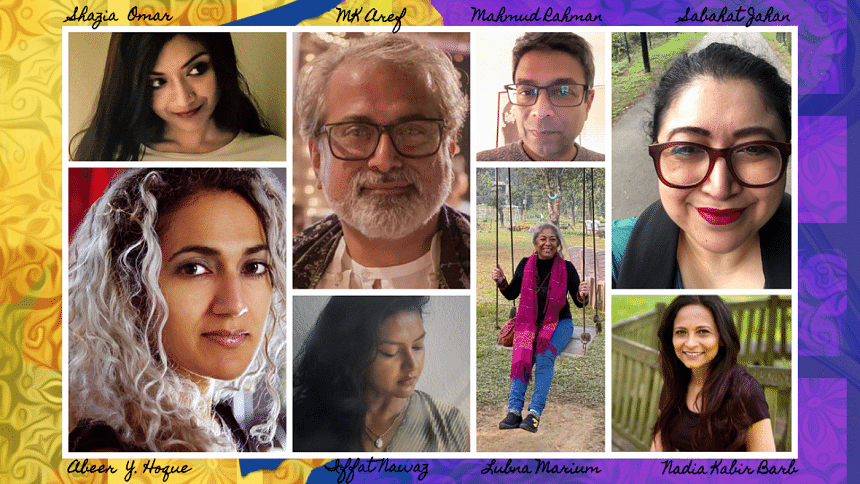 Nadeem Zaman, author of the 2019 DSC Prize in South Asian Literature-long listed In The Time of Others (Picador India, 2018), has contributed "Neighbours", a story about a Bangladeshi woman in Chicago who learns of the March 25 crackdown while processing her personal troubles in a still-foreign land.
Transitioning to a more recent past, writer, academic, and journalist Sabrina Fatma Ahmad, whose Sehri Tales writing challenge has become a mainstay of Ramadan nights for creative writers in Bangladesh, has written "Fultokka", a story that takes us to the schools of 1990s Dhaka, where a social outcast is thrust upon lessons of "empathy, self-determination, and our political history".
Similarly Munize Manzur, who has authored three books and served as Literary Editor for The Daily Star, has contributed "Where Here Is" to the collection, a short story that captures the ephemerality of modern city life, the many signposts that are stripped and replaced over time. "The streets of my childhood are unrecognisable to me", the author told Daily Star Books. "So many one-unit homes have been torn down and "developed" into multi-story buildings like shopping malls. I wanted to reflect on how some things have changed forever in Dhaka, yet the basic need for love and companionship remains ever-important, if not more so".
It is here that the stories begin to bleed into personal territory. "Mine was based on real events", MK Aaref says of his short story "Cold Brass Coins". Aaref has almost three decades of experience as an architect—known for his instrumental role in the launching of the Edward M Kennedy Center for the Public Service and the Arts—but for Golden, he tells a more direct story. "My parents tried their best to protect us from the horrors that were being perpetrated around us in 1971, but the war did knock on our doors in various ways and means".
"A few years ago, prior to her passing, it was my mother who reminded me of an event that took place sometime in the late summer of '71. I experienced a flood of memories and even recalled the face of an army officer in vivid detail. Nowadays, our media and news channels being full of genocides and atrocities from around the world, I find it chilling how close my family and I almost came to a similar conclusion.  I thought I should recede back to my five-year-old self and recall the events from that perspective", he shared.
Drawing also from personal experiences of growing up in a convent, Farah Ghuznavi's "What My Parents Never Told Me" deals with "conventional thinking in convent schools" and how it "can sometimes lead to surprisingly unconventional results".
A writer, translator, newspaper columnist, and development worker, Ghuznavi has authored Fragments of Riversong (Daily Star Books, 2013) and contributed stories to 11 countries, winning awards like the Commonwealth 2010 Short Story Competition, as well as BBC Radio 3's programme The Essay. "Growing up as a convent schoolgirl, I experienced first-hand the pressure to conform that is so widespread in our culture. While this story is fictional, it draws on the kinds of events I witnessed, and sometimes experienced", Ghuznavi said. "But despite the less appealing aspects of our school life, I am actually very proud of and grateful for my Bangla-medium education. It was a rich and storied experience, and I wouldn't trade it for the world", she added.
Abeer Y Hoque, similarly, has written of how she became an occasional Bangla translator while helping her local community through the COVID-19 pandemic. A Nigerian-born Bangladeshi-American writer and photographer who has won fellowships from the NEA, NYFA, and the Fulbright Foundation, Hoque's short story "Heartbeat" takes flight with a simple hook: "In the fifth week of quarantine, Brishti begins to hear her heartbeat."
"Queens was the epicentre of the pandemic when it hit the US in the spring of 2020, and I volunteered to phone elderly neighbours and others in need of food, housing, and medication", she explained. "My story is meant to be a tribute and witness to the immigrants who live in my neighbourhood and to their losses, hopes, and resilience".
It is Shazia Omar, the collection's editor, whose story deals most directly with the COVID-19 and some of its unheard consequences. Omar is a writer and yogini with three books and a play to her name, as well as a periodical column, Kundalini Rising, for The Daily Star.
"The pandemic seemed to me like a warning to us about the extravagance of our lifestyles, our divorce from nature, from the plants and rivers that sustain us", Omar told DS Books. "I wanted to explore this space, to see what lessons we need to learn, to see how we might forge a deeper understanding of the world around us, to connect with Mother Nature, in order to live in a more holistic way". In "Ivory Tower", we see and feel a lot of this struggle through its protagonist, Sumaiya, who finds herself pregnant in a most cruel time.
The remaining stories in the collection promise to be no less intriguing. Salahdin Imam, who has previously published a book of short stories, Diana Juxtaposed and Other Unrealities (Har-Anand Publications, 2017), and was featured in the anthology The Ordinary Chaos of Being Human (Penguin Random House SEA, 2019), has contributed to Golden with a piece of "gentle satire" in "Tangled Web". Imam is currently writing a memoir on the dramatic and colourful 1960s of his youth, and the sharp turn that the liberation struggles of Bangladesh brought to his world.
Dancer, researcher, and cultural activist Lubna Mariam has written about "water, food, and wise sayings" in her short story "Whimsies", writer and columnist Nadia Kabir Barb has written about how one statement and one event changes the life of a young girl in "When Crows Come Calling", California-based author and translator Mahmud Rahman has written "The Birthday Cake", and Srabonti Narmeen Ali has written about "the struggle of […] trying to be true to oneself" in "Shades". The other pieces include "A Love Story and Other Poems" by Sabahat Jahan, "Banglar Desh" by Zeeshan Khan, "Desh Inside Me and Other Poems" by Pracheta Alam, the Gothic tale "You, Me and Everyone We Know" by Nahyan Ameen, "The Turquoise Necklace" by Maria Chaudhuri, "You, The Vastness" by Iffat Nawaz, and "I Don't Deserve You", a poem about self-love by Namira Hossain.
To pre-order a copy of the book, visit http://www.uplbooks.com/book/golden-bangladesh-50 or send an email to [email protected]
Mehrul Bari S Chowdhury is a writer, poet, and artist. His work has appeared in Kitaab, Sortes Magazine, and Marías at Sampaguitas, among others.