The club for every girl
Nostalgia, comfort, and the power of female friendships—when the show is as good as our favourite childhood book series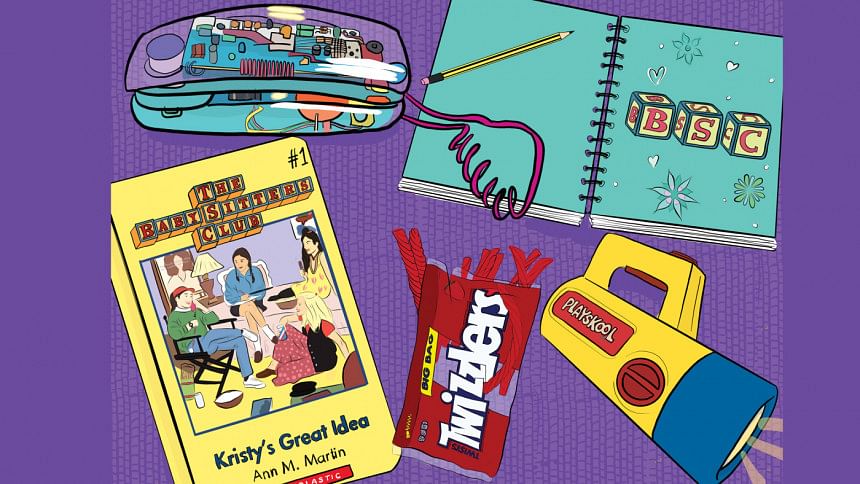 I came across Kristy's Great Idea, the first book of Ann M Martin's The Baby-Sitters Club legacy, at 16, in my school's library in Qatar. Soon, I was borrowing more of them from the library and buying them from different bookstores. They were my own little secret—while fantasy fiction like The Vampire Diaries and The Mortal Instruments trended among readers my age, I was thrilled to find these 1980s' stories about middle-school girls living their independent lives, being empowered by friendship.
The Baby-Sitters Club books were published between 1986 and 2000, selling over 176 million copies worldwide. The series came as a welcome breather amidst horror-adventure fiction like Goosebumps, Nancy Drew, or Hardy Boys, set in the fictional town of Stoneybrook, Connecticut, with seven friends Kristy, Claudia, Mary Anne, Stacey, Dawn, Mallory, and Jessi. Books like Sweet Valley Twins were also offering similar glimpses into day-to-day middle-class American life, but BSC was special—Martin wanted her readers to see girls as assertive entrepreneurs and problem solvers at a time when there weren't many female protagonists as such, especially as young girls.
In the first book, Kristy gets the idea for a baby-sitting club from watching her mother struggling to find a sitter for her younger brother. Kristy and her friends love taking care of kids and a club would let them have fun and earn some money. And so, by identifying a demand in the market, Kristy sows the seeds of a successful enterprise. Claudia, the artist in the group, creates a logo. The girls meet in Claudia's room thrice a week, and use her private landline for bookings. They save money by making fliers and rely on peer referral from their best clients. Each of the girls also write in a journal after a babysitting job, taking notes on what worked, what didn't, and what could be improved. At the heart of TheBaby-Sitters Club appeal lies this narrative about girls, aged between 11 and 13, managing their own finances, with their childhood innocence and enthusiasm still in place. It was this do-it-yourself agency that resonated with me and shaped my beliefs about hard work and responsibilities.
 Even more valuable were the friendships that the girls forged. Martin created characters with varying backgrounds and family histories, who learned how to work through their differences and prioritise sisterhood. They encountered broken families, childhood diabetes, and the loss of a beloved grandmother. But their friendships and babysitting jobs helped each of them embrace these issues and were intertwined with who they were and who they became. 
 After my childhood best friend moved to Canada, over the years, we fell out of loop with each other's lives. The changes were tough to face. With time, I understood that we could still be friends even if we no longer had shared interests. I learned this from Kristy, when Claudia starts developing an interest in fashion and boys, and from Mary Anne, who realises she can be best friends with both Kristy and Dawn. I will not overstate the significance of the books; they were hardly an accurate depiction of reality, and their predictable plots could only stretch my imagination so far, but there was a sense of comfort and familiarity that I felt in that universe filled with the nostalgia of pizza parties and sleepovers with friends. At 16, which I consider a formative year in my life, I could relate to the lessons and realisations that the girls had, and in understanding friendship, they were my constant, albeit younger, companions.
Netflix's adaptation of The Baby-Sitters Club, released on July 3,pulls off the tricky feat of setting this story in 2020, while staying true to all that avid fans loved about the book series. Much like the books, each instalment of the show revolves around and is narrated by a particular character. This lets each of the girls flesh out their individual stories and relationships. Small details from the analogue days enrich this adaptation—the baby-sitters still use a landline to schedule appointments and advertise through fliers instead of social media promotion, but all with believable explanations.
Showrunner Rachel Shukert understands that things like an overprotective father, a parent remarrying, divorce, and childhood illness are timeless motifs that are relevant across generations. Yet, the show updates the cultural landscape in which the narrative takes place. The community is more racially diverse: Japanese-American Claudia, once the sole non-white founding member of the club, is joined by Mary Anne, reimagined as biracial and later, Dawn, who is now Latina. As in the books, Stacey's move to Connecticut comes after she is diagnosed with juvenile diabetes, but it is spurred on by cyber bullying, as a video of her going into insulin shock goes viral around her school in Manhattan.
In a standout moment in the fourth episode, 'Mary Anne Saves the Day', based on the book of the same name, timid Mary Anne calls the hospital when a kid she is babysitting falls ill. The child in question is transgender, and Mary Anne stands up to the hospital staff for mis-gendering the young girl: "As you would see if you looked at her and not her chart, Bailey is not a boy. And by treating her like one […], you're making her feel insignificant and humiliated. So, from here on out, please recognise her for who she is."
While Shukert tackles these serious issues—even showing, significantly, how delightful it can be when a young girl gets her first period and learns how to use a sanitary napkin with the help of her best friends—she also remembers that the smaller things, like redecorating bedrooms, fights with friends, and crushes on older boys, are just as valid.
Sadly, I had to leave my The Baby-Sitters Club collection behind when I moved back to Bangladesh from Qatar. I eventually caught up to the trendy books that people of my age read, but The Baby-Sitters Club occupies a significant space on my heart's shelf. At 27, as I reflect on how I found comfort and strength in those books, I am excited for a new generation to discover these young, charismatic girls through the show.
Shababa Iqbal is a trainee sub-editor of Arts & Entertainment and Star Youth, The Daily Star.