Masud Rana, the faulty hero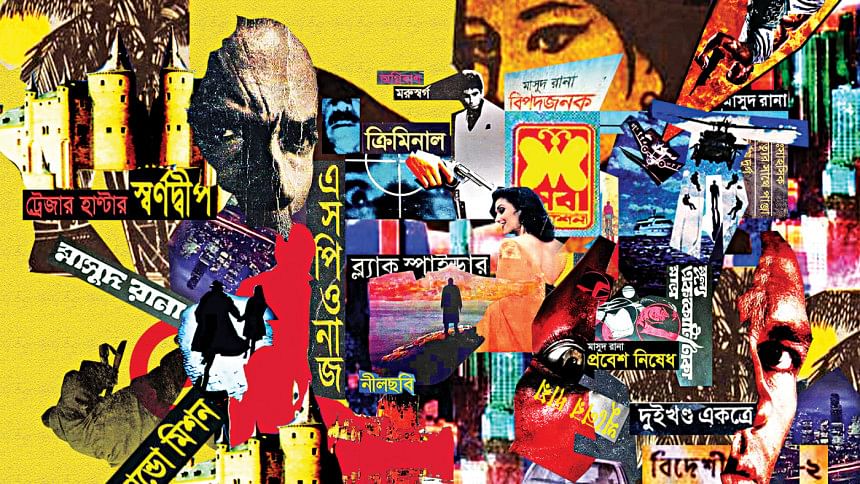 He's mysterious. He's charming. He's strong, skilled and agile. He makes you think of James Bond, or perhaps Jason Bourne.
Except that he's deshi. He's Masud Rana.
Conceived in the 1960s and tweaked after the Liberation War, Masud Rana featured as a spy of the Bangladesh Counter Intelligence division, formerly a major of the Bangladesh Army. The books gained a cult following in Bangladesh, so much so that Walther PPK pistols, known to be both Bond's and Rana's preferred weapons, became popular as kids' toys all around Dhaka city.
"I used to live in a small town. A huge part of my childhood was Sheba Prokashoni books—borrowing them or buying them with lunch money from the neighbourhood stationary shops," shares Moneesha Kalamder, 24, Editor-in-Chief at Rantages. "It was hard to get hold of English books, so for most Bangladeshis living outside of big cities—especially during the internet's dial-up days—Sheba opened up a window to the spy/thriller genre and the outside world." That was in the early 2000s.
Even from 30 years earlier, Masud Rana books were captivating the minds of adolescent readers.
"Three kinds of books were available to us in the late '70s to the early '80s—stories translated from the Russian, literary classics by the likes of Saratchandra, and popular fiction like Feluda," recalls S A Bari, 55, a telecommunications businessman who grew up reading Masud Rana in classes 7-10.
"All of them had the barrier of either difficult language or a foreign setting/characters, even if they were set in the neighbouring Kolkata," Bari explains. "Masud Rana books filled this vacuum with its fluid, easy language and vivid descriptions of European cities."
"One of the biggest allures also lay in its depiction of explicit content," another reader says, "so the adolescent crowd often ventured into this 'forbidden territory'."
Bangladeshi men came to idolise Rana as a symbol of masculinity and escape. Sometimes, it could be "toxic" masculinity—feelings were best left unexpressed in the books and beautiful women were only regarded as accessories, while Rana himself was a two-dimensional figure with little room for moral ambiguity.
He was no pacifist either. The books' war-favouring sentiments popularised and falsely justified Rana's amoral life as a mercenary-for-hire. In the first chapter of Durgom Durgo (1967), for instance, Rana and his sidekicks violently threaten a relatively harmless army captain to gain command at a bungalow in Karachi. They proceed to kill Indian soldiers with assault weapons and explosive devices. A soldier, Mahbub, challenges the immorality of Rana's plans, only to be called "dudh er baccha" and have his patriotism questioned. Rana insists that Mahbub not use his mind and conscience during battle. A weak monologue then follows the killings; it attempts to justify Rana's vigilantism by describing it as a one-man war against the injustices of the world.
*
By the 2000s, these tropes were starting to lose their grasp on readers as the Western thriller slowly became replaced by the bildungsroman, and the local audience realised they no longer resonated with Rana's adventures.
Nonetheless, since 2000, 150 books have been published in the Masud Rana series, meaning on average Sheba Prokashoni was churning out books once every two months. This sheer volume would not have been possible without ghostwriters. It was in mid-June this year when this was thrown into limelight, when the Bangladesh Copyright Office granted the copyright of 260 Masud Rana books to its ghostwriter Sheikh Abdul Hakim, initiating a much-needed conversation about who should own the actual copyright of a literary work: the "official" writer—in this case Qazi Anwar Hossain, or the ghostwriter?
The Office's decision hinged on a rather loaded legal technicality—for their 39 years of working together, Qazi Anwar Hossain never gave Hakim a contract clearly stating that only the creator would retain the copyright. Nor was Hakim a salaried employee. He would just come over with the manuscript and receive the money in return.
Copyright Registrar Jafor Raja Chowdhury told The Daily Star that in the absence of such a contract, the relationship between the two became that of publisher and author, granting Hakim not just the copyright of the books he wrote, but also claim over the royalties. Initially, Hakim had apparently received only a lump sum of Tk 800 for writing each 'khondo' of the book, which rose up to Tk 4,000 per part towards the end of his work with Sheba.
Most Masud Rana books have had six editions, but a lump sum payment means Hakim only received payment for the first edition. He filed his first complaint in 2010, two years after leaving Sheba. The copyright office never investigated until last year.
Yet one wonders whether the issue of copyright is even valid here, given that most of the books are—infamously—plagiarised foreign novels.
Shornomrigo (1967), for example, is more or less a copy of the Ian Fleming classic Goldfinger (1959) in everything from the title and premise, to plot holes. Both spies pose as wealthy businessmen in each respective novel. Both spies meet the antagonist at a beach hotel. Both antagonists share similar pseudonyms, 'Goldfinger' and 'Gold Deer', and the same appearance complete with the distinguishable red hair.
Even some of the dialogues are translated directly from Fleming's text. During a poker game, Bond asks Goldfinger, "Don't you cut for seats? I often find a change of seat helps the luck." In Shornomrigo, while playing poker, Rana advises Gold Deer, "Ami dekhecchi jayega bodlale onek shomoye bhagyo fireh jaye. Apnara jayega bodle nilei paren."
"Unfortunately, Mr Bond, that is not possible or I could not play. I suffer from an obscure complaint—agoraphobia—the fear of open spaces. I must sit and face the hotel," Goldfinger responds to Bond. In Shornomrigo, Gold Deer tells Rana, "Agoraphobia rog acche amar. Chokher shamne khola bistriti shojjho korte pari na. Tai hotel er dike mukh kore boshi shobshomoye. Ulto dike boshle khelte parbo na ami."
Such instances of plagiarism are common in Shagor Shongom part 2 (1967), inspired by Fleming's The Spy Who Loved Me (1962), Gupto Shongket parts 1-2 (2006) copied from Dan Brown's The Da Vinci Code (2003), Boro Khuda parts 1-2 (1995) mostly plagiarised from Peter Benchley's The Beast (1991), and many others. Ironically enough, the fact that only Hakim could name the books he had borrowed from was the winning argument that granted a verdict in his favour, the Copyright Registrar told The Daily Star.
As Qazi Anwar Hossain rightly pointed out in an interview with The Daily Star published yesterday, this culture of "borrowing" content from abroad is hardly unique to Masud Rana books—or even just books—in our country. What is interesting about this incident are the questions it raises about authorship and creative license. Hossain clarifies in his interview that he had provided only the "outline" for the stories written by Hakim and other ghost writers; yet those stories are "his". By that logic, it is the premise of a book and not its actual writing that defines authorship. Yet he confirms that those very premises were lifted from other books already published in the West. And so the books derived, from their ghost writers, the (translated) language and the time it took to write them, and from their original source material in the West, the plot and characters. To whom do these stories even belong?
And what place do they hold in Bangladeshi literature, given that they were churned out only to be purchased as affordable, regurgitated fiction and not as any kind of original, creative body of work with a literary legacy?
Nonetheless, like its plots which once thrilled three generations of Bangladeshi readers—and in contrast to the nuances they often lacked—this journey of Masud Rana in the real world, highlighted by this copyright controversy, tells an intriguing story. It reflects the porousness of boundaries, and how stories can, on one hand, travel between cultures unaided, defying codes of ownership and accountability, latching itself only to readers' thirst for imagination and escape. Yet they can also fail to age well, and decades after their time, expose the flaws both in their creation and their consumption.
Rasha Jameel divides her time between majoring in microbiology and pursuing her passion for writing. Reach her at [email protected].
Zyma Islam contributed as a reporter for this piece, as did Shamsuddoza Sajen with insight on Bangladeshi publishing history.