A Feminist Foremother: Critical Essays on Rokeya Sakhawat Hossain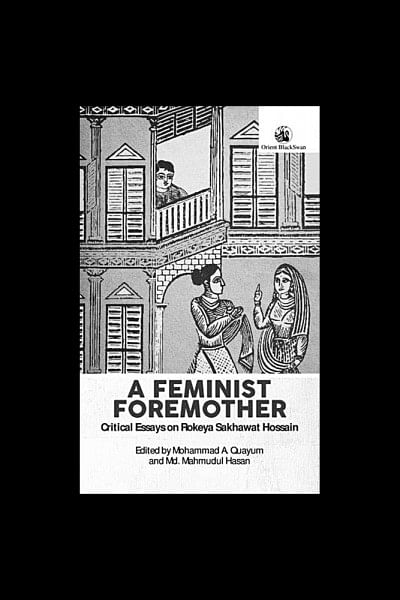 Orient Black Swan, ISBN: 9789386296009, 2017
Mohammad A. Quayum and Md. Mahmudul Hasan, the editors of A Feminist Foremother: Critical Essays on Rokeya Sakhawat Hossain, published by Orient Black Swan (21016), have solid credentials. Professor Quayum has edited and translated The Essential Rokeya: Selected Works of Rokeya Sakhawat Hossain 1880-1932 (Brill, 2013) and Dr. Hasan's doctoral work was a comparative study of Rokeya Sakhawat Hossain and other feminist writers. Both of them have been consistently writing on her – with three of the essays in this volume, all previously published, by Professor Quayum and three by Dr. Hasan, two of them published earlier. In fact, of the thirteen essays included in A Feminist Foremother, only two have not been previously published. Apart from "Rokeya Sakhawat Hossain: A Biographical Essay," which was included in The Literary Encyclopedia (2102), the majority of the essays were earlier published in Asiatic: IIUM Journal of English Language and Literature  and two in different volumes of South Asia Research. 
Asiatic is an online journal, so these essays would be available to any researcher interested in Rokeya, but A Feminist Foremother makes it convenient for others who prefer hard copies of material and in one place.  As the editors note in their Introduction, interest in Rokeya has grown since the late 1970's with the Bangla Academy, Dhaka, publication of Abdul Quadir's edited volume Rokeya Rachanabali (1973). However, apart from the pieces that were originally written in English, the book is in Bangla and therefore not available to non-Bangla readers. Rokeya has been the subject of critical essays, book chapters and graduate theses. There have also been a number of "authoritative translations" of her work into English, published by leading publishers such as Brill, OUP, and Penguin. All these have helped spread her work further and brought her more attention. However, the editors note that there was no book-length study or edited collection of critical essays in English on Rokeya's life and work. Their volume "is intended to address that gap, and to pay tribute to a veritable reformist who is often credited with changing the circumstances of Bengali Muslim women and fittingly described as a feminist foremother" (xxi). 
Apart from Professor Quayum and Dr. Hasan, the other writers include Mahua Sarkar, Sarmistha Dutta Gupta, Bharati Ray, Srimati Mukherjee, Fayeza Hasanat, Barnita Bagchi and Md Rezaul Haque. The volume would have been more inclusive if two Bangladeshi writers who have written in English on Rokeya could have been included in this book: Roushan Jahan and Sonia Nishat Amin. Roushan Jahan was perhaps the earliest Bangladeshi writer to translate Rokeya's writings into English in Rokeya Sakhawat Hossain: Sultana's Dream, A Feminist Utopia and Selections from The Secluded Ones (The Feminist Press, 1988). The phrase "feminist foremother," as the co-editors acknowledge, has been taken from her introduction. Professor Amin, who has written brilliantly about the world of Muslim women in the late nineteenth and early twentieth century in The World of Muslim Women in Colonial Bengal 1876 -1939 (Brill, 1996), would also have been a valuable addition.
Nevertheless, A Feminist Foremother is a valuable volume, providing essays on different aspects of Rokeya. In "A Biographical Essay," Quayum describes Rokeya's personal life and her setting up of her school in her husband's name. Drawing from Rokeya's letters and essays, he gives a brief but succinct picture of the struggle of this brave Muslim woman to ensure education for Muslim girls. 
 There has been some confusion about Rokeya Sakhawat Hossain's name. In Bangladesh, she is usually referred to as Begum Rokeya – the honorific "Begum" added as a mark of respect. In scholarly essays in English written by Bangladeshis, she is referred to by her first name – in the manner that Rabindranath and Nazrul are. However, there is also a confusion about the English spelling of her name. In an end note, Professor Quayum explains the spelling of Rokeya's name that the book has used – as did his earlier book The Essential Rokeya: Selected Works of Rokeya Sakhawat Hossain 1880-1932. Rokeya herself rarely wrote her full name. In much of her correspondence, she used just her initials: R. S. Hossain. She also occasionally spelled her surname "Hossein." When she wrote in Bangla, she spelled her first name "Rokeya." In one letter in English, which is reproduced in Abdul Quadir's book, the name is spelled "Roqyiah Khatun." Unfortunately, there is a typographical error. The name in the original letter is spelled "Roquiah," corresponding with the Urdu pronunciation. Though "Rokeya" has become the generally acknowledged spelling, I believe that this should have been corrected in a volume that brings together so many valuable essays on her.
The confusion over the spelling of Rokeya's name is also evident in the naming of a Dhaka University women's hall. In 1964, in recognition of Rokeya's contribution to women's education and emancipation, Dhaka University named the sole women's hall at the time after her. In an attempt to keep to the Urdu pronunciation of her name, the name in English was spelled "Ruqayyah Hall," not "Rokeya Hall." The university authorities were not perhaps aware at the time of how she spelled her name in English.  Should the spelling not be changed now?
Several of the essays in the book mark new territory. Thus, Mahua Sarkar  in "Rokeya Sakhawat Hossain and the Gender Debate among Muslim Intellectuals in Late Colonial Bengal," notes that it is commonly believed that there was little material on Muslim women in the literature of colonial Bengal because very few of them wrote or did anything meriting attention. She refutes this misconception and points out that, by the third quarter of the nineteenth century, middle-class Bengali Muslims were taking to the print media and even writing in Bangla, despite the opposition of the Muslim orthodoxy. She notes the growth of Muslim periodicals that encouraged women to write.  She points out that by the first decade of the twentieth century, many Muslim women in Bengal were writing in both Muslim and Hindu journals. "Their contributions in the form of articles, short stories, poems, autobiographies and travel accounts – all of which went into changing women's roles within the home and outside – have been considerable" (26). Despite this, she notes, the contributions of Muslim women have been overlooked: "The recorded history of women in pre-Partition Bengal . . .  continues to be overwhelmingly a narrative of the reformist experiments of a small minority of Hindu/Brahmo women, who actively participated in the modernising projects of the new 'liberal' elite" (26).  It is not only Rokeya Sakhawat Hossain's work that must be included, she stresses, but also that of "other Muslim women writers who made significant literary and critical contributions in pre-Partition Bengal"(26).
Both Mohammad A. Quayum's piece, "Inspired by the Bengal Renaissance: Rokeya's Role in the Education and Emancipation of Bengali (Muslim) Women," and Sarmistha Dutta Gupta's essay, "From Sakhawat Memorial School to Rokeya Hall: A Journey Towards Language as Self-Respect," explore Rokeya's contribution to education and emancipation, with the latter piece suggesting the far-reaching effects of Rokeya's contribution. Quayum suggests the influence of the Bengal Renaissance on Rokeya as well as the contemporary socio-cultural developments around her. "It is quite possible that had the Renaissance not opened up the environment and made education for women, and Muslim women in particular, acceptable, even if to a minimal degree, the idea of opening up a school for girls and taking up other activities to champion the cause of women, would not have occurred to Rokeya, or to her fellow women educationists and activists, as strongly. In this sense, she took up the mantle from her male counterparts rather efficiently and effectively" (59).
Sarmistha Dutta Gupta notes that, in 1964, the first women's hall of Dhaka University was renamed in Rokeya's honour. Thus, "Bengali women – whether they were from Sakhawat Memorial or not – had formally managed to acknowledge Rokeya as a pioneer in girls' education" (81). But, more importantly, Gupta suggests, the education that Rokeya pioneered paved the way for an emancipation of the mind. She would like "to recognize Rokeya and the Sakhawat Memorial School as precursors of the secular nationalist movement that saw the birth of a new nation in 1971" (81).
 In "Contextualising Rokeya Sakhawat Hossain's Work in South Asian Muslim Feminism," Md. Mahmudul Hasan analyzes Rokeya's feminism in the context of the South Asian Muslim milieu. He traces the feminist background in the South Asian Muslim context to the reign of Razia Sultana (1205–1240) and then notes the spectacular rise in the role and status of Muslim women during the Mughal period (1556–1707). However, the contribution of Muslim women in colonial Bengal tends to be ignored. He notes that though things have changed, with Rokeya recognized as "an iconic figure in Bangladesh" and "acknowledged as one of the feminist foremothers," there is a continued tendency to neglect her. The purpose of Hasan's essay is to establish the importance of and need for commemorating Rokeya by  providing aspects of her life and work "which will reveal the enormous hardships she endured, the exemplary courage she showed and the personal sacrifice she made in her struggle for women's rights and societal betterment" (91).
In "A Feminist Critique of Patriarchy: Rokeya Sakhawat Hossain," Bharati Ray  concentrates on Rokeya's essay, "Streejatir Abanati," as encapsulating Rokeya's critique of  patriarchy. Though this criticism was in the context of her Muslim milieu, Rokeya's arguments were applicable to the patriarchal structure of Hindu society as well.  Ray ends by noting how, in the early twentieth century, Rokeya gave a clear call for the end of patriarchy, noting not only the duties of men but also of women: "To men, she said: give women equality and recognize their contribution. To women, her call was: 'wake up.' If women woke up, and if gender equality was established, patriarchy would come to its deserved end – extinction" (124).
Among the minor problems that may be noted is the repetition of biographical details. However, this is to be expected in a volume of this nature. Nevertheless, A Feminist Foremother: Critical Essays on Rokeya Sakhawat Hossain is a valuable book for anyone interested in knowing about the different aspects of Rokeya's life, her writings and her contribution to the emancipation of the Muslim Bengali woman. 
Niaz Zaman has retired as Professor of English from the University of Dhaka and is at present Adviser, Department of English, Independent University, Bangladesh.