'Japan tour was a learning experience'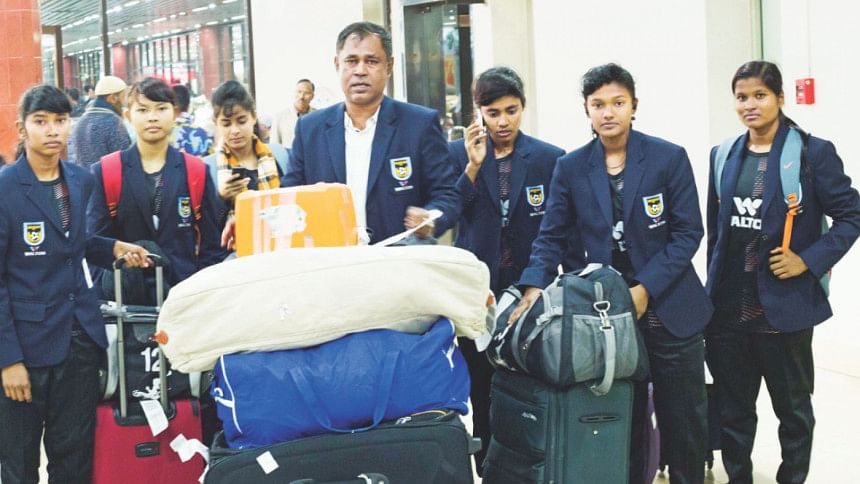 Having played seven matches in the J-Green Sakai Lady's Festival in Japan, the coaches and the players of the Bangladesh U-16 women's football team seem to have gotten a good idea about how their opponents in the AFC U-16 Women's Championship might fare.
The AFC U-6 Women's Championship in September will feature eight nations -- hosts Thailand, South Korea, Japan, China, Laos, North Korea, Bangladesh and Australia -- and the Sakai Lady's Festival actually featured two of those teams – Thailand and Bangladesh – along with 18 Japanese academies.
"It was a great experience for both the players and the coaching staff. We have got a good idea about the football academies after touring in Japan," coach Golam Rabbani Choton said as the team returned late on Monday night.
"Definitely, the standard of the Japanese players are much higher than that of ours as they play fast football with one or two touches and go to the right positions in the right time. The Japanese players also have the ability to take quick decisions on the field," Choton evaluated.
"One thing we have achieved is that the girls have overcome the fear of playing against superior sides and they never think about the opponents. Our players fought bravely throughout the festival and learned a lot of things," added the coach.
To produce good results in the AFC U-16 Women's Championship, Choton believes, the team needs to improve in areas such goalkeeping and defending while introducing fast-paced football, with quick passing and distribution from the midfield.
"We dominated against Thailand and were about to win the match, but we conceded the equaliser due to a mistake from our goalkeeper Mahmuda. It is a good thing that we have got an idea about the Thailand team.
"If the girls can perform according to their ability in Thailand, it is possible to do well," Choton said.
Striker Sirat Jahan Swapna was the star performer in Japan, having struck eight out of the 13 goals Bangladesh scored. The prolific striker, however, is determined to see herself playing even better.     
"During AFC U-16 championship qualifiers, I did not score. Then Choton sir sat with me to discuss the problems I was facing. I could not even understand what my problem was back then. However, I concentrated on training and tried to do the drills and now I am getting the results," said Swapna.
Meanwhile, BFF women's committee chairman Mahfuza Akter Kiron informed that the national women's team will visit Singapore to play in a four-nation tournament from February 15 to 19 and then they will travel to Korea in March-April to play a few matches there.