RMCH Covid unit overrun
Patients, attendants claim doctors, nurses hardly help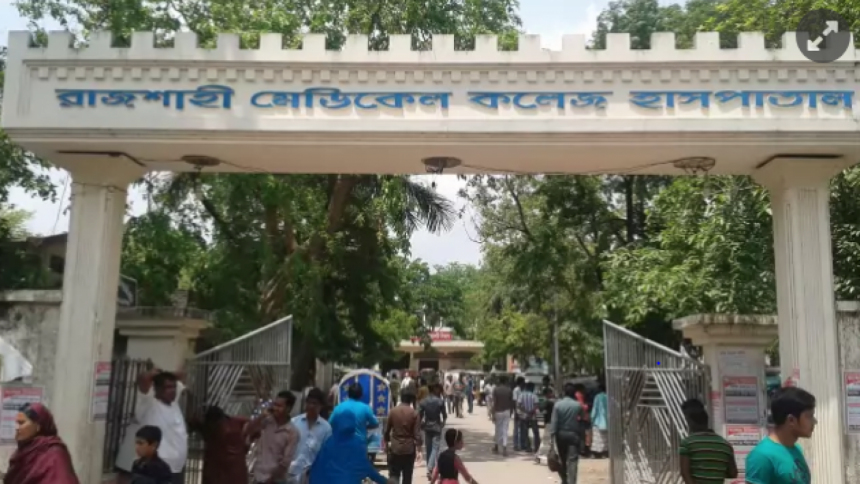 When Khadiza Khatun took her Covid-infected grandmother to Rajshahi Medical College Hospital on Sunday night, she never imagined that she was going to experience such a shock.
Her grandmother Hajera, 60, died on Monday, the day when the hospital's Covid unit recorded the highest daily deaths of 25, including nine from Covid-19.
Hejera passed away at 12:10pm while waiting for a CT scan of her chest. She was scheduled to undergo the test at 5:30pm, Khadiza told The Daily Star yesterday.
An honours 2nd year student of a public college in Chapainawabganj, Khadiza had been attending to Hajera since the latter tested Covid-19 positive and was admitted to Chapainawabganj 250-bed Modern Sadar Hospital on June 19.
She said they got all the support and care for her grandmother at from the hospital staffers in Chapainawabganj.
The college girl took her grandmother to RMCH for better treatment. But she was at a loss at the hospital, already overcrowded with Covid patients.
"The scenes what I saw [at RMCH] was traumatising," Khadiza said.
As soon as she stepped into the hospital, she started noticing the changes. She had to pay Tk 300 for carrying her grandmother on a gurney to the Covid ward-14.
No doctors and nurses were available at the Covid ward, Khadiza said.
"I watched four people die during my stay there. None of them had a doctor or nurse beside them when they passed away."
At ward-14, as many as 12 people died in 24 hours till yesterday morning, hospital data show.
"A woman died next to my grandmother's bed [Monday morning]. Her oxygen mask had loosened somehow and her attendants were not able to fix it. They were looking for a nurse to do the job, but the on-duty nurse refused to respond. The woman died panting for breath before my eyes," Khadiza said.
She said a nurse appeared after the death of her grandmother. But she stayed at a distance and never went beside her body to confirm her death.
Khademul Islam, uncle of deceased patient Sagar, 22, from Natore, and Polash, son of deceased Abdur Razzak, 70, from Hadi's intersection in Rajshahi city, made similar allegations.
Many other patients' attendants said doctors and nurses barely come out of their rooms at 10 wards out of 13 under the RMCH Covid unit.
Services are available only at the 20-bed ICU and two wards of HDU, said RMCH sources.
Visiting the Covid wards yesterday, The Daily Star found those crowded with patients' attendants. Entry to these areas are strictly prohibited for all except the health professionals.
A patient's attended said no treatment was available at the hospital sans oxygen support.
RMCH Director Brig Gen Shamim Yazdani said the record death figures show a "disastrous turn for the worse".
He said at least 70 people are being admitted to the hospital every day while more than 90 awaits an ICU bed.
The RMCH director admitted that the number of Covid patients reached far beyond the hospital's normal service capacity.
A total of 459 patients were undergoing treatment at the RMCH's Covid unit, which has a capacity of 405 beds.
"We can't provide patients with normal healthcare as we are in an unusual situation now. But we are trying our best to serve," he said.
All the doctors and staffers cannot serve at a time as they work in shifts in every alternate 15 days, Shamim said, adding that the authorities were not allowing senior doctors to visit Covid wards frequently following a government directive to keep them safe from infection.
"When doctors and nurses remain busy attending critical patients, some other critical patients expect them to be beside them," he said.
Asked about Hajera's death before her CT scan was done, the RMCH director said she had luckily got a schedule for the test in the afternoon after applying for it in the morning the same day.
He said 40 tests can be done daily with the hospital's two CT scan machines and it usually take 2-3 days to get a schedule for a test.
The RMCH recorded 342 deaths in its Covid unit this month until yesterday. Of them, 163 died from the virus while others passed away showing Covid symptoms.
The hospital has 69 nasal cannulas, 183 oxygen concentrators and 1,047 oxygen cylinders.