Journalists to boycott health ministry events until Rozina's bail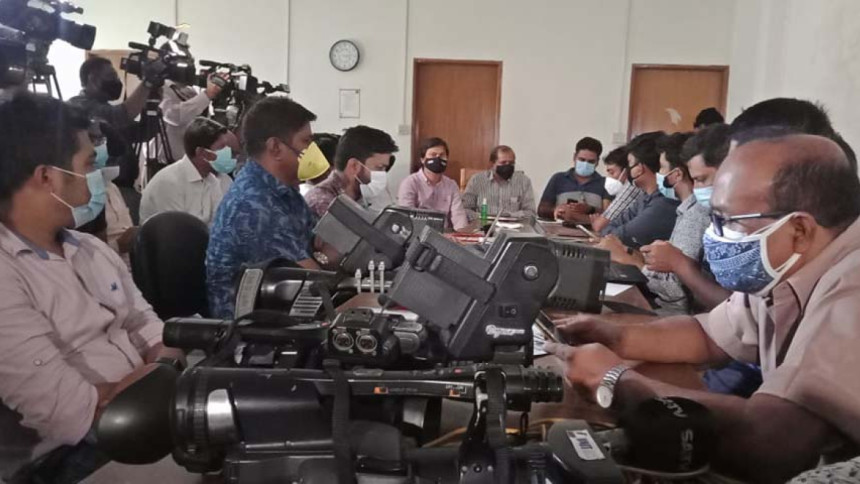 Bangladesh Secretariat Reporters' Forum (BSRF) has decided to boycott any event of the health ministry until Prothom Alo's Senior Reporter Rozina Islam gets released on bail.
Journalists have also decided to form a one-hour long human chain in front of Jatiya Press Club at 11:00am tomorrow, demanding unconditional release of Rozina, withdrawal of the case filed against her and action against those who assaulted and confined her.
BSRF President Tapan Biswas declared the programme at the forum's media centre at Secretariat.
Prior to this, BSRF boycotted a press conference organised by the health ministry over the arrest of Rozina.
The press conference was scheduled to be held at 11:00am.
When top officials of the ministry went to the conference room around 11:20am to address the conference, BSRF General Secretary Shamim Ahmed told them, "We tried to talk to the health secretary over the incident yesterday but he refused to listen. We were insulted. Protesting this, we are boycotting the conference."
Later, over 50 journalists walked out of the room.
Shibbir Ahmed Osmani, deputy secretary of Health Services Division under the Ministry of Health and Family Welfare, filed the case against Rozina with Shahbagh Police Station last night under Bangladesh Penal Code and Official Secrets Act.