Mango harvest begins in Rajshahi, will hit markets in a week or two
Mango cultivators began harvesting the fruit from today following the scheduled date as instructed by the local administration.
However, the seasonal fruit will take some time after the Eid vacations to be supplied to markets across the country, fruit traders in Rajshahi said.
"The season for lychee just started. Usually mango is supplied in the market towards the end of the lychee season. Since lychee is only coming to the market now, it will take a week or two before supply of mango begins in full swing," said Jahirul Islam, a fruit trader in Baneshwar Bazar of Rajshahi.
Baneshwar Bazar, the second largest wholesale market for mangoes in the country after Kansat in Chapainawabganj, saw only a handful of traders with some mangoes and hardly any buyers today, while workers involved in the fruit's transport have yet to begin working.
This year, some mangoes ripened a bit earlier than usual due to less rainfall and the drought-like situation, and those are coming to the market in small quantities, traders at the market said, adding that buyers from different districts are yet to come to the market for wholesale purchases.
The mangoes that came to the market today largely remained unsold and were packed and stored at warehouses.
Rajshahi district administration, in a joint meeting with mango experts, cultivators and traders on May 6, scheduled the dates for collection of the different varieties of the fruit.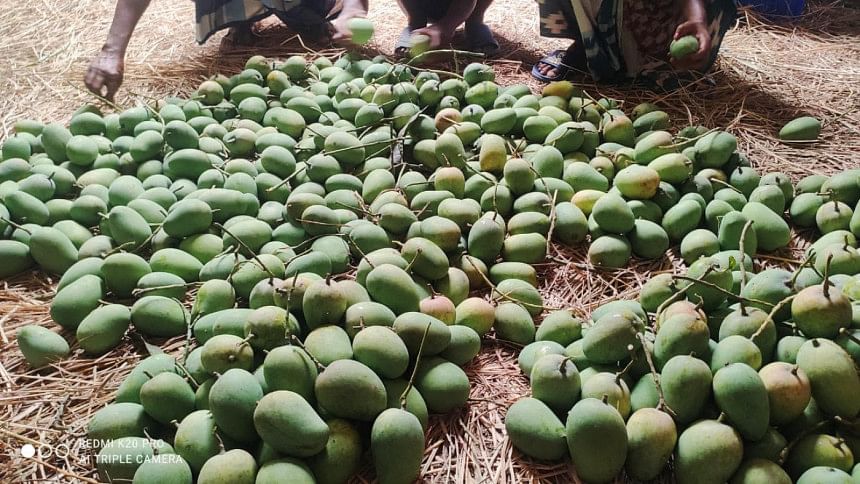 As per the local administration's instruction, collection of mangoes of "Guti" variety was scheduled to begin today, while collection of other varieties has been scheduled as – Gopalbhog (May 20), Laxmanbhog and Ranipasand (May 25), Himsagar or Kheershapaat (May 28), Langra (June 6), Fazli and Amrapali (June 15), and Ashwina and BARI Mango-4 (July 10).
This season, 2,19,000 tonnes of mangoes are expected to be cultivated on 17,943 hectares of land in Rajshahi district, according to sources at the Department of Agricultural Extension.