Four dead after Hefazat-police clash in Hathazari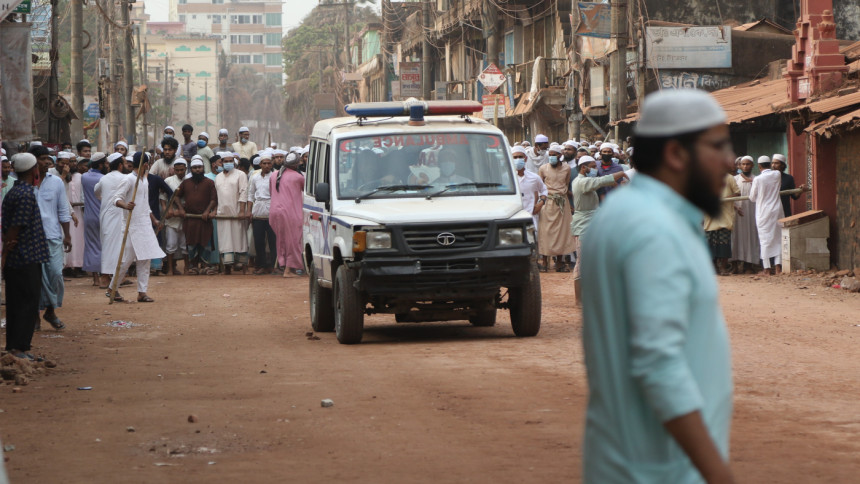 Four people died and at least seven were injured after a clash between Hefazat-e-Islam activists and police during a demonstration this afternoon.
The clash took place around 2:30pm when Hefazat's procession was passing by Hathazari police station, said witnesses.
Hefazat leaders claimed that police fired at their procession without provocation while police alleged Hefazat activists carried out the attack on police and vandalised the police station, prompting the law enforcers to retaliate in self-defence.
Jahirul Islam, officer-in-charge of Chattogram Medical College Hospital police outpost, told The Daily Star that four people were brought dead to CMCH while seven injured were admitted at various wards of the hospital.
They had identified two so far, he said.
Hospital sources told our local correspondent that the CMCH emergency department register listed two dead named Kazi Mirazul Islam (40), son of Kazi Jahangir and Robiul Islam (27). Details of the other deceased were not available from CMCH till filing this report around 6:30pm.
Meanwhile, Azizul Haque Islamabadi, organising secretary of Hefazat-e-Islam identified the deceased as Rabiul Islam, Mehraz, Md Jamil -- students of Hathazari Madrasa -- and a tailor Wahidul Islam.
A duty doctor at emergency department of CMCH seeking not to be named told The Daily Star that all four who died were shot. They were brought dead at the hospital.
Vehicles, bungalows and land office under Hathazari upazila administration were set ablaze and land documents were also torched, Ruhul Amin, upazila nirbahi officer of Hathazari upazila administration told The Daily Star.
Azizul Haque Islamabadi told The Daily Star that they brought the procession peacefully opposing the official visit of Indian Prime Minister Narendra Modi but police without any provocation fired at the procession leaving four dead and many injured.
He demanded the official involved in the killing be brought to book or they will wage tougher programmes to ensure justice.
No official comment was available from anyone at Hathazari Police Station despite The Daily Star trying to reach those with knowledge of the events since the incident.
However, police sources said two groups pelted brickbats at the police station. At one stage, they entered the compound and vandalised the window panes. Police in self-defence retaliated with bullets.