Bangladesh sets sights on recruitment brokers to curb abuse, trafficking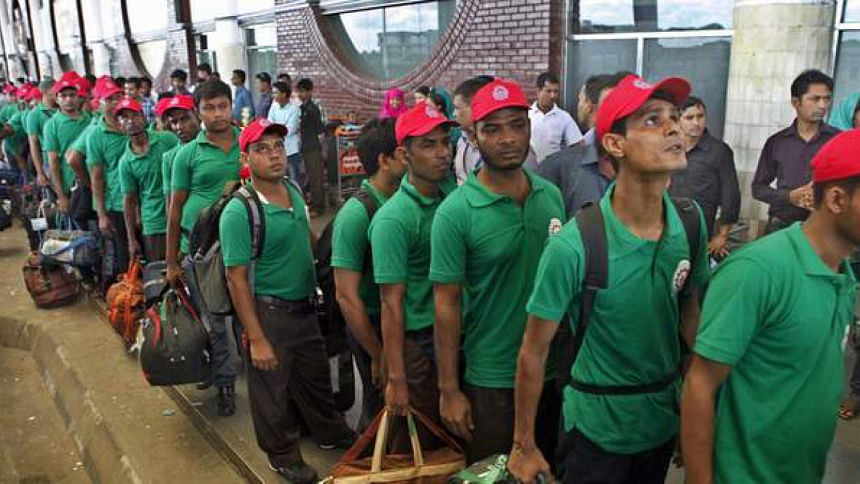 Bangladesh is planning to sideline unscrupulous recruitment brokers who dupe or exploit workers they send abroad by compiling a list of certified agents as record numbers of its citizens spend large sums of money to secure jobs overseas.
The scheme could lower the cost of going abroad for work - which can cost thousands of dollars in fees - and curb the abuse and trafficking of Bangladeshi migrant workers, said the Ministry of Expatriates' Welfare and Overseas Employment (EWOE).
More than 7.5 million Bangladeshis live outside the country, and at least 1 million secured jobs abroad in 2017 - the highest number ever recorded - according to official data.
"The plan is to ask the recruiting agencies to provide us with the details of the brokers who are unofficially working for them," said Raunaq Jahan, a senior civil servant with the EWOE.
"After that we will spread these names and make people aware of the certified brokers," she told the Thomson Reuters Foundation. "This move can prevent human trafficking."
The vast majority of Bangladesh's migrants depend on brokers to find work overseas, and about half experience some form of fraud or harassment, according to the Refugee and Migratory Movements Research Unit (RMMRU) - a migrant rights organisation.
About 3,800 Bangladeshis died while working abroad last year - the highest annual toll since 2005 - raising concerns among campaigners about the poor treatment of many migrant workers.
The government proposal was hailed by migrant rights groups who said it would help would-be migrants in rural areas to avoid being exploited, and cheated workers to pursue justice in court.
Bangladesh has more than 1,200 licensed recruitment agencies but most are located in cities and out-of-reach of a huge chunk of the population, said Shakirul Islam, chairman of Ovibashi Karmi Unnayan Program (OKUP), a migrants rights organisation.
"That's why the job seekers are dependent on the middlemen to reach these agencies and go abroad," he said.
"At the same time, the agencies, which lack the capacity, also depend upon the informal networks," Islam added.
FOLLOW THE MONEY
Bangladesh is one of the most expensive nations in the world for those seeking to migrate, with some migrant workers paying fees of up to $8,500 to go abroad, the United Nations says.
Yet much of this spending is not documented, making it tough for workers who return home after being swindled to take exploitative brokers to court, said Marina Sultana of the RMMRU.
"The only document likely to exist is the government fee receipt," the director said. "No-one is taking responsibility for the big amount of money in the middle ... so there is no real way to prove as to where all the money goes at the moment."
Mohammad Parvez, a broker who works for three recruitment agencies on a part-time basis, said providing middlemen with official documents could help cut out cheating and exploitation.
"If they make us official and give us a monthly salary that will be good for everyone," he said. "The amount of cheating will decrease because everyone will be answerable."
However the secretary general of the Bangladesh Association of International Recruiting Agencies said regulating recruitment middlemen would not improve the system or result in lower fees.
"If you want to reduce the migration fee, you can't add more stakeholders to the system," said Shameem Ahmed Chowdhury Noman. "Who is going to pay the brokers when they become official?"
Yet such a scheme could help countless migrants from facing the same fate as Mohammad Mahbub, a plumber from eastern Bangladesh who has twice been conned by brokers in recent years into paying for false work permits and taking on a huge debt.
A few months ago, the broker who duped Mahbub phoned him and asked if he wanted to cough up more cash to move to Malaysia.
"I said no," Mahbub said. "I had enough. I have no money left. I was fooled twice and I knew he wasn't saying the truth."