Pace engine powered by spin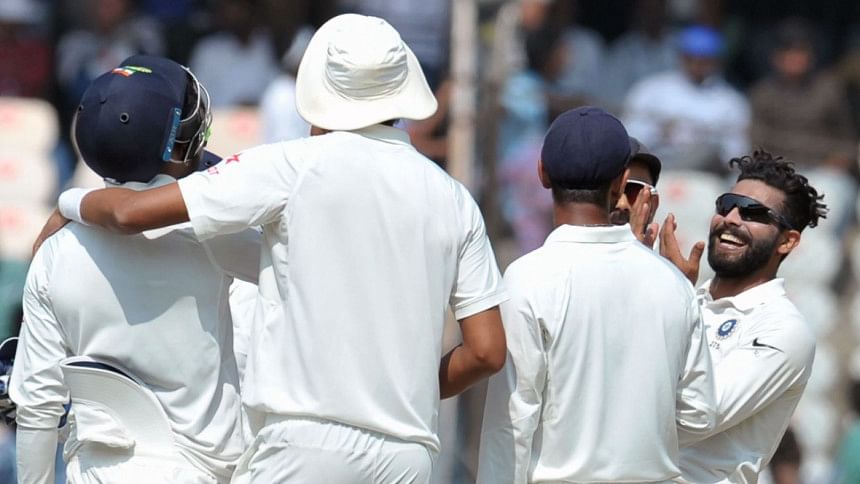 The 208-run win over Bangladesh has extended India's unbeaten Test run to 19 matches. While the margin of the win is substantial, India's bowlers had to toil hard to get 20 wickets on a Hyderabad wicket that seemed to be a batting paradise for most of the game.
As such, India skipper Virat Kohli reserved generous praise for his bowlers after the match yesterday.
"It was a very good toss to win for us, getting big runs on the board. First innings took a bit of patience for us to get wickets. I thought Umesh [Yadav], Bhuvi [Bhuvneshwar Kumar] and Ishant [Sharma] were brilliant but Umesh stood out.
"In the second innings all three bowled really well and Ishant stood out. The quality of our spinners allows our fast bowlers to attack because of the way the spinners bowl and contain runs. The pacers can really attack as soon as it starts reverse swinging. I thought today Ishant's spell was really good, bowled with pace and had to put in effort to take wickets and he took both the set batsmen out," said Kohli.
Kohli is often seen as the main reason behind India's brilliant run. He has done very well in the last year, but he does not think it has been a one-man show.
"I don't think it's because of me; I mean everyone at international level wants to do well. We are playing as a team and that's been the difference. You can say probably say that in 2016 I scored a lot of runs but before that in 2015 as well we won a lot of matches. I didn't score many runs but the other guys stepped up and scored runs.
"There are quite a few instances where all the members of the team have stepped up at some stage or the other. And that's why we stand where we are and having that streak is not down to two-three people; it is a combined effort of all the guys," said Kohli.
The only aspect that the skipper was not happy about in this Test was the way the bowlers performed towards the end of the game.
"I think there was a bit of a lapse in body language when they were eight down. We should have taken these chances and finished off the game early, 45 minutes before we actually did. Closing off games is important," he said.