Amphan: 303 medical teams and 26,213 volunteers on standby in Khulna coast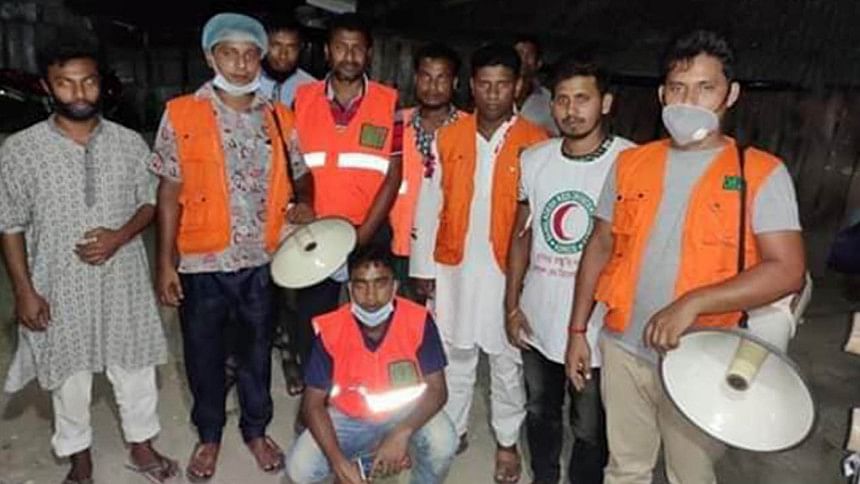 Some 303 medical teams and 26,213 volunteers are ready in three coastal districts -- Khulna, Bagerhat and Satkhira -- to face any situation over super cyclone storm Amphan.
In Khulna, the district administration has arranged 116 medical teams and 3,560 volunteers in the coastal upazilas of the district, said Mohammad Belal Hossain, deputy commissioner of Khulna.
The DC informed our Khulna correspondent that the medical teams have been readied to face any possible situation while the volunteers remain prepared for evacuation activities.
Meanwhile, the volunteers have started taking people to cyclone centres in Koyra, Paikgachha, Dacope and Batiaghata upazilas of Khulna from this morning, said the DC, adding that the volunteers are informing people with loudspeakers and signal flags.
The deputy commissioner said they readied 608 shelters in nine upazilas of the district.  
Handwashing facilities have also been set up in these shelters to stop the spread of coronavirus, he added.
Meanwhile, Dr Md Anwar Hossain Hawlader, commissioner of Khulna division, asked the local administration in all districts of the division to enforce the healthcare guidelines, including social distancing, in the cyclone shelters.
In Bagerhat, the administration readied 84 medical teams and 11,708 volunteers to face a possible disaster.  
They also prepared 977 shelters, including 345 cyclone centres, in four coastal upazilas of the district, reports our Khulna correspondent.
"We have added educational institutions of the district with 345 cyclone centres considering the need for social distancing to prevent the spread of coronavirus infection," said M Mamunur Rashid, deputy commissioner of Bagerhat.   
Nearly five lakh people can take shelter there, the DC said, adding that the authorities have been asked to keep adequate clean water in the cyclone shelters.  
In Satkhira, some 103 medical teams and 10,945 volunteers were kept ready in the district, said SM Mostafa Kamal, deputy commissioner of Satkhira 
The district administration has arranged 447 shelters for coastal people of the district, the DC added.