Boom Boom unveils Champions Trophy 2017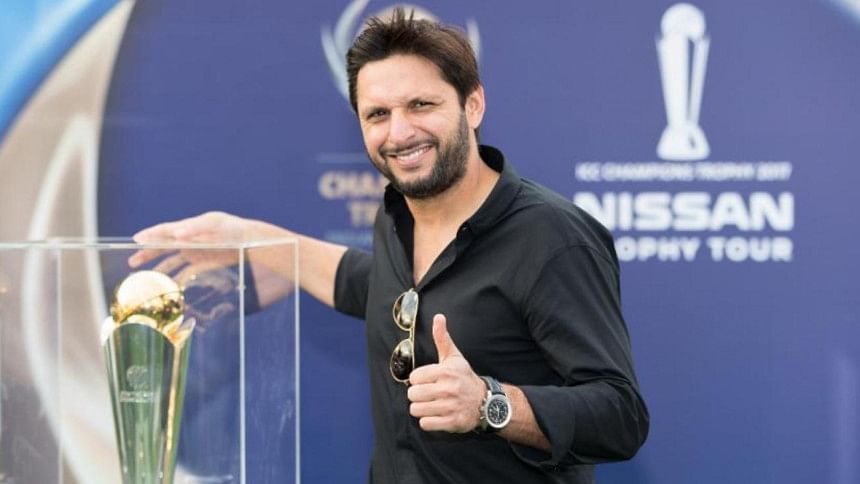 With 100 days to go before the first ball is bowled in the eighth edition of the ICC Champions Trophy, the ICC Champions Trophy 2017 Nissan Trophy Tour was launched in the backyard of the International Cricket Council headquarters at the ICC Academy on Tuesday, 21 February.
During its global tour, the ICC Champions Trophy will visit 19 cities across all eight competing nations, allowing fans to get a close-up view of the prestigious silverware, according to ICC's media release.
Former Pakistan captain Shahid Afridi attended the launch ceremony, and said: "The ICC Champions Trophy is an event which gives me and millions of Pakistan cricket supporters mixed feelings. It is the only ICC major tournament Pakistan has never won, but at the same time it is the only ICC event in which Pakistan has beaten India. That said, I am sure things will soon change as nothing is permanent in life and sport."
The trophy's journey will also be documented on ICC's various social media platforms and fans across the world can track the movements of the trophy via the Nissan trophy tour dedicated section on the ICC website , which will host an interactive map of the trophy tour's schedule of activities along with a gallery of imagery captured during each of the stops.
The trophy's journey will start on Thursday, 2 March, when it will depart for India, and after travelling through Bangladesh, Sri Lanka, Pakistan, South Africa, New Zealand and Australia, it will arrive in the United Kingdom on 2 May where the ICC Champions Trophy 2017 will be staged from 1-18 June.
There the ICC Champions Trophy will be joined by the ICC Women's World Cup on the domestic trophy tour to kick off a summer of cricket in the UK as it tours the cities playing host to the tournaments.
ICC Chief Executive David Richardson said: "The global trophy tour is the start of what will be a fantastic summer of cricket celebration in the UK with two major back-to-back events - the ICC Champions Trophy followed by the ICC Women's World Cup."