Bangladesh tour of Sri Lanka, 1st Test
Play called off for Day-4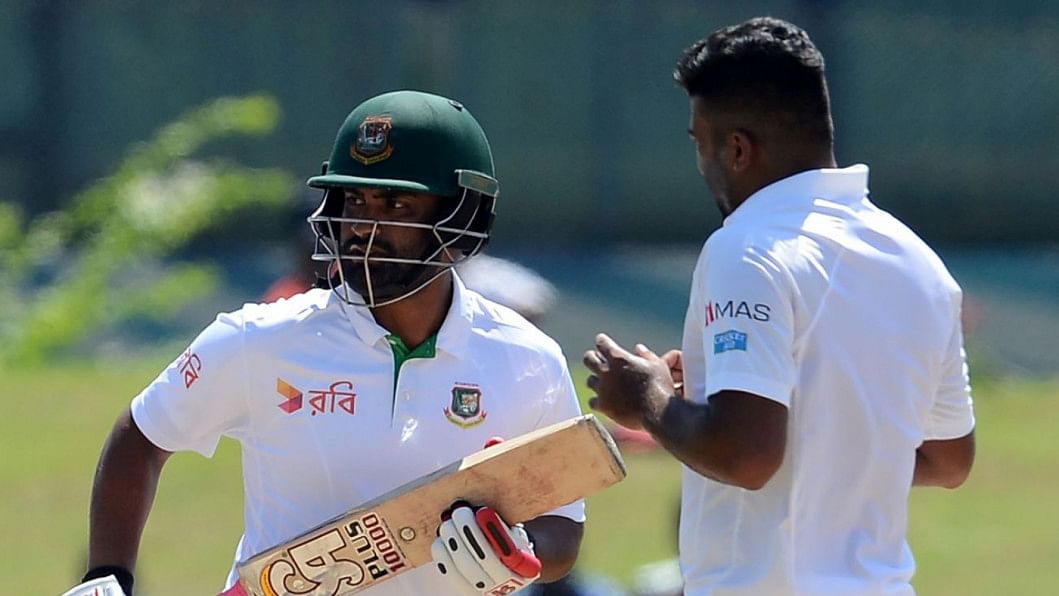 Play was called off for day-4 due to bad light during the last session of the first Test between Bangladesh and Sri Lanka at Galle today.
Bangladesh were 67 for no loss in 15 overs when the players left the field. Soumya Sarkar was batting on 53 from 47 balls. His blistering half-century contained six fours and a huge six. Tamim Iqbal was watchful, and was unbeaten on 13 from 44 balls.
In the context of the match, Bangladesh have their work cut out as they need to survive three sessions on the last day, needing another 390 runs to win with 10 wickets remaining in their second innings.
Bangladesh openers Tamim Iqbal and Soumya Sarkar settled down at the crease after a nervy start to their second innings. Sri Lanka stand-in captain Rangana Herath nearly sent back Soumya in the tenth over.
The batsman chipped his shot over the fielder at short mid-wicket and the ball rolled towards mid-on.
Soumya was almost dismissed in the sixth over bowled by Suranga Lakmal. The edge dropped short of fielder and two runs were taken.
Lakmal was able to induce Tamim into a false shot in the third over and managed to produce an edge. However, the ball did not carry to the fielder at third slip.
Bangladesh reached 35 after 10 overs when the report was last filed.
Earlier, Sri Lanka declared their second innings at 274 for 6 after 69 overs.
After the fall of the sixth wicket of Sri Lanka's second innings, captain Rangana Herath signaled the declaration from the dressing room. The highest total in the 4th innings at Galle is 300 by Pakistan, chasing 510 in 2012.
Upul Tharanga was the highest run-getter for Sri Lanka with 115. Dinesh Chandimal was not out at 50 while Dilruwan Perera chipped in 33 from 27.
For Bangladesh, Mehedi Hasan Miraz and Shakib Al Hasan took two wickets each. Mehedi took 2-77 in 20 overs while Shakib captured 2-104 in 25.
Mustafizur picked up his first wicket in the 69th over during Sri Lanka's second innings when he removed Dilruwan Perera for 33.
MDK Perera c †Liton Das b Mustafizur Rahman 33 (27b 5x4 1x6) SR: 122.22
Fall of wicket 274/6 (68.6 ov); Partnership: 52 runs, 8.4 overs, RR: 6.00 (Perera 33, Chandimal 19)
Earlier, Sri Lanka led Bangladesh by 429 runs with five wickets remaining in their second innings when the players left the field for tea on day-4.
During the post-lunch session, 160 runs were scored at 5.16 runs per over. The acceleration after a steady morning session was evident as Upul Tharanga reached his century and Dinesh Chandimal being busy at the crease. Bangladesh were very defensive throughout the session and will have to bat out of their skins if they are to save this match.
A stunning catch from wicketkeeper Liton Das enabled Bangladesh to take the fifth wicket of Sri Lanka's second innings during the post-lunch session of day-4.
Liton anticipated the reverse sweep from Niroshan Dickwella and moved along with the batsman. Niroshan got the reverse sweep off the middle of the bat but played it too fine for his liking. Liton grabbed the ball with his left-hand and wrapped his right gloves around it. No wonder the bowler was delighted!
N Dickwella c †Liton Das b Mehedi Hasan Miraz 15 (17b 1x4 1x6) SR: 88.23
Fall of wicket 222/5 (60.2 ov); Partnership: 23 runs, 5.0 overs, RR: 4.60 (Chandimal 8, Dickwella 15)
Mehedi almost had his third wicket in the same over he removed Niroshan when Dilruwan Perera was dropped in the deep. Dilruwan came down the track, got close to the ball and slogged it towards wide long-on. Mahmudullah Riyad came in, had to back-track, jumped with both hands outstretched, but the ball went through his palms and over the ropes.
Shakib Al Hasan gave Bangladesh their fourth wicket soon after Mehedi Hasan Miraz sent back Upul Tharanga when Asela Gunaratne was bowled with the score at 199 for 4 in 55.2 overs.
Asela didn't expect the ball to turn and played for the straight one. The ball turned a bit, went past the outside edge of the bat and struck the off stump.
DAS Gunaratne b Shakib Al Hasan 0 (3b 0x4 0x6) SR: 0.00
Fall of wicket 199/4 (55.2 ov); Partnership: 1 runs, 0.4 overs, RR: 1.50 (Chandimal 1, Gunaratne 0)
Upul Tharanga was the third wicket to fall during Sri Lanka's second innings when he was bowled by Mehedi Hasan Miraz after scoring 115. Upul held the innings together and ensured his side held the upper hand after dismissing Bangladesh for 312.
WU Tharanga b Mehedi Hasan Miraz 115 (171b 11x4 2x6) SR: 67.25
Fall of wicket 198/3 (54.4 ov); Partnership: 64 runs, 13.0 overs, RR: 4.92 (Tharanga 39, Chandimal 22)
Mehedi nearly had the wicket of Dinesh Chandimal in the 49th over. The good length ball on off went straight on and took the outside edge of the bat as Chandimal played inside the line. The ball went low to first slip where the fielder could not react quickly enough to complete the dismissal.
Shakib Al Hasan gave Bangladesh their second wicket during Sri Lanka's second innings when he sent back Kusal Mendis for 19 with the hosts at 134 for 2 after 41.4 overs during the first Test at the Galle International Stadium today.
The flighted ball from Shakib came in with the arm on middle and leg. Kusal tried to slog it but only managed to find Taskin Ahmed at the square leg boundary.
BKG Mendis c Taskin Ahmed b Shakib Al Hasan 19 (49b 0x4 1x6) SR: 38.77
Fall of wicket 134/2 (41.4 ov); Partnership: 65 runs, 19.2 overs, RR: 3.36 (Tharanga 44, Mendis 19)
Sri Lanka led Bangladesh by 269 runs in their second innings when the players left the field for lunch on day-4.
Sri Lanka openers took their time to settle down and managed to score 69 runs before Taskin Ahmed removed Dimunth Karunaratne for 32. Upul Tharanga was batting on 40 from 94 balls and Kusal Mendis unbeaten on 8 at the end of the morning session which produced one wicket and 87 runs in the 33 overs.
Earlier, Tigers got their first breakthrough during Sri Lanka's second innings when Taskin Ahmed sent back Dimuth Karunaratne with the hosts in command at 69 for 1 after 22.2 overs.
Taskin bowled one short and on the stumps, Karunaratne swiveled across and pulled it. Unfortunately for the batter, he didn't bother to keep the ball down and saw Mahmudullah Riyad run across to his right from deep square leg and take a smart catch.
Timely breakthrough for the Tigers.
FDM Karunaratne c Mahmudullah b Taskin Ahmed 32 (73b 1x4 0x6) SR: 43.83
Fall of wicket 69/1 (22.2 ov); Partnership: 69 runs, 22.2 overs, RR: 3.08 (Tharanga 32, Karunaratne 32)
Sri Lanka opening batsmen Dimuth Karunaratne and Upul Tharanga settled down at the crease and extended the lead past 250.
Although the odd ball had beaten the bat, both the openers were more or less in control. Tharanga used his feet to the spinners and didn't allow them to dictate terms. Mustafizur Rahman kept the batsmen quiet in his first spell of five overs, as he gave away only a single run.
Tigers skipper Mushfiqur Rahim began proceedings with Subashis Roy and Mehedi Hasan Miraz on the fourth day, and his young off-spinner nearly gave him a breakthrough in the sixth over.
Mehedi bowled from wide of the crease and the ball drifted in full on off. Dimuth tried to step out and play inside out over short cover. Shakib Al Hasan was late to react and could only stop the momentum of the ball as he parried it backwards.
First session will be from 10:15 to 12:30 noon. Second session from 1:10 to 3:25 and the final session will be from 3:45 to 5:45pm. (Local Time)
98 overs scheduled to be bowled in the day.