More rain, nor'wester likely this week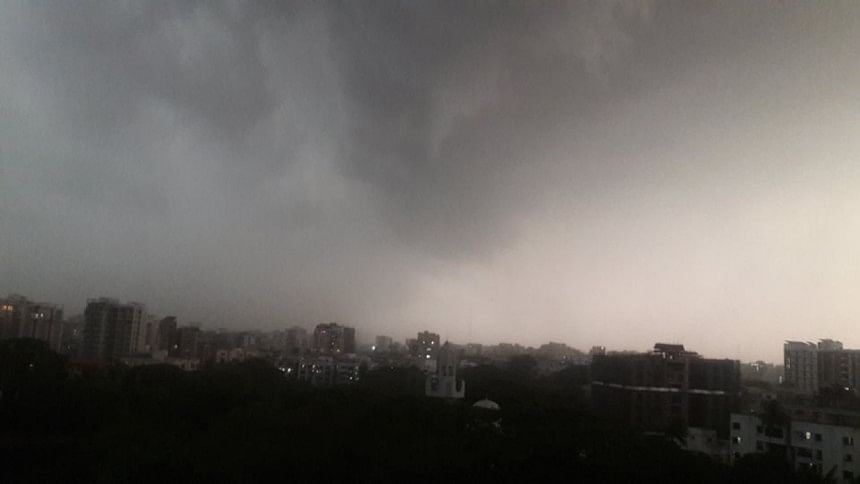 As the country has been experiencing rainfall over the last two days, Bangladesh Meteorological Department has forecast more showers or intermittent nor'westers at many places across the country including Dhaka, this week.
Due to combination of seasonal low lies over the Bay and westerly trough of low lies over West Bengal and adjoining area, more showers or nor'westers accompanied with thundershowers and lightning are predicted at major parts of the country in the next seven days, Dr Md Abul Kalam Mallik, meteorologist of Dhaka Met office, said today.
Sporadic rain or short-lived nor'wester is likely to take place in Khulna, Barishal and Chattogram divisions while rain or thundershowers accompanied by lightning, hailstorms are likely to occur in Dhaka, Mymensingh, Khulna, Barishal, Chattogram and Sylhet divisions and some parts of Rajshahi and Rangpur divisions, he said.
After the rainfall, the sky will be cleared within one or two hours, he told The Daily Star.
According to the met office, the highest 81mm rainfall was recorded in Bagerhat's Mongla and 20mm rainfall was recorded in Dhaka yesterday.
As per the 24-hour weather forecast of the met office commencing 9:00am today, a light to moderate rain or thundershowers accompanied by lightning and temporary gusty wind is likely to occur at many places in Khulna, Barishal and Chattogram divisions and at a few places in Dhaka division.
Besides, light or moderate showers may occur at one or two places over Rajshahi, Rangpur, Mymensingh and Sylhet divisions while moderately heavy to heavy rainfalls at places over the southern part of the country, it said.