Parliament resumes after a break of 59 days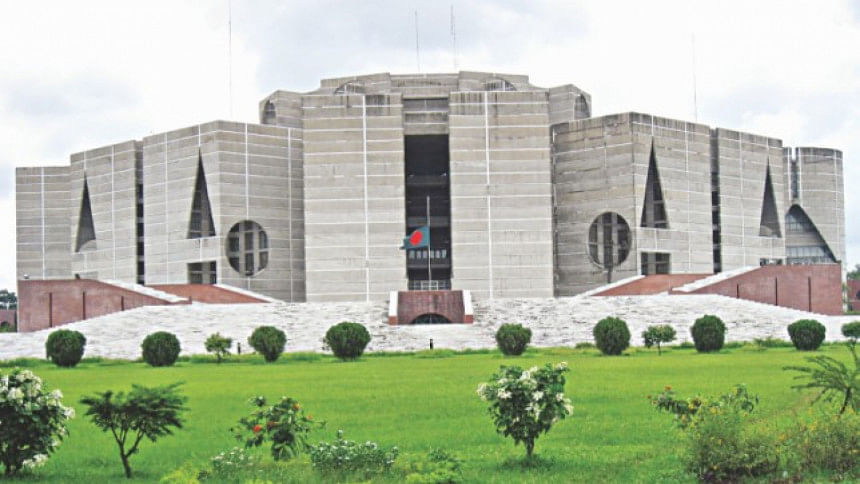 Parliament went into its ninth session this morning after a 59-day recess as the last (budget) session was prorogued on July 9.
The session began at around 11:05am, maintaining health guidelines and social distancing amid the Covid-19 pandemic, as done during the last two parliament sessions.
Due to the pandemic, media was not allowed to cover the session directly.
Instead, journalists were requested to collect news from the live coverage of parliament session on Sangsad Bangladesh Television like the previous two (7th and 8th) sessions.
Duration of this session will also be short as this session will continue till Thursday, sources at the parliament secretariat said.
At the beginning of the House proceeding, the speaker nominated a five-member panel of chairmen. The panel chairmen will preside over sittings of the House in the absence of the speaker and deputy speaker.
The panel members are: AL lawmakers ASM Feroz, Motahar Hossain and Narayan Chandra Chanda, Jatiya Party MP Kazi Firoz Rashid and AL MP Simeen Hussain Rimi.
The above mentioned lawmakers will chair the sittings as per numerical order, the speaker told the House.
During this session, several measures have been taken to contain the spread of Covid-19.The MPs are taking part by wearing masks and gloves while maintaining social distance.Physically ill and the elderly MPs were discouraged from attending the session.
President Abdul Hamid on August 19 summoned the 9th session of the 11th parliament exercising the power bestowed upon him as per Clause (1) of Article 72 of the Constitution.
The last session (budget) was prorogued after only nine sittings due to the outbreak of Covid-19 in the country, which was the shortest budget session in Bangladesh history.
According to the constitution, the gap between the end of a session of parliament and the first sitting of the next session shall not exceed a period of 60 days.