Every people will be benefited by the budget: PM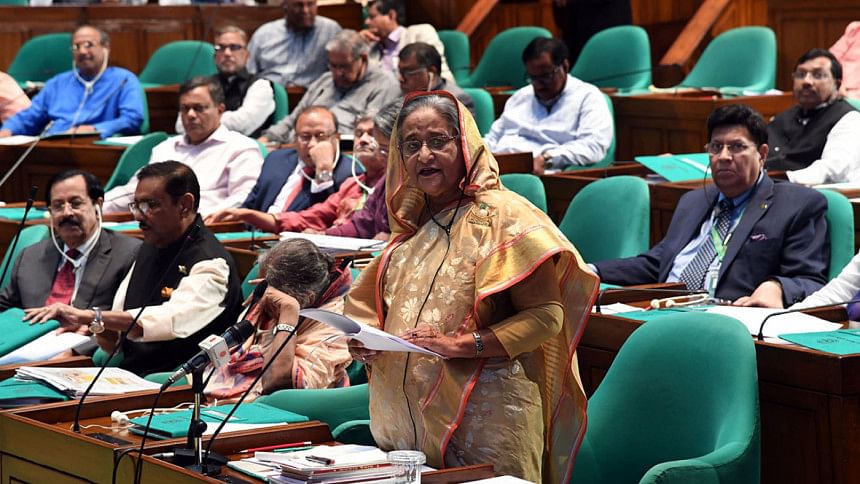 Prime Minister Sheikh Hasina today described the proposed budget for FY 2019-20 as people-friendly, development-oriented and balanced one, saying that everyone will be benefitted by the budget as it will help continue the pace of ongoing development.
"Everyone will be benefitted by the budget,--this budget will help us to go forward with continuing the pace of ongoing development to build a happy, develop and a prosperous country," she said while winding up the general discussion on the proposed budget in the parliament.
Sheikh Hasina, also Leader of the House said, "Bangladesh is going ahead and it's my commitment to build a happy, prosperous and developed 'Sonar Bangladesh' free from hunger and poverty dreamt by Father of the Nation Bangabandhu Sheikh Mujibur Rahman."
The government has achieved the quality of upgrading Bangladesh into a middle-income country by successfully implementing the 'Vision 2021 and it is heading forward to achieve the Sustainable Development Goals (SDGs) by 2030 and build a developed country by 2041, she said.
The premier said that the proposed budget of Taka 5,23,190 crore is the 11th straight budget of the Awami League government and the first one of this government.
"We are now being praised in home and abroad for unprecedented development (of the country) in the last 10 years during the tenure of our government," she said.
The GDP growth is going to reach 8.13 percent in the current FY 2018- 19 while the Asian Development Bank (ADB) has forecasted of 8 percent GDP growth and according to ADB, it's the highest in the Asia, she said.
Sheikh Hasina said, "The International Monetary Fund (IMF) has mentioned that Bangladesh is one of the 20th countries which are going to contribute the highest in the GDP"
Bangladesh is set a target to achieve 8.20 percent growth in the GDP in the FY 2019-20 and double digit in the FY 2023-2024, the premier continued.
The Prime Minister today also moved the Finance Bill, 2019 in the House on behalf of the finance minister as he is still sick.