Muhith under attack in JS for mollycoddling banks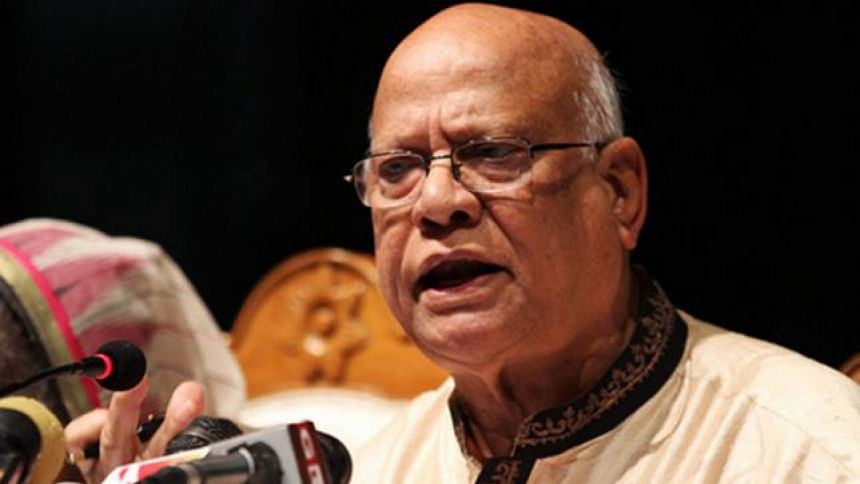 Opposition MPs continued their scathing attacks on Finance Minister AMA Muhith in Parliament for his 'failure' to restore discipline in the banking sector.
Taking part in the budget discussion, Jasod's Nazmul Huq Pradhan MP said businessmen are looting banks yet the Finance Minister is not taking any action against them.
"Rather, you're giving tax rebates and subsidies to banks. Take a decision. You can save banks in this way, but you will not save the economy," he said.
Jatiya Party MP Mohammad Noman said that the state is patronizing the banking sector. "Why will the banks not be made accountable, why banks will be subsidized by the taxes of the mass people, you are rewarding them in lieu of punishing them, and the same thing will happen again," he added.
Jatiya Party MP Shameem Haider Patwary said that the corporate tax for the banks has been reduced by 2.5 percent but there is no proposal for similar incentive for the other parts of the corporate sector that are engaging in good corporate practices.
"You did not reduce the rate for the sector which is doing good, you reduced the rate for the sector where looting is on, I am saying that the looting in the banking sector has surpassed even the historic loot of Delhi by Nadir Shah," he said.
He said that the Finance Minister offered cookies to the naughty cat, but gave nothing to the good cat. "By this the revenue collection will be reduced," he predicted.
Patwarytermed this budget as the 'bureaucratic budget'. He also criticised the Finance Minister for showing neglecting the Judiciary in the budget speech and said that this will widen the distance between the executive branch of government and the judiciary.
He also mentioned that the government increased the salaries and wages of the public servants at an alarming rate. "As a result the expenditure of the government has been increased, while the allocation proposed for development has decreased," he added.