Dhaka Premier Division Cricket League
Sheikh Jamal beat Mohammedan by 1 wicket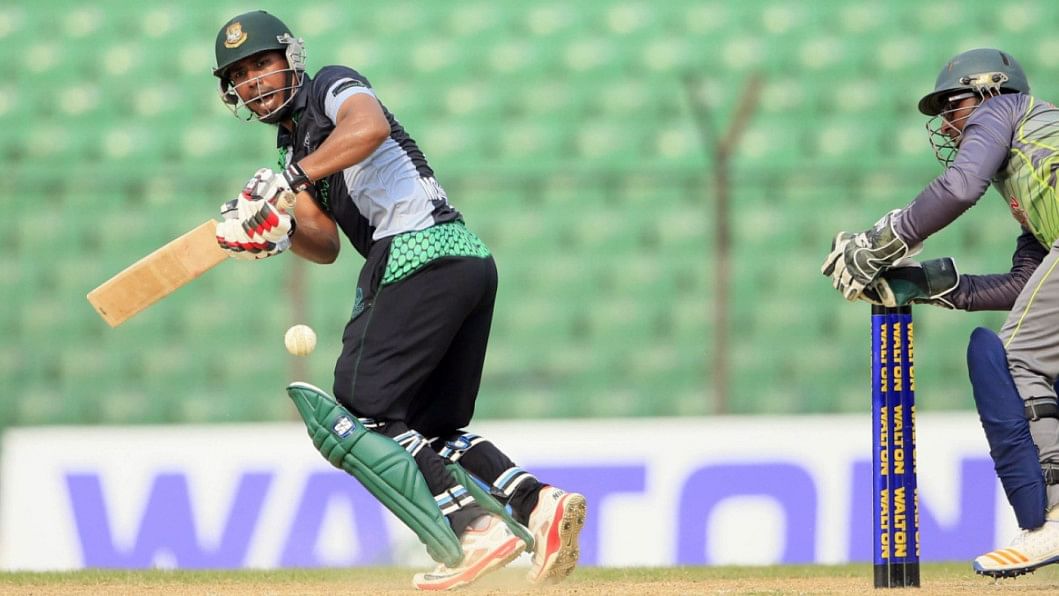 Mohammedan Sporting Club v Sheikh Jamal Dhanmondi Club
In a high-scoring cliffhanger, Sheikh Jamal Dhanmondi Club defeated Mohammedan Sporting Club by one wicket with 2 balls remaining in the Dhaka Premier Division Cricket League match at BKSP's No. 3 Ground today.
After a breezy start of 58 runs in 6.3 overs, Sheikh Jamal rode on the third wicket stand of 96 in 11.4 overs to stay in the contest. After a flurry of wickets, the seventh wicket partnership of 87 in 13.3 overs enabled Sheikh Jamal to finally reach their objective.
Prashant Chopra hammered 86 from 60 while Sohag Gazi smashed 89 from 64 to deny Mohammedan their seventh win in 11 games. Tanbir Hayder's 77 also helped Sheikh Jamal in their monumental chase today.
Mohammad Azim was the most successful bowler for Mohammedan with 4-70 in 10 overs.
Earlier, unbeaten 144 from opener Shamsur Rahman and Rony Talukdar's 110 enabled Mohammedan Sporting Club to score 339 for 5 in 50 overs against Sheikh Jamal Dhanmondi.
Sheikh Jamal captain Rajin Saleh would probably rue his decision to field first, as Mohammedan rode on the second wicket stand of 173 in 29.3 overs after a prolific start to assert themselves on the game. The finishing touch was provided during the fifth and sixth wicket stands as runs came thick and fast from the bats of Mohammedan batters.
Shamsur was 144 not out from 152 balls. His knock contained seven fours and seven sixes. Mohammedan captain Rony made 110 from 99 balls with 10 fours and three sixes to his name. Sheikh Jamal bowlers suffered a torrid day at the field, and almost all of them were sent on a leather hunt at BKSP today. Elias Sunny and Abdullah Al Mamun took two wickets each.
Score
Sheikh Jamal 343/9 in 49.4 overs
Mohammedan Sporting Club: 339/5 in 50.0 overs
(Sohag 89, Prashant 86, Mohammad 4-70)
Result: Sheikh Jamal Dhanmondi Club win by 1 wicket (with 2 balls remaining)
Kalabagan Krira Chakra v Khelaghar Samaj Kallyan Samity
Kalabagan Krira Chakra defeated Khelaghar Samaj Kallyan Samity by five wickets with 13 balls remaining in the Dhaka Premier Division Cricket League match at BKSP's No. 4 Ground today.
Chasing a paltry total of 205, Kalabagan rode on their second wicket stand of 104 in 25. 4 overs after a solid opening partnership to easily reach the target in the end. Jashimuddin made 89 from 105 balls while Mohammad Ashraful contributed with 56 to give Kalabagan their fourth win in 11 matches.
Suraj Randiv was the most successful bowler for Khelaghar with 3-31 in nine overs.
Earlier, stiff lower-order resistance from Khelaghar Samaj Kallyan Samity batsmen allowed them to reach 204 for 7 in 50 overs against Kalabagan Krira Chakra.
After Kalabagan captain Muktar Ali opted to bowl first, his bowlers emphatically vindicated his decision as they had Khelagar struggling at 5-72 inside 24 overs. Khelaghar recovered to some extent as the sixth wicket stand of 113 runs in 21.2 overs kept the Kalabagan bowlers at bay.
However, after Arifurzaman Sagor's departure in the 46th over, Khelaghar were denied the late boost they desperately needed, and could only manage 204 in the end.
Rafsan Al Mahmud was the highest run-getter in Khelaghar's faltering innings with 71 crucial runs from 98 balls while Arifurzaman chipped in with 46 from 58. For Kalabagan, Saad Nasim was the most successful bowler with 3-34 in 10 overs.
Score
Kalabagan Krira Chakra: 205/5 in 47.5 overs
Khelaghar Samaj Kallyan Samity: 204/7 in 50.0 overs
(Jashimuddin 89, Ashraful 56, Suraj 3-34)
Result: Kalabagan Krira Chakra win by 5 wickets (with 13 balls remaining)
Prime Bank Cricket Club v Gazi Group Cricketers
Prime Bank Cricket Club picked up their eighth win in 11 matches after they trounced Gazi Group Cricketers by seven wickets with 19 balls remaining in the Dhaka Premier Division Cricket League match at Fatullah today.
The 215-run target didn't prove too difficult for Prime Bank as their second wicket partnership of 107 runs in 22.2 overs kept the Gazi Group bowlers at bay. After Zakir Hasan's 66, Al-Amin's unbeaten 41 from 46 balls ensured no more hiccups in the end.
Hossain Ali, Parvez Rasool and Mominul Haque managed to pick up a wicket each.
Earlier, Prime Bank Cricket Club managed to restrict Gazi Group Cricketers to 214 after 50 overs. Prime Bank captain Mehedi Maruf decided to field first, and Gazi Group were soon wobbling at 2-3 inside three overs. The third wicket partnership of 149 runs in 31 overs steadied ship for Gazi Group, but after Mominul Haque's departure in the 34th over, it all went downhill and they were eventually bowled out for 214 in 50 overs.
Mominul's 79 from 106 balls held the innings together with Jahurul Islam's 66 who had to retire hurt. For Prime Bank, Nazmul Islam captured 3-45 in 10 overs while Al-Amin Hossain and Taibur Rahman picked up two wickets each.
Score
Prime Bank Cricket Club: 218/3 in 46.5 overs
Gazi Group Cricketers: 214 all out in 50.0 overs
(Zakir 66, Al-Amin 41*, Parvez 1-34)
Result: Prime Bank Cricket Club win by 7 wickets (with 19 balls remaining)