Approach the key on green wickets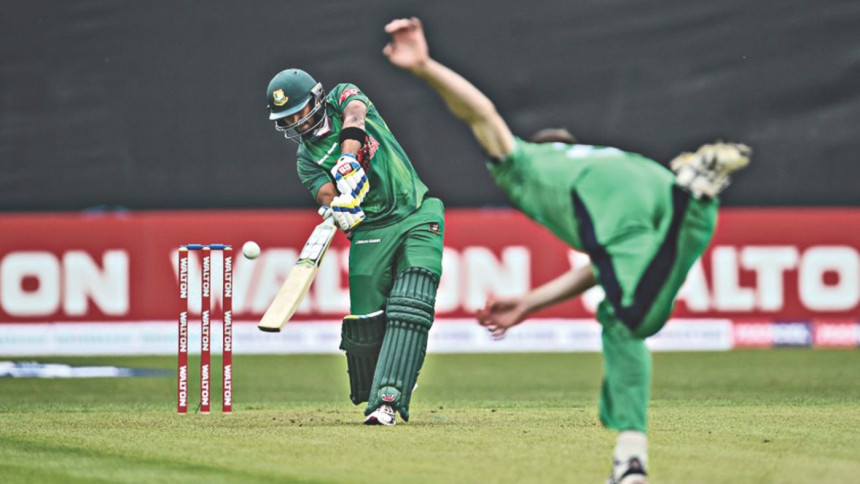 The lightweights of Ireland gave Bangladesh a real scare in the opening match of the tri-series on Friday. And had there not been a superb 87-run unbroken fifth-wicket stand between a composed Tamim Iqbal  and an assured Mahmudullah Riyad, the Tigers could have headed for disaster in a game that was eventually washed out due to rain.
On a green top at Dublin where there was hardly any difference between the outfield and the wicket, Bangladesh got off to a horrible start, losing opener Soumya Sarkar and one-down Sabbir Rahman in successive overs of Peter Chase. Soumya could only edge a rising delivery behind the wicket, something many cannot complain about. But Sabbir's shot was a shocker. He attempted a wild heave and ended up offering a tame catch at deep third man. The centurion in the lone warm-up game against Ireland A was supposed to adjust himself on a slightly different wicket. But he looked like he had itchy-feet on the pitch. The result was discomforting with Bangladesh reduced to 9-2 in 3.2 overs. Mushfiqur Rahim had a start and so did Shakib Al Hasan, but both perished, slashing at deliveries they should have left alone. When Shakib got out, Bangladesh were reduced to 70-4 in 14.5 overs. This was a scenario not many had expected when Bangladesh came out to bat in overcast conditions.
It was a typical English wicket where Bangladesh were playing their first one-day international after eight years. But the application of the top-order certainly suggested that they still look green on a green wicket. It was however, nothing to do with the wicket since they had played in more hostile conditions in New Zealand five months ago. Besides, after a ten-day conditioning camp in Sussex and the few practice games they played along the way, the top-order should have at least learnt the tricks of a waiting game with the knowledge that the new-ball swings a bit more in these conditions.
Shakib, who led the Tigers in the abandoned opening game in the absence of regular captain Mashrafe Bin Mortaza, said after the match 'it's easier to play in this condition when the ball gets older'. But unfortunately his words belied his application in the middle. It was expected that the captaincy tag might make him responsible but his injudicious shot at a crucial stage, when Bangladesh were desperately in need of rebuilding the innings, suggested that he was not ready to curb his attacking instinct no matter what the situation demands. Shakib scored a quick-fire 40 odd in Wednesday's practice game when Ian Callender, who was providing live commentary for CricketEurope Ireland, made an interesting comment after his dismissal.
"This could get ugly for Ireland here unless Bangladesh keep playing rash shots like this," Ian wrote.
This statement is quite poignant as far as Shakib is concerned. But somewhere along the line Shakib has to change if Bangladesh are to do well in the tri-series and more importantly in the ICC Champions Trophy, which will commence in England from June 1.
However, the satisfying aspect of the washed out game is the approach of Tamim Iqbal. The left-hander looked like a man on a mission during his solid unbeaten 64. Mahmudullah also played the perfect foil at the other end with 43 not out. The 87-run stand between Tamim and Mahmudullah actually provided a strong statement that Bangladesh have come a long way from being a mediocre team to a strong one-day unit. The only thing they need is mental application from the other senior members if the Tigers are to do well in the tri-series and beyond.