'Most important to be representing Bangladesh'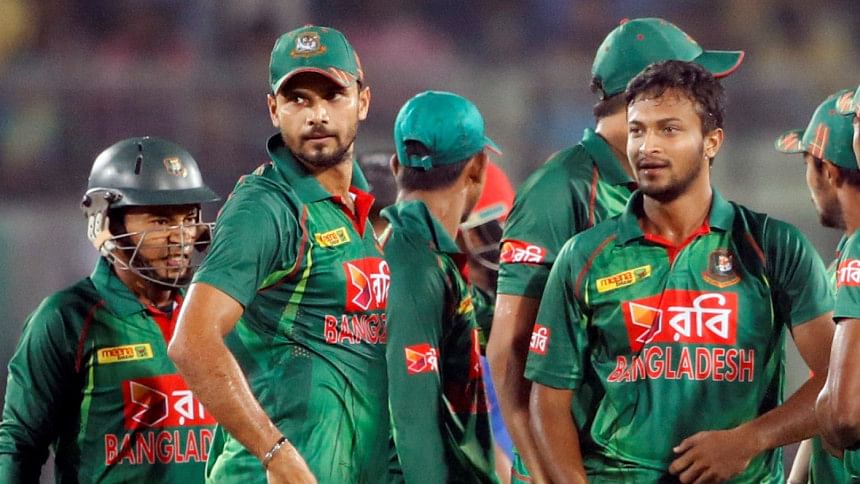 It is now becoming quite routine that in a momentous victory, Shakib Al Hasan is one the best performers. He scored a century in Bangladesh's historic first Test win over Sri Lanka at the P Sara Oval in the country's 100th Test, and he scored a blistering 71 in Dambulla less than a week later to help Bangladesh take a lead in an ODI series against Sri Lanka for the first time.
So it was fitting that he was the player of the match in Bangladesh's series-levelling win over Sri Lanka in the tour-ending T20I, a win made all the more important as it was the last T20I match of inspirational leader Mashrafe Bin Mortaza.
Ever since his retirement announcement during the toss before the first match on Tuesday, this was going to be a series about Mashrafe's farewell, and fortunately for Bangladesh, although it did not spur them to action immediately, it did bring about a change in fortunes with yesterday's 45-run thrashing, a win that ended a streak of nine losses in the format.
There was one extra spotlight on Shakib, as he had been anointed by Bangladesh Cricket Board (BCB) president Nazmul Hassan as the 'likeliest candidate' to succeed Mashrafe.
"I don't know yet, actually," said Shakib when asked about his possible promotion. "I am not thinking about it, honestly. The next target for me is the Indian Premier League and to do well there. I don't even know when Bangladesh will next play T20Is."
About the thumping win, he said: "It is important because we hadn't won the last eight games. The Asia Cup was our last good tournament. It was a big challenge for us in this game, after losing the first game. This is a satisfying win."
A person who normally does not betray his emotions, Shakib had glowing words when asked if Mashrafe's exit made the match an emotional affair. "He is a special figure in the dressing room. Naturally everyone will miss him. We need support on and off the field, and there's no one more helpful than him. Nobody can play forever, so I wish him all the very best in life. I would want him to continue in the ODI team for a long time, and take Bangladesh cricket forward.
"It was important to send off Mashrafe with a win, but what was more important was to represent Bangladesh. I think what you saw out there was an expression of that pride."
Earlier yesterday, the Bangladesh media had a meet with Sri Lanka legend Arjuna Ranatunga, who said that Bangladesh could win the 2023 World Cup. Shakib's words when made aware of that estimation by Sri Lanka's World Cup-winning captain was slightly uncharacteristic for the all-rounder, who usually keeps things close to his chest, while also reflecting the general mood of confidence in a team that has achieved the feat of drawing every series on a tough Sri Lanka tour.
"I think we have a very good chance in 2019 as well. The way we are improving, if we keep it up, I think we will have a very good chance. We lost to India in the 2015 World Cup. They played better than us in that game. Overall, if you look at our graph, we are doing well. We have some experienced, and young players who are performing really well. We are going in the right direction. I would fancy our team to do well in the 2019 World Cup. His [Ranatunga's] comment is a great compliment for us. It will always encourage us to do well."