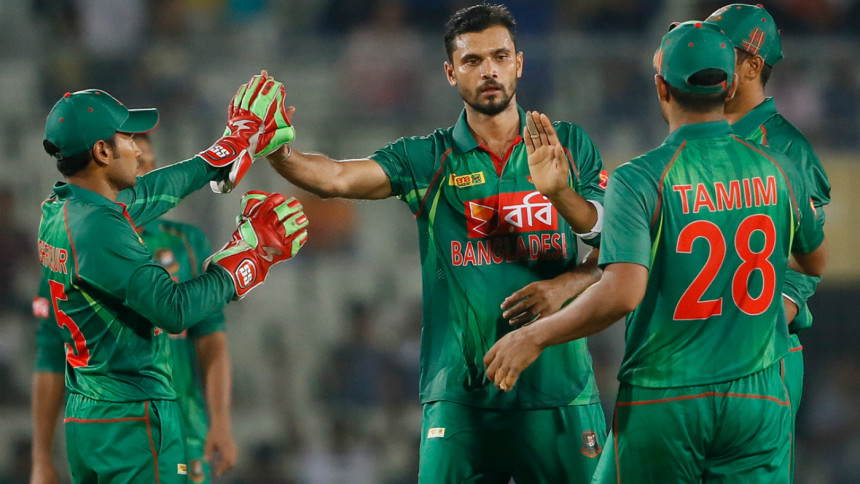 Bangladesh signed off the Sri Lanka tour in style, handing Sri Lanka a massive 45-run defeat as they won the second and final T20I to square the series at 1-1 and more importantly, to give captain Mashrafe Bin Mortaza a fitting farewell at the R Premadasa Stadium in Colombo.
Mohammad Saifuddin picked up the first wicket of his international career as he dismissed Sri Lanka tail-ender Vikum Sanjaya to bring the hosts' innings to an end.
Last Out: JRMVB Sanjaya c Mahmudullah b Mohammad Saifuddin 6 (3b 1x4 0x6) SR: 200.00
Mustafizur Rahman dismissed Sri Lanka's Lasith Malinga and Bangladesh were on the verge of a win, reducing Sri Lanka to 124 for nine. The Fizz bowled down a vicious yorker, which Malinga completely missed and the result was that his wickets were uprooted.
Last Out: SL Malinga b Mustafizur Rahman 0 (3b 0x4 0x6) SR: 0.00
Mustafizur Rahman sent back Chamara Kapugedera in the 17th over, reducing Sri Lanka to 123 for eight.  The Sri Lankan swiped at an offcutter and holded out.
Last Out: CK Kapugedera c Mehedi Hasan Miraz b Mustafizur Rahman 50 (35b 5x4 1x6) SR: 142.85
Mashrafe Bin Mortaza got the last wicket of his T20I career in the last over of his final game, breaching the defenses of Seekkuge Prasanna and rattling the ball into the stumps.
Last Out: S Prasanna b Mashrafe Mortaza 11 (11b 0x4 0x6) SR: 100.00
Shakib Al Hasan dismissed big fish Thisara Perera with a clevery disguised ball which beat the batsman, leaving Mushfiqur Rahim behind the stumps with the simple job of removing the bails. Sri Lanka were left at 98 for six and their dim hopes of a result flickered further.
Last Out: NLTC Perera st †Mushfiqur Rahim b Shakib Al Hasan 27 (23b 3x4 0x6) SR: 117.39
Bangladesh looked all set to win the second T20I and give outgoing T20I captain Mashrafe Bin Mortaza a fitting send-off as they reduced Sri Lanka to 40 for 5 within 6 overs. Bangladesh also look set to draw the T20I series 1-1, alongside the 1-1 draw in the Test and ODI series.
Then there was a burst from Mustafizur Rahman, who picked up two wickets off the first two deliveries that he bowled.
Last Out: TAM Siriwardana c Soumya Sarkar b Mustafizur Rahman 0 (1b 0x4 0x6) SR: 0.00

Last Out: DAS Gunaratne c Mosaddek Hossain b Mustafizur Rahman 0 (1b 0x4 0x6) SR: 0.00
Opener and captain Upul Tharanga was next to go, being dismissed by Mehedi, another catch taken by Mahmudullah.
Last Out: WU Tharanga c Mehedi Hasan Miraz b Mahmudullah 23 (21b 3x4 0x6) SR: 109.52
Munaweera was next to fall, another victim of Shakib's bowling. He was caught by Mahmudllah Riyad off the third ball of the third over.
Last Out: EMDY Munaweera c Mahmudullah b Shakib Al Hasan 4 (3b 1x4 0x6) SR: 133.33
Kusal Perera was the first to fall, being bowled off the second ball of the first over by Shakib Al Hasan.
Last Out: MDKJ Perera b Shakib Al Hasan 4 (2b 1x4 0x6) SR: 200.00
Lasith Malinga rocked Bangladesh in the penultimate over of the match, picking up a hattrick with the wickets of Mushfiqur Rahim, Mashrafe Bin Mortaza and Mehedi Hasan Miraz. 
He first got Mushfiqur with a dipping slower ball, which the Bangladesh keeper attempted to slog, but it missed the bat and took a touch off the off-stump.
Mashrafe was bowled off the next ball, carding a golden duck in his final T20I. He was also deceived by the pace and tried to play a cut shot, but completely misjudged it and was bowled.
Mehedi came in next and went back in quick time, being trapped leg before by a leg-stump yorker.
Last Out: Mehedi Hasan Miraz lbw b Malinga 0 (1b 0x4 0x6) SR: 0.00
Last Out: Mashrafe Mortaza b Malinga 0 (1b 0x4 0x6) SR: 0.00
Last Out: Mushfiqur Rahim b Malinga 15 (6b 1x4 1x6) SR: 250.00
Bangladesh reached 152 before Mosaddek Hossain fell after scoring an 11-ball 17 off the first ball of the 18th over. He had enjoyed a brilliant over previously, hitting a huge six and a four, but he could not continue.
Last Out: Mosaddek Hossain b NLTC Perera 17 (11b 1x4 1x6) SR: 154.54
Nuwan Kulasekara dismissed the set batsman, Shakib Al Hasan, for 38. Shakib had been playing aggressively and he hit four fours to take Bangladesh to a good position in 16 overs.
Last Out: Shakib Al Hasan b Kulasekara 38 (31b 4x4 0x6) SR: 122.58
Shakib Al Hasan and Mossadek Hossain were at the crease as Bangladesh reached 136 at the end of 15 overs.
Shakib was batting on 37 off 27, with four fours to his name, while Mosaddek has faced just three balls and scored as many runs since Sabbir Rahman's departure.
Sabbir was clean bowled by Vikum Sanjaya on the first ball of the 14th over, departing for an 18-ball 19.
Last Out: Sabbir Rahman b Sanjaya 19 (18b 0x4 1x6) SR: 105.55
Shakib Al Hasan and Sabbir Rahman were leading the charge as Bangladesh reached 100 in 10 overs.
Shakib Al Hasan hit two boundaries in the ninth over to take Bangladesh to three digits, although he was a bit lucky to have been dropped twice to some difficult chances.
Sabbir Rahman was batting on 12 off 10, a huge six being the only highlight of his innings so far. Shakib was on 13 off 8.
Imrul Kayes fell victim to a run-out while chasing a quick single. Running in from the non-striker's end, Imrul's dive was not enough to see him over the line before the bails had been whipped off and he departed for a 25 ball 36.
Last Out: Imrul Kayes run out 36 (25b 4x4 1x6) SR: 144.00
Opener Soumya Sarkar departed after a blistering 34 off 16 as he was caught and bowled by Asela Gunaratne off the third ball of the sixth over. Soumya chipped the delivery straight back into the arms of the bowler, who took it in stride.
Last Out: Soumya Sarkar c & b Gunaratne 34 (17b 4x4 2x6) SR: 200.00
Bangladesh had raced to 68 in six overs with Soumya Sarkar and Imrul Kayes belting the Sri Lankans all over the park. Soumya was batting on 34 off 16 balls after smashing four fours and two sixes, while Kayes was on 29 off 20 with four fours and a six.
Soumya Sarkar hit a huge six off the last ball of the fifth over to take the side to 56 with 15 overs remaining.
Bangladesh captain Mashrafe Bin Mortaza won his final toss in T20s and sent his side his out to bat first.
Tamim Iqbal sat out the match with back pain, and Imrul Kayes comes into the side and slots into the opening slot alongside Soumya Sarkar. Mehedi Hasan Miraz is making his debut on the T20I stage.