Not goodbye yet, captain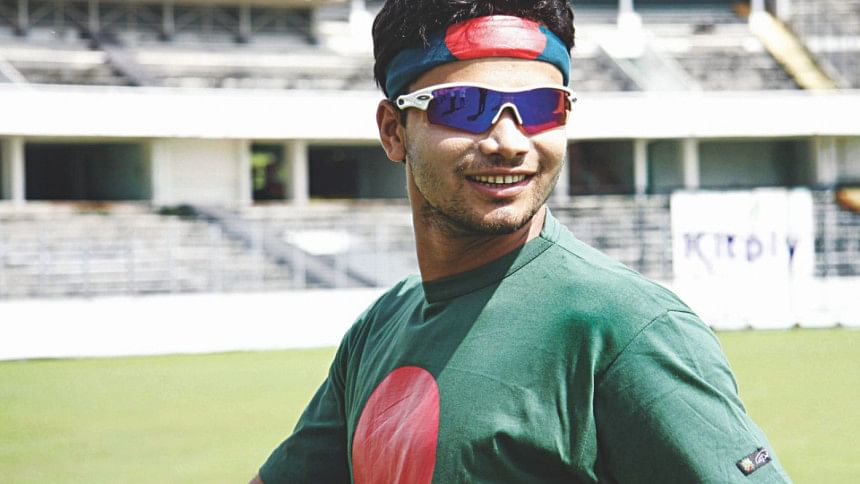 It was 1998 and the venue was the Dhanmondi Cricket Stadium. A tall and muscular pace bowler was gearing up to play for the pride of his division, Khulna. But a BCB official deemed him too old to fit in an Under-17 competition. So, that young lad was about miss his first opportunity to show what he was capable of. A debate ensued and eventually he was allowed to play.
The BCB official might be excused for his confusion because he had not seen such a giant 17-year-old fast bowler before. That boy with an aggressive run-up to wicket and with the kind of pace hardly noticeable in a land of spinners not only won that final for Khulna, but also made quick strides to the Bangladesh A team and then donned the famous red and green shirt in three years time.
Sixteen years on, the pace bowler has become an integral part of Bangladesh cricket, not only as a player but as a leader of men. Starting his career as Kowshik (his nickname), Mashrafe Bin Mortaza is now a role model for young players and an epitome of success against extreme adversity.
The 34-year-old decided to quit the T20 format of the game, and yesterday's match against Sri Lanka has drawn the curtains on his 54-game career in the shortest format of the game. His decision to quit T20 cricket surprised many, but the most heartening aspect is that he will continue to lead the Tigers in one-day internationals.
So, it's too early pay tribute to the braveheart from Narail. Still, it's an occasion when we stand up and salute someone who is unique not only in the context of Bangladesh cricket, but sports in general across the world.
He is unique because he is still fighting as a true athlete despite having gone through five major operations on both knees. He is unique because impossible is a word which does not exist in his dictionary. And with so many injuries, let alone a fast bowler, even a slow bowler would have given up the fight. He is unique because he is more than a cricketer in the field. He is the big brother his cricketing colleagues turn to in their desperate times. He is someone who never forgot his roots and never got carried away with all the fame. When he hugged a pitch invader during a one-day international at Bangladesh's home of cricket in Mirpur last year, it was nothing but genuine adulation he invoked from millions of his followers.
We all know what he has achieved as a cricketer. He has been the lone ranger as far as fast bowling is concerned in Bangladesh cricket. He is one of those cricketers who has never complained even after being overworked by his captain over the years.
It took a huge toll in his stop-start career mired with so many injuries. Pace bowlers in the Bangladesh ranks are very fortunate today because they have got a leader like Mashrafe, who not only cares for them but also initiated that break-through move from a spin-heavy attack to a more pace focused artillery.
Mashrafe's aggressive mind-set and self-belief is something embedded in him. There is an interesting story which still goes around in his close circle. He was playing a match in his home town of Narail and came in to bat at number ten. He took his stance and the moment the ball was delivered he let it hit the stumps. It surprised his teammates and officials and when he was asked he responded furiously: "Do you think I'm a number ten batsman?" Definitely not, after all he is still the proud owner of hitting the most runs in an over by a Bangladeshi -- 25. He is perhaps the hardest hitter of a cricket ball.
But the biggest legacy of Mashrafe is transforming an otherwise defeatist team into a winning one. Ever since he took over the captaincy of the shorter format in 2014, he has done wonders in the company of coach Chandika Hathurusingha. He earned respect from senior members of the team to the junior-most member of the team. They simply love him, not because he leads from the front on the field, but also off it.
If you are a believer that Mother Nature never denies a tryst then Mashrafe is the biggest example of someone who was rewarded at the twilight of his career for putting in all the hard-work. He could not play a year without injury when he was in his prime. Interestingly, he is now into his third year and has not missed a single match due to injury. He might be signing off from the shortest format, but we want to believe he will be right up there when Bangladesh play the 2019 ICC World Cup.
He will understandably feel sad to sign off from T20Is, but he is certainly leaving with the knowledge that he is leaving the team in a healthy state. It's not time to say good bye Mashrafe. It's time to say we are privileged to have you as a true leader, who still has an unfinished job in hand.