Water running dry in hills
CHT villages losing springs, streams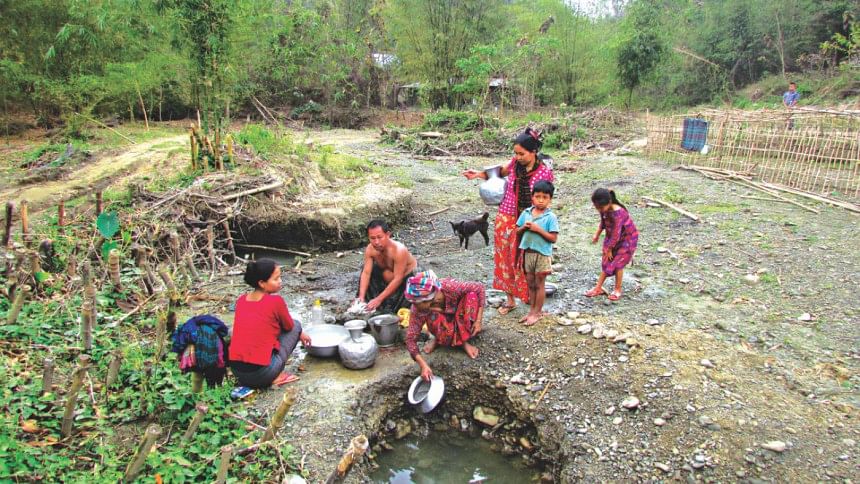 Every day, 30-year-old Ruposhi Chakma has to walk three kilometres to reach a well, to fetch water for her five-member family. In Chela Chhara village in Rangamati's Kawkhali upazila where she lives, there isn't a nearby water source anymore. An increasing number of families in the Chittagong Hill Tracts are facing the same problem. Over the last five years, countless springs and streams that were once reliable for water are now dry.
Chela Chhara is home to around 150 Chakma families and once had no less than seven springs to rely on for water. "They all dried up," says one villager. "We dug a 15-foot well in a stream bed to access water but it is quite some distance from our houses."
In nearby Upor Para village the situation is similarly bleak. "During the dry season even our well has no water," says housewife Suchona Chakma. "To fetch water in these months involves a difficult two kilometre trek through hilly terrain."
Committee secretary of a local conservation group, Sudatta Bikash Tangchangya believes indiscriminate environmental destruction is to blame. "Many trees have been felled. Stones have been extracted from streams, undermining water retention capacity," he says. "This summer's crisis stems from rampant environmental damage inflicted by vested quarters."
To make matters worse, in parts of Rangamati streams were disturbed by the landslides of 13 June last year, with dislodged stones halting previous water flows.
Nor are wells always a viable alternative. "We dug up to 150 feet," says Torun Bikash Chakma from Champa Toli village in Kawkhali. "We tried four times to make a tube well but our efforts were in vain. We couldn't find groundwater." Torun decided to store monsoon rainwater instead.
In neighbouring Khagrachhari district public health officials have concluded that tube wells are unsuitable in many areas. They advise locals to purify spring water collected from the forests for drinking, cooking, washing and bathing. In many villages residents did exactly that, but circumstances have changed.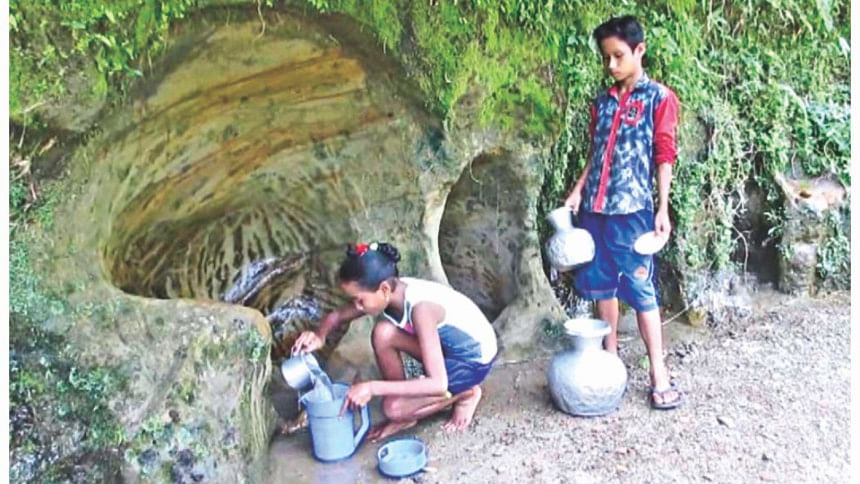 "The coverage of common forest across the region has decreased," says Priyo Lal Chakma, a karbari village leader from the Badol Chhrai area. "When there were more plants we had more water. Now, many springs have perished."
Executive engineer from the local public health department, Anupam Dey, echoes Priyo's view. "Forest is being replaced by monoculture plantations. As bamboo clumps and trees are felled, soil is losing its moisture," he says.
At Kamini Para village five kilometres outside Khagrachhari town, forty-five families have no alternative than to descend 250 feet on foot to reach water supplies at a well beside a canal. Each household spends a minimum of four hours a day on the task. "A local non-government organisation installed a tube well in our village a few years ago," says the local karbari, Biplob Basu Tripura, "but the water had excessive iron. It was later removed."
Chairman of Khagrachhari district's Perachhara union council, Tapan Kanti Tripura confirms that in that jurisdiction too, many villages are facing a water crisis. "A good number of tube wells dry up in the summer," he says. "We need to install more deep tube wells but the council has no budget for it." He says the public health engineering department is aware of the issue.
Khagrachhari's executive engineer from that department notes they have a goal to meet 75 percent of the demand for drinking water by 2021. "Groundwater levels are not the same in all areas," he says. "A detailed study is needed to identify locations where deep tube wells can help. In other areas water collection from the forest may be supplied to households after purification."