Two killed in 'gunfights'
Police say the victims were listed 'robbers'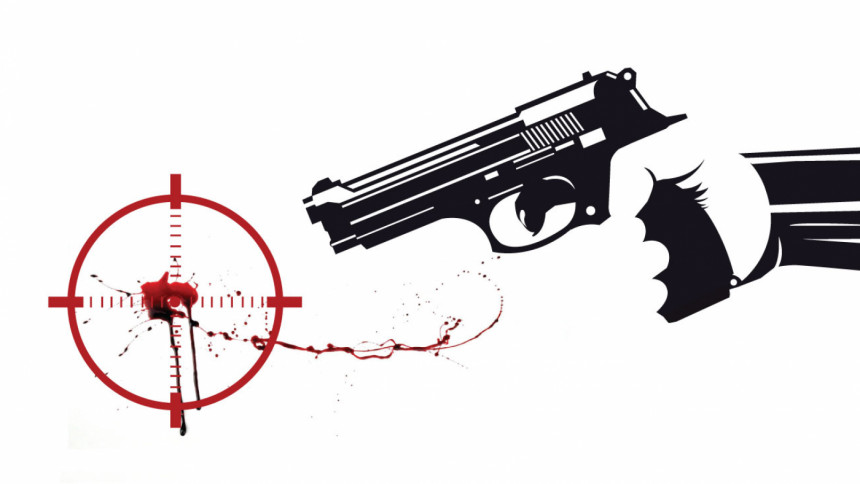 Two suspected robbers were killed in separate incidents of "gunfight" in Laxmipur and Rajshahi early yesterday.
In Laxmipur, an alleged robber identified as Nurul Alam alias Nuru, son of Samsuddoha of East Zafarpur village in Sadar upazila, was killed in a "gunfight" with police at Ganipur of Chandraganj union in Sadar upazila.
Police said they conducted a drive in the area after receiving information that a gang of robbers had gathered there to commit crime around 3:30am.
Sensing the presence of law enforcers, the gang opened fire on the police, prompting them to retaliate, police claimed.
Nuru died during the "gunfight", while his accomplices managed to escape, they said.
Two policemen -- Rafikullah and Rubel -- were injured, claimed the police.
Nuru was a top listed robber and wanted in six cases, said Zafar Ahmed, officer-in-charge of Chandraganj Police Station.
One LG gun, one gun and five bullets were recovered from the spot, he added.
In Rajshahi, a "robber" accused in a dozen criminal cases was killed in a "gunfight" between his cohorts and members of Rapid Action Battalion (Rab) in Charghat upazila.
The deceased was identified as Raihan Sarder, 35, said Nazrul Islam, officer-in-charge of Charghat Police Station. He was accused in 12 cases, including robbery, drug peddling and mugging.
Acting on a tip off that some robbers were gathering with an "evil motive", an operation team of Rab-5 went to Hazir Dhalan Rautha village at 12:10am, said a press release.
As the Rab team approached the group, they opened fire on them, prompting the elite force to retaliate.
When the group members fled the scene after a ten-minute "gunfight", Rab members found a man lying on the ground with bullet wounds. He was declared dead at Charghat Upazila Health Complex.
Four Rab members were also wounded in the "gunfight" and were given primary treatment, added the press release of Rab-5.
The Rab members recovered a foreign pistol, a magazine with four bullets, two machetes, two knives and an iron rod from the scene, says the press release.