Digging into past crimes of Tufan, Brothers
Charged with murder, blessed with impunity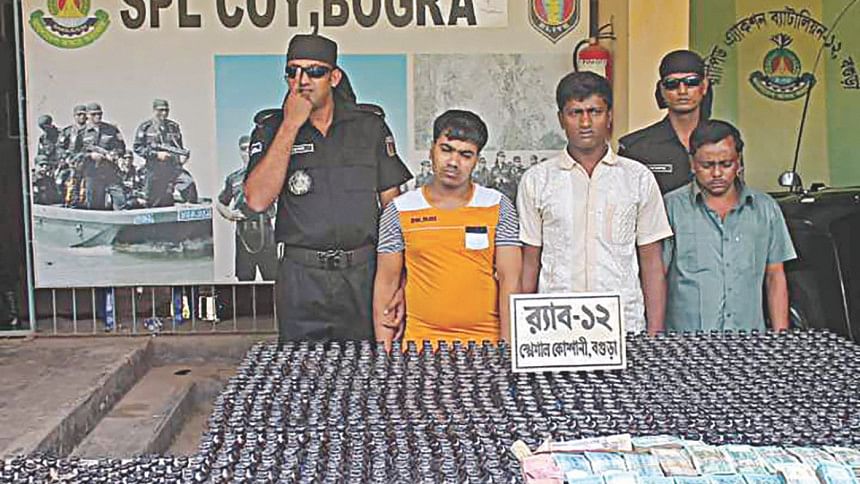 Tufan Sarkar his three brothers and nine of their men, killed Imran at his home in Bogra town's Chaksutrapur Modhyapara area in broad daylight on December 2, 2013.
They shot the BNP supporter first and then stabbed him repeatedly to make sure he was dead.
The brutality was witnessed by many residents of the area. Imran's elder brother, Hilu, tried to save him, but the attackers cut off several fingers from both of his hands.
All these were described in the First Information Report (FIR) filed with Kotwali Police Station and also in the charge sheet submitted by police about eight months after the incident.
In the charge sheet, Sub-Inspector Abdur Razzak Mia termed it a cold-blooded murder and identified Tufan, his three brothers--Sohag Sarker, Omar Sarkar and Jhumur Sarkar--and their nine cohorts as the killers.
Yet, neither Tufan nor any other accused were
 arrested. Police claimed they could not find the accused despite repeated raids but they were often seen roaming freely. 
Amid police investigation, Tufan and the other accused received bail from the court and the IO mentioned it in the charge sheet.
Senior lawyers and locals alleged that several Awami League leaders helped them secure the bail in exchange for money.
On July 17, he allegedly picked up a college student from her house and raped her at his house.
The girl did not immediately reveal the rape for fear of reprisal.
Tufan's wife Asha later learned about it and sent some cadres to pick up the girl and her mother on Friday. She tortured them for four hours at her house and had their heads shaved.
A drug trader and extortionist in Bogra town for about a decade, Tufan was arrested twice in possession of yaba tablets and Phensidyl bottles—in 2011 and 2015. On both occasions, he secured bail and resumed his illegal activities. He is also accused in an attempted murder case.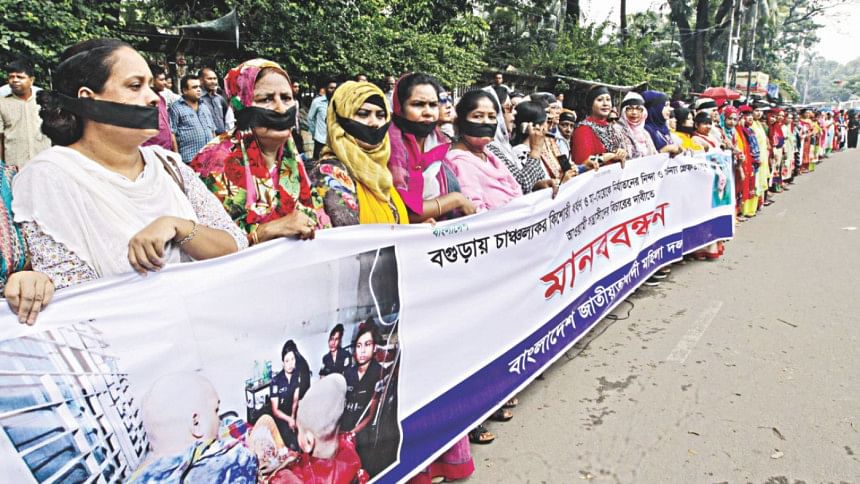 "After the murder, we thought police would arrest him and ensure punishment through proper investigation. But shockingly, he got bail and intimidated the victim's family," a lawyer of the town told The Daily Star on Tuesday.
Imran's mother, Minu Begum, filed the murder case, detailing how her son was murdered.
"The culprits threatened to kill my son because he protested their drug business in the area," she said.
One of her neighbours said, "Tufan and other killers threatened her make her withdraw the case."
At one point, Imran's family left the area for a brief period. Once they returned, the culprits offered them Tk 10 lakh to come to a compromise. The family agreed for their security.
"They agreed to give statements in such a manner that Tufan and other culprits could not be proven guilty," said the lawyer.
Imran's brother Mamun admitted that they were forced to come to a compromise. "They instructed us [witnesses] to tell the court that we did not see the killers at the scene."
He also told The Daily Star that his family preferred to be alive over justice. "We have been in constant fear of attacks," he added.
This correspondent went through the case documents and found the loopholes in the witnesses' statements.
"Tufan and his cohorts tried to buy everyone concerned to avert punishment. They had been successful thus far," said former public prosecutor Helal Uddin.
Meanwhile, Tufan, his wife Asa, mother-in-law Rumi and Tufan's cohort Munna were placed on remand again yesterday.
Tufan and Munna were placed on two days' remand each while Asha and her mother Rumi for one day. 
Police yesterday produced eight persons, including the four before the court of Chief Judicial Magistrate Shyam Sundar Roy. Tufan's father-in-law Runu, and cohorts Rupom, Zitu and Dipu were produced before the court.
Police arrested 12 persons after the mother of the alleged rape victim filed two cases for rape and torture with Bogra Sadar Police Station on Saturday.
She accused Tufan, Asha, Rumki, Rumi, Runu, Shimul, Atiq, Rupom, Zitu, Dipu and several unnamed others.
All but Shimul are now in custody. Police also arrested Tufan's father-in-law Runu for aiding and abetting the crimes and barber Jibon for shaving the victim's heads.
Atiq gave confessional statement before a magistrate, describing how the female student was taken to Tufan's house and raped.