Three honoured for Rising High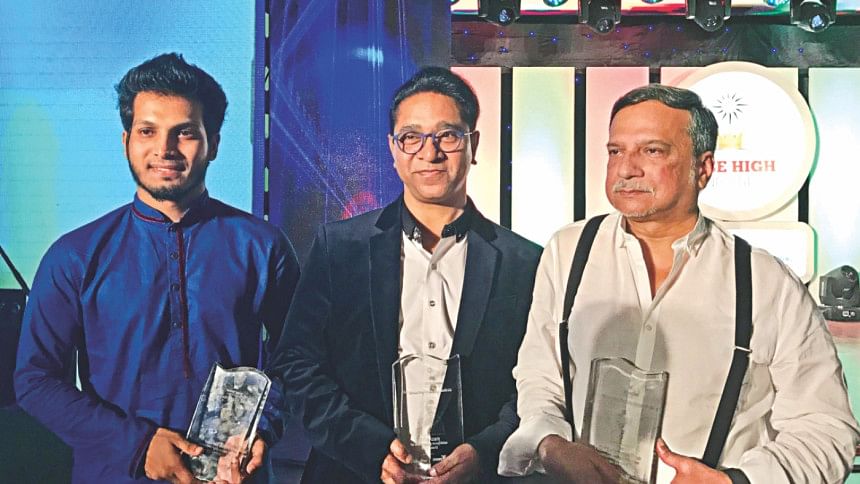 Bangladesh should create opportunities for talented young people so that they could use their creativity to become entrepreneurs and with their education and skills create jobs for others, business experts said yesterday.
The country's youth are very talented and committed, and time has come to respect their good and innovative business ideas so they can be entrepreneurs and help businesses grow, the experts observed at an award-giving ceremony for innovative business ideas.
The Daily Star and local cement manufacturer Crown Cement jointly organised the programme at the Senamalancha.
They launched a campaign styled "Rise High Bangladesh" in early August with a view to promoting innovative export-oriented business ideas for the youth. A competition was held among teams with business ideas.
At the ceremony, awards were given to top three business ideas and three notable entrepreneurs and professionals for having contributed to uplifting Bangladesh's image on the global stage. 
The entrepreneurs and professionals honoured are Osama Bin Noor, co-founder of Youth Opportunities, Rafiq Azam, internationally acclaimed architect, and Fazlur Rahman Khan (posthumously), a Bangladeshi-American structural engineer, considered the father of tubular design for high-rise.
Rafiq Azam is an architect, who considers architecture as paintings and strives for marriage between architecture and artwork.
Fazlur Rahman Khan designed the Willis Tower, Aga Khan Award winning Jeddah International Airport and many other landmarks.
In the competition for best business ideas, team Brain Castamere from the Institute of Business Administration of Dhaka University became the champion. The team's project was on "bioplastic", a material made from sugarcane for the packaging industry.
Team Inspirebels became first runner-up with its project on growing mushrooms on discarded paddy straw. The team members said they want to export the mushrooms. They said their project would reduce air pollution and alleviate food shortages as well as bring in foreign currency.
The demand for mushrooms, grown on paddy straw, is high in the western world and some countries in Asia and this is the best time to grab the European, Russian and the US markets, they said. The project would reduce unemployment and help farmers get better prices for the straw, team members claimed.
Team Unpredictable from Rajshahi University was the second runner-up.
Its project was on farming edible insects to lessen food shortages, protect the environment, and earn foreign currency. The team members said the demand for edible insects in the western world was on the rise. Primarily, they would make food items from crickets, mealworms and grasshoppers.
The farming of edible insects would also create an opportunity for employment, they claimed. Around 10 crore people eat edible insects and its global market was worth $15.9 billion, they said.
The dreams of today's youths are different, said Dhaka North City Corporation Mayor Annisul Huq. "Don't undermine your ability," he asked the youth.
It is crucial to have confidence, he said, adding that dreams, not failures that matter. "Have conviction, you can be a champion ... start playing and trying until you get your way."
Syed Nasim Manzur, president of the Metropolitan Chamber of Commerce and Industry, said confidence and inspiration was needed to succeed in life. He mentioned the struggles of Square Group and Apex Group as examples.
He said the founder of Square Group -- Samson H Chowdhury -- started his pharmaceuticals business carrying medicine on his bicycle and now this company is US FDA certified and exporting to countries across the world.
Similarly, Apex Group's founder Syed Manzur Elahi started his business with only Tk 13,000 capital.
Of the country's population, 60 percent are aged below 30, which means, Bangladesh has the young demographic dividend, said Mahfuz Anam, editor and publisher of The Daily Star.
He said only education and skills could turn millions of hands, which would otherwise remain the hands of beggars, into hands for production.
How much job creation is possible for such a huge workforce, he asked, adding that self-employment is the answer.
But to achieve that, the youth must be accomplished with entrepreneurial skills to develop their creativity for wealth creation. And the idea of Rise High Bangladesh was based on this, Anam noted.
"The amount of energy, creativity and dreams manifested in the youths' ideas inspired my own self."
Md Jahangir Alam, chairman of Crown Cement, said innovative ideas and creativity were keys to development across the world. He said his company manufactures cement with 96 percent imported raw materials and that it is crucial that such raw materials are available locally.
He demanded ensuring equal price for cement produced by local or foreign companies if those are of the same quality.
The aim of the campaign was to gather export-oriented business ideas from university students. Over 100 teams took part in the competition from across the country. The ideas were evaluated both by a jury panel and by The Daily Star readers.
Among the ideas received, three were short listed and presented before an expert jury and awarded at the ceremony. The jury had 70 points to give to each team, while the rest 30 points came from readers' vote.
The champion team would have the opportunity to have training on their business idea in India with the sponsorship of Crown Cement.
Amazing Bangladeshis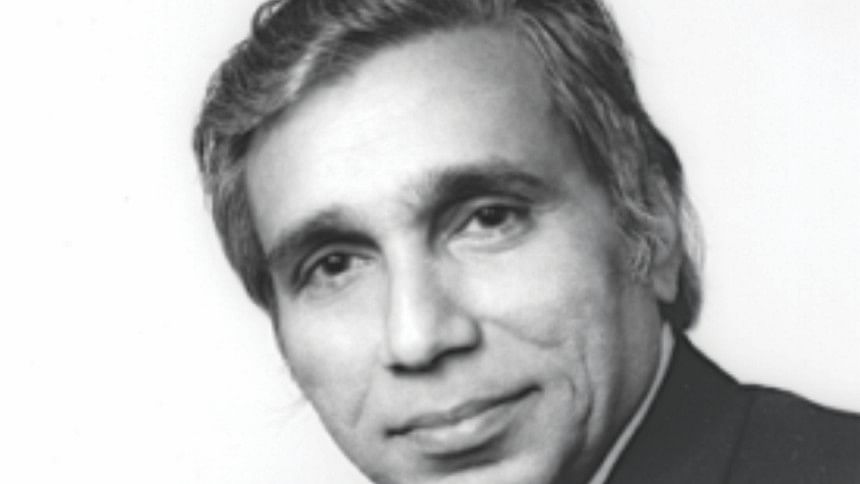 Fazlur Rahman Khan, architect and structural engineer
Best known as FR Khan, Bangladeshi-American architect and structural engineer Fazlur Rahman Khan initiated important structural systems for skyscrapers.
He was born on April 3, 1929 in Dhaka.
Considered the "Father of tubular designs" for high-rises, Khan more than any other individual, usher in a renaissance in skyscraper construction during the second half of the 20th century.
He has been called the "Einstein of structural engineering" and the "Greatest Structural Engineer of the 20th Century" for his innovative use of structural systems that remain fundamental to modern skyscraper construction.
Although best known for skyscrapers, Khan was also an active designer of other kinds of structures including the Jeddah Hajj Terminal, McMath-Pierce solar telescope in Arizona of the US and several stadium structures.
FR Khan died on March 27, 1981 at the age of 52 in Jeddah of Saudi Arabia.
His important works include DeWitt-Chestnut Apartments in Chicago of US (1963), Brunswick Building in Chicago (1965), John Hancock Center in Chicago (1965-1969), One Shell Square in New Orleans of Louisiana (1972), 140 William Street (formerly BHP House) in Melbourne of Australia (1972), Sears Tower in Chicago (1970-1973) and US Bank Center in  Milwaukee (1973).
---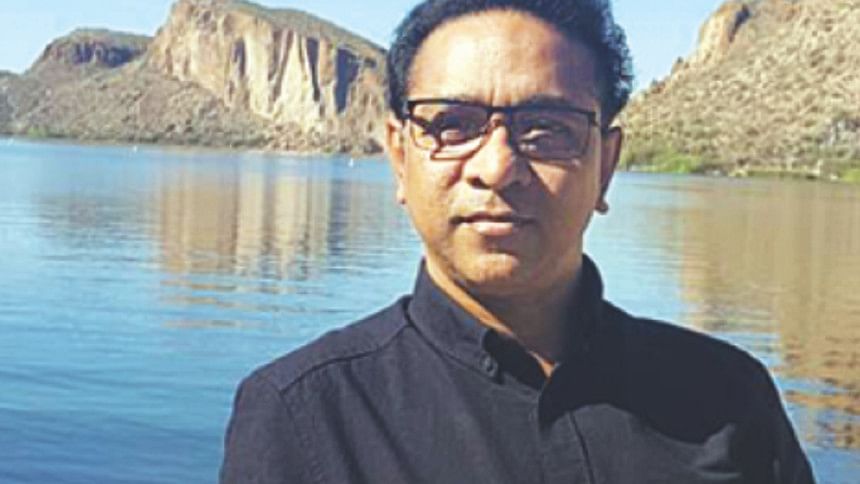 Rafiq Azam, architect
Rafiq Azam is an internationally acclaimed Bangladeshi architect. His architecture is a fusion of tradition, nature and mysticism.
His list of awards includes Emirates Glass Leading European Architects' Forum (LEAF) Award (2012) and World Architectural Community Award, 11th Cycle (2012).
---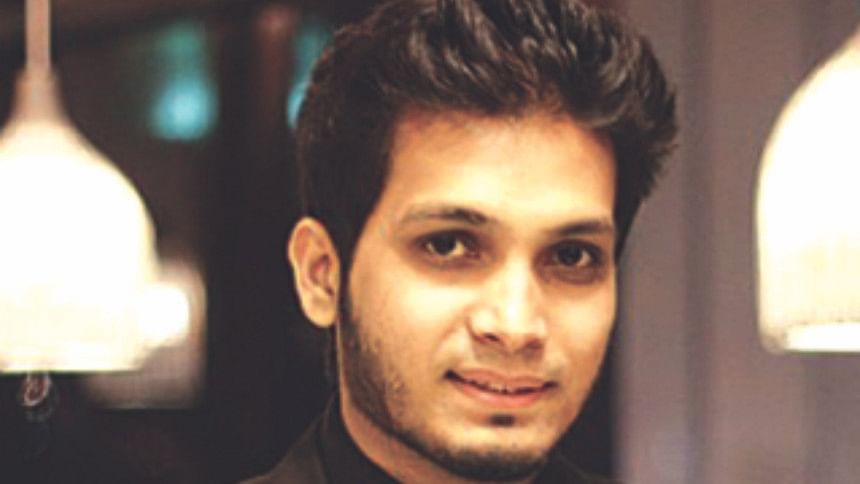 Osama Bin Noor, young leader
Osama Bin Noor is the co-founder of Youth Opportunities, the largest opportunity discovery portal for youths across the globe.
More than 100,000 youths from 192 countries are getting opportunity like scholarships, internships, conference, competition and more from www.youthop.com.
At present, Noor is doing his Bachelors in Dentistry and at the same time working with the largest volunteering organisation Volunteer for Bangladesh (VBD) as the president of its Dhaka district chapter.
He has been vibrantly active in the field of volunteerism over the last six years and has spent more than 2,000 volunteer hours in different public service activities across the country.
Recently he was awarded with the "2016 Queen's Young Leaders Award". He co-hosts a radio show called Teen Tekka at Colours FM 101.6.