The untold story of Jamdani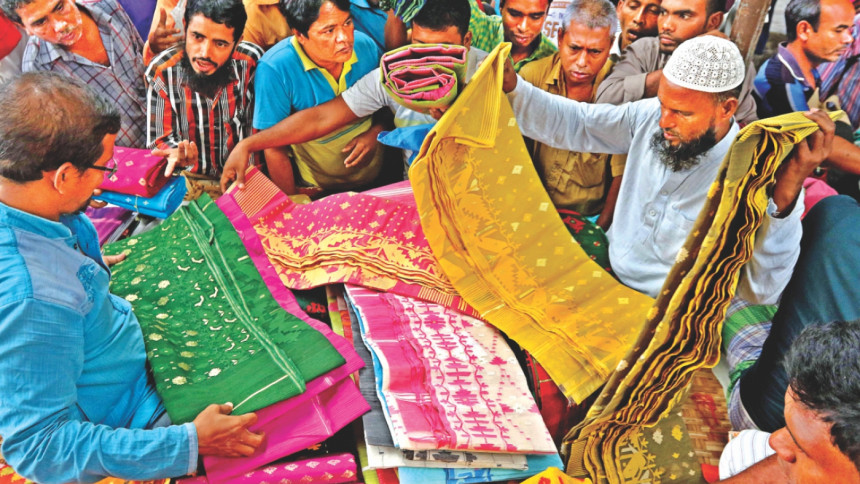 In the early hours of every Friday near the Demra Staff Quarter on the outskirts of Dhaka, a market comes alive with a frenzy of activities. This is a traditional haat, a place where a large number of saris and Jamdani fabrics are available at wholesale prices. This is where traders like Al Amin, who is known as a mahajan, deals in the fabled and signature handloom of Bangladesh -- Jamdani.
While the role of a handloom weaver and a factory owner is easy to understand, the mahajan's role is somewhat confusing, especially to an outsider. In essence, his role is to sell the weaver's products to customers or shops using their contacts, which makes them "agents" of sorts.
The weekly market operates within a short window of three hours, from 3:00am to 6:00am. All people involved in the trade production and sales of Jamdani attend the bazaar, and Al Amin is among those who serve as the bridges between them. Al Amin himself is also a weaver and owner of a Jamdani factory.
"It is very difficult to remain within a single role here," said Al Amin. It is here that mahajans like him all sit down to buy from individual or smaller weavers, and then sell the purchased products to retailers.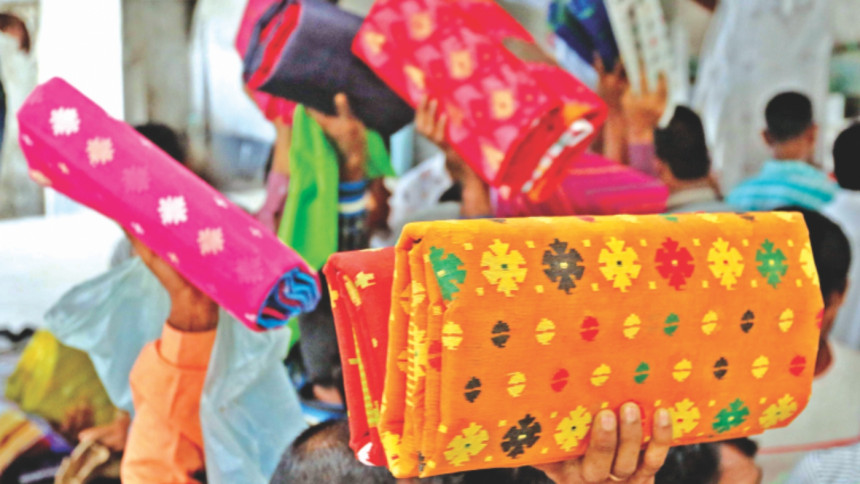 Mohammad Abdul Kuddus, another Jamdani businessman, explains further, "There are times when our own production is not large enough to meet the day's demand, and we end up buying from other weavers to compensate the gap."
According to Al Amin, a middleman can also help with selling Jamdanis without much complication, as they take their cut from beyond whatever they get over the original makers' set price. This way, a weaver gets to sell his products quicker and the middleman gets his cut without depriving producers.
Jamdani is the livelihood for thousands of weavers, and a business cannot be without profits. Amin says profit is shared in a very fair manner, with all associated costs like weavers' salaries, factory costs, vehicle costs and any other business related costs are covered by equal split of the profits among all participants. This way no one feels cheated, Amin says.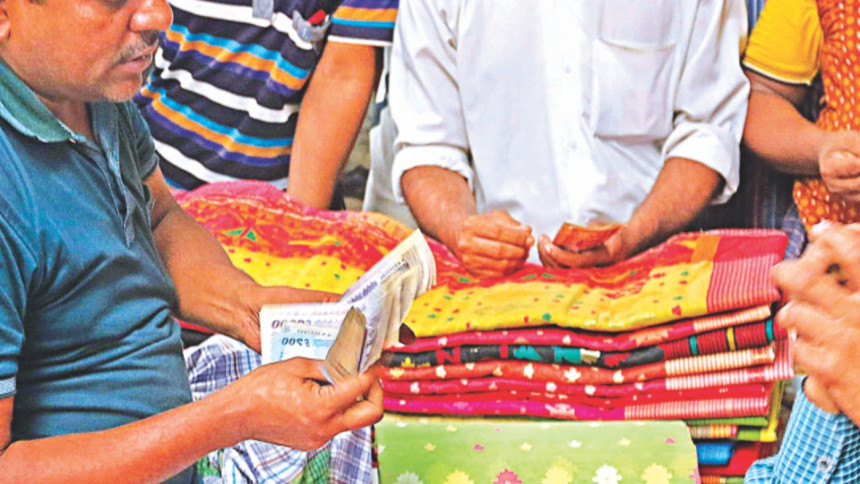 Today, Narayanganj, specifically a village in Rupganj called Rupshi, is a hub of Jamdani weaving and supply. This is where it is loomed, as the Shitalakkhya river is nearby and abundant water is a prerequisite for processing the cotton needed for making Jamdanis.
Few people are aware that Jamdani products are incredibly intricate works and take days or months to create. Each product requires minute attention to detail, all through the weaving process. To the people who weave this Jamdani though, it is a way of life. They are also artists in their own right, spending years to hone their skills, often from one generation to another in the same family.
While it can be considered a bit of an overkill to go all the way to Demra Staff Quarters almost outside the capital, for true enthusiasts there is no better pleasure. This is also where all the Jamdani that one might encounter in shops or malls come from, but with much more affordable choices. The haat can be quite a ruckus as it involves people with various roles, from financiers to weavers to retailers.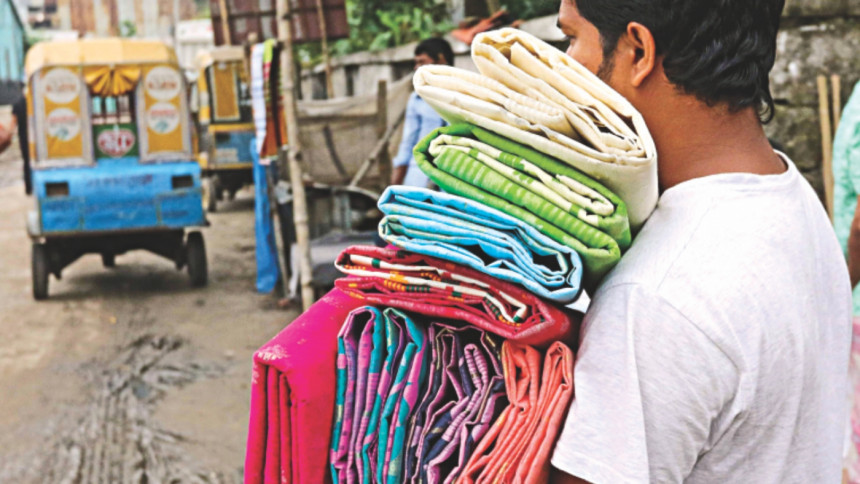 Most people who would go to these haats would most likely encounter a bustling crowd, while being somewhat oblivious to the underlying workings of the haat.
With the Eid-ul-Fitr just weeks away, people like Al Amin have a much busier schedule to maintain, but they do get to charge higher prices than usual, since demand is strong due to the festival season, and with the equal profit splitting scheme in effect, it means everyone is just that little bit happier.