Sundarbans: Cancel all industrial units
Nat'l Committee urges govt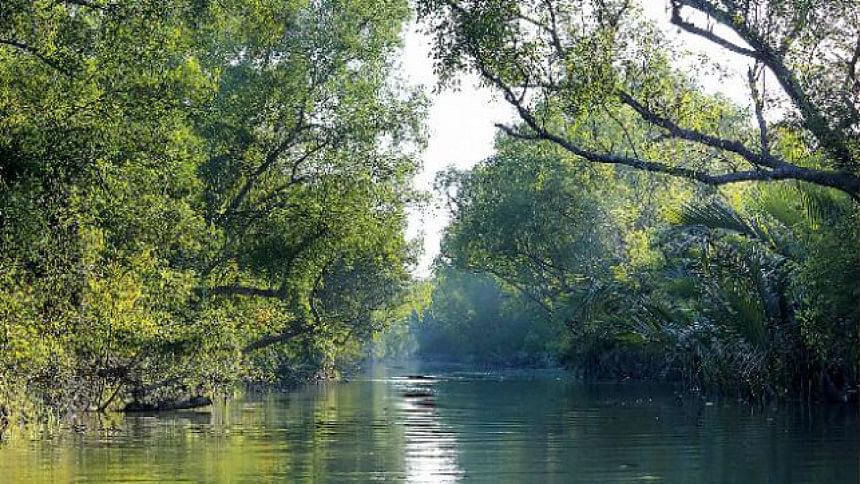 National Committee to Protect Oil, Gas, Mineral Resources, Power and Ports has reiterated its demand for cancelling all kinds of industrial units, including Rampal power plant, within the Sundarbans area alleging that the government has been destroying the mangrove forest only to serve the interest of certain quarters.
"We need electricity. But we cannot destroy our natural protection like Sundarbans against natural calamities at the cost of power generation," Prof Anu Mohammad, member secretary of National Committee, said while addressing an opinion exchange meeting at Mukti Bhaban in the city.
The National Committee organised the function to explain its alternative options to the Rampal power plant, Rooppur nuclear power plant and power system master plan 2016.
With National Committee leader Zulfiquar Ali in the chair, the function was also addressed by Ruhin Hossain Prince, Moshahida Sultana, Bazlur Rashid Firoz, and Akbar Khan.
National Committee leader Moudud Rahman made a presentation on the Rampal and Rooppur power plant projects.
Prof Anu Mohammad alleged that the government has been pushing the country towards a dangerous situation through the implementation of projects like Rampal coal-fired power plant and Rooppur nuclear power plant, and also by awarding contracts to foreign oil companies for hydrocarbon exploration.
"The country`s debt burden will reach a dangerous level if these projects are implemented with foreign loans," he said adding that Sundarbans works as a natural protection. But the Rampal project will destroy Sundarbans, leaving the entire coastal belt unprotected.
He said the government can generate a huge amount of power from renewable energy as an alternative to Rampal coal-fired power and Rooppur nuclear.
"But they are proceeding towards import of solar power from abroad instead of generating nuclear power locally," he said.
In his presentation, Moudud Rahman said the government has prepared the power system master plan with lot of inconsistencies.
He claimed that the master plan says the country will need 19,000 megawatts (MW) of coal fired power and 7000 MW of nuclear power by 2041.
But this estimate is wrong and the actual need for coal-fired power generation will be 11,000 MW while 3000 MW nuclear power. These amounts will be good enough for the country at that time, he said.