Solution in short time
Public university teachers say PM assured them of addressing their grievances over pay scale disparity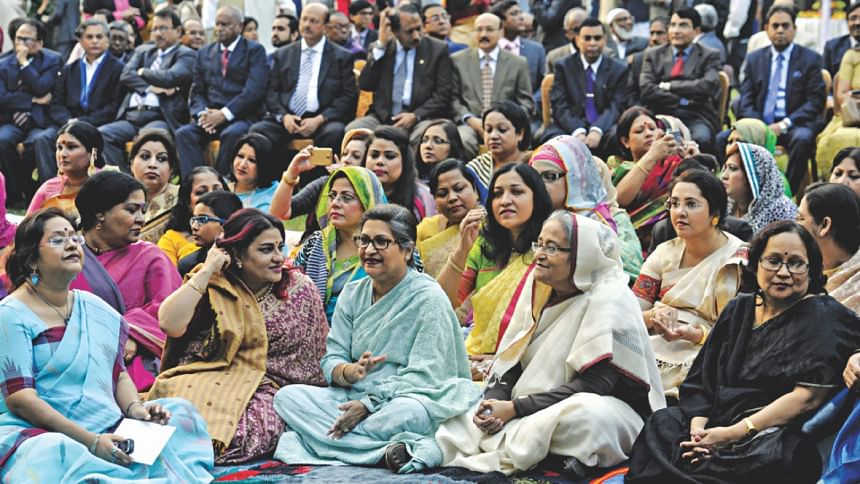 Prime Minister Sheikh Hasina yesterday assured agitating public university teachers that she'd deal with their demands so that the ongoing stalemate over "disparities" in the new pay scale could be resolved in the quickest time possible, claimed teachers.
During a meeting with a delegation of Federation of Bangladesh University Teachers' Association (FBUTA) at Gono Bhaban, the premier, however, urged them to resume classes immediately at the universities, they said.
"The premier assured us that she herself will look into the matter so that the problem could be solved quickly. We have absolute faith in her and we also believe that the problem would be solved quickly," Prof ASM Maksud Kamal, general secretary of FBUTA, told reporters after the meeting.
As for resuming classes, he said they would soon come up with an announcement regarding this after holding a meeting of the federation today. He said they'd also seek opinions from the teachers' associations at public universities.
"We will announce our next steps on the basis of opinions we get from the meetings," said Prof Maksud.
He, however, said they did not compromise on their demands. "We have not made any unjust demands. We have voiced our legal demands."
The teachers sat with prime minister on the sixth day of their stoppage at all 37 public universities for the removal of "disparities" and the retention of the selection grade and time scale, following an invitation from the Prime Minister's Office.
The strike led by FBUTA has crippled academic activities at the universities.
During the break for Maghrib prayers, Hasina had an unofficial meeting with eight members of the federation, Prime Minister's Press Secretary Ehsanul Karim told The Daily Star.
The prime minister told teachers that she would work a way out for promotion from grade-3 to grade-1, he said adding she also assured them of reviewing the teachers' other demands.
FBUTA leaders said the premier had discussed their demands in a cordial atmosphere for around one and a half hours.
"We all put forward the reasons why we have launched this movement for several months," said Prof Maksud Kamal.
He said the prime minster asked the PMO officials present at the meeting to solve the problem as quickly as possible.
Gono Bhaban yesterday hosted a rice cake festival which was attended by people from different professions.
Teachers under the banner of FBUTA have been protesting the eighth pay scale since May last year, saying it downgraded their status. They have been pressing for a four-point charter of demands including formation of a commission to initiate an independent pay scale for public university teachers.
Other demands include parity of salaries and allowances between senior professors and senior secretaries, and between professors and secretaries; and upgradation of teachers' status in order of precedence.