School-goers hit hard by heat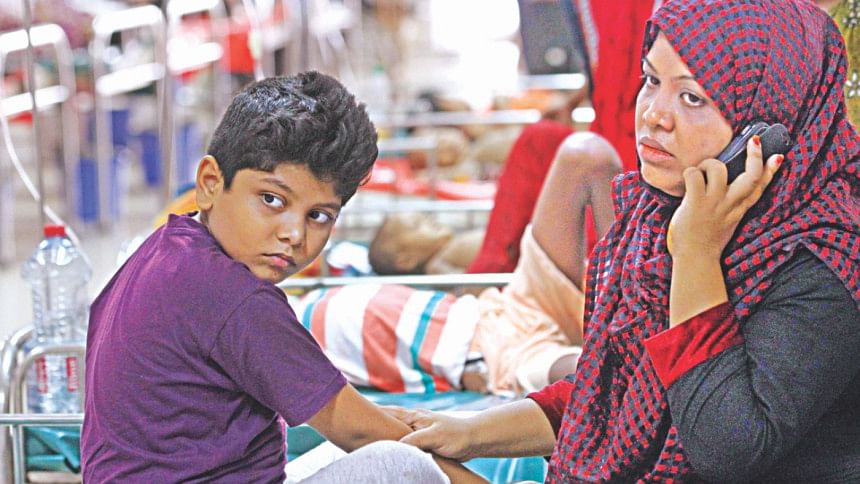 With a heat wave sweeping the country for weeks, school-going children are falling sick due to the scorching summer sun.
Braving the sweltering heat, nine-year-old Rifat from Swaruppur village in Feni's Daganbhuiya kept walking to his school about half a kilometre from his home but eventually fell sick.
"After going to school six days ago, he got a fever. We first took him to a local hospital. The doctors there referred him to Dhaka," Rifat's mother Kohinoor Begum told The Daily Star at the emergency ward of Dhaka Shishu Hospital in the capital's Agargaon yesterday afternoon.
"The doctors here are now saying they found problems in his kidneys," she said.
Faika Farzana, 6, of Dhaka got a fever on Thursday after coming back from her school in Dhanmondi.
"Her first terminal examination is going on," said her father Parvez Hossain yesterday. "So we called the school today requesting if she could take the exam later but they said there was no such option.
"So, I took her to the school and her condition got worse. Her temperature rose to 102 Fahrenheit and she started vomiting. We then brought her to Dhaka Shishu Hospital," he said at the hospital.
Contacted, the school's class coordinator concerned said, "If a child fails to attend the exam for any valid reason, we consider their overall performance during promotion at the end of the year."
She, however, admitted that many children were becoming sick probably due the summer heat. "The government can take some steps like announcing school closure during this kind of weather," suggested the school official, wishing anonymity.
Tahmina Rahman Rimi, who teaches at an English school in the capital, had a similar opinion.
"Schools can remain closed now and make it up by reducing the duration of the summer vacation, given so many children are becoming sick," she said, noting that many guardians had already requested the school authorities to do so.
Similar reports are coming in from outside the capital as well.
Asma Khan, of Victoria Road area in Tangail, said, "I sent my daughter Sarita Jerin Joye, a second grader, to her Anandapath School at 9:00am today    [yesterday].
"But two hours later, the school informed me that Joye had become sick. I rushed to the school and brought her home."
Joye had a high fever just after reaching school, said Asma. "I suspect it was the heat that made her sick.
"I always worry if my children are okay at school in this unbearable heat," said the mother of three.
Sanjida Yasmin Moly, headmistress of the school, said: "Not only Joye, but also many other students of my school are sick due to the hot weather over the last two weeks.
"But what can we do? The monthly tests are going on and we cannot close the school right away," she said.
There are 80 students at Rajapukur Primary School in Kawgaon under Dinajpur Sadar upazila and they feel dehydrated almost every day while attending the classes under the corrugated iron sheet-roofed classrooms with poor ventilation.
Visiting the school last week, our local correspondent found the children attending classes under a tree outside the classrooms.
"It is so hot inside the rooms that students often become sick. That is why we are taking classes here," said Joygun Nahar, headmistress of the school.
The Sahapur Government Primary School of Gomostapur upazila in Chapainawabganj has no ceiling fans and children suffer a lot when they attend the classes there.
"Our students mostly come from poor families and we cannot afford ceiling fans for them. The children suffer a lot," said Razia Sultana, a teacher of the school.
Education Minister Nurul Islam Nahid, however, he did not receive any reports from anywhere that children were becoming sick due to the heat.
"The way the weather is changing, the temperature is likely rise. We need to learn to adjust ourselves to it."
The minister said he would take steps if he received any such reports. "But I do not think the [weather] condition is so bad yet that we need to initiate a school recess."
[Our correspondents from the districts concerned contributed to the report.]