Rohingya Crisis: Persecution on despite int'l call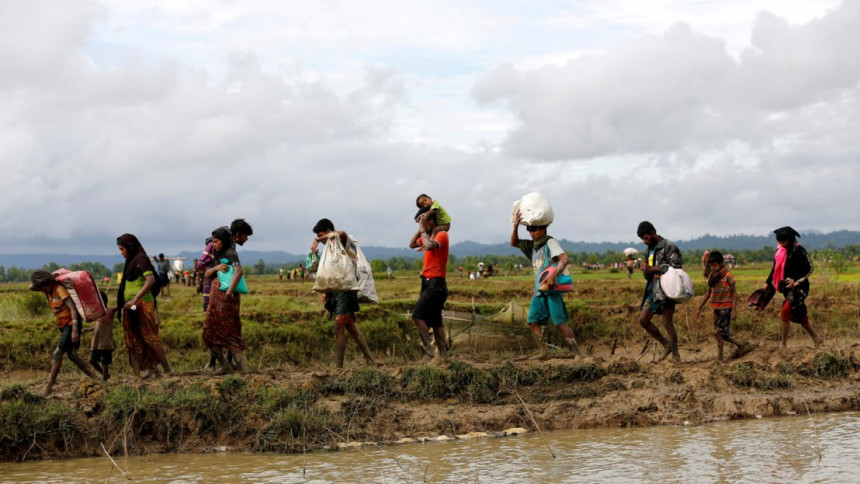 Ignoring international call for halting cruelty to Rohingyas, Myanmar security forces continue persecution of members of the ethnic minority in the Rakhine State.
Myanmar also blocked all United Nations aid agencies from delivering vital supplies of food, water and medicine to thousands of desperate civilians at the centre of a bloody military campaign in Myanmar, The Guardian reported yesterday.
Myanmar government says 400 people have been killed in clashes since Islamic militants from a group called Arakan Salvation Army attacked 30 police posts and killed 12 officials on August 25.
Rights monitors, however, says the death toll is much higher.
UN agencies estimated that around 90,000 Rohingyas crossed into Bangladesh since the latest round of violence erupted in the Rakhine State.
The newly arrived Rohingyas have given horrific accounts of rape, mass killings, including beheading of children, and arson attacks that forced them to cross into Bangladesh.
In a report yesterday, UNHCR officials warned of "true crisis" as Rohingyas seek safety in already strained Bangladesh refugee camps.
"This is a true crisis ... Every family has taken in new arrivals, every available space is occupied. I'm not sure how long we can sustain this," said the report available on the UNHCR website.
"As thousands more arrive every day, we need emergency shelters and additional land to build on," it said.
The Office of the UN Resident Coordinator in Myanmar told The Guardian that deliveries were suspended "because the security situation and government field-visit restrictions rendered us unable to distribute assistance", suggesting authorities were not providing permission to operate.
Staff from the UN refugee agency (UNHCR), the United Nations Population Fund (UNFPA), and the United Nations Children's Fund (UNICEF), didn't conduct any field work in northern Rakhine for more than a week, a dangerous halt to life-saving relief that will affect poor Buddhist residents as well as Rohingyas.
The UN World Food Programme (WFP) said it also had to suspend distributions to other parts of the state, leaving a quarter of a million people without regular access to food.
Sixteen major non-government aid organisations, including Oxfam and Save the Children, have also complained that the government has restricted access to the conflict area.
Humanitarian organisations are "deeply concerned about the fate of thousands of people affected by the ongoing violence" in northern Rakhine, said Pierre Peron, spokesman for the UN Office for the Coordination of Humanitarian Affairs (OCHA) in Myanmar.
Yesterday, around 300 protesters from Australia's Rohingya community rallied outside Parliament House in Australia and called upon the government to intervene to prevent violence against Myanmar's Muslim minority.
Besides, several hundred Muslim women demonstrated outside Myanmar embassy in Indonesia to protest the persecution of Rohingyas.
In a statement on September 1, the UN Secretary-General Antonio Guterres urged restraint and calm in the state, cautioning that the situation may otherwise lead to a humanitarian catastrophe.
The US, UK, Australia, Turkey, Indonesia, Malaysia and several other countries have repeatedly told the Myanmar government to ensure the protection of all its citizens.
British Foreign Secretary Boris Johnson called for the violence to end, saying the treatment of Rohingyas was "besmirching the reputation of Burma" and appealing to Aung San Suu Kyi to act, BBC reported on September 3.
Earlier on September 1, Turkey President Recep Tayyip Erdogan accused Myanmar forces of genocide, and said those who turned a blind eye to events were complicit.
Meanwhile, Myanmar government approved the military's request to designate the entire Maungdaw District in northern Rakhine State as an operational area, President's Office spokesperson U Zaw Htay confirmed to news portal The Irrawaddy yesterday.
According to Police Major Ko Ko Soe of the border guard police headquarters in Maungdaw's Kyee Kan Pyin, five areas in northern Rakhine -- Buthidaung, Maungdaw, Rathedaung townships, and Taungpyoletwe and Myinlut sub-townships -- have been designated as operational areas as of August 25.