Road crashes kill 10 in city, Mymensingh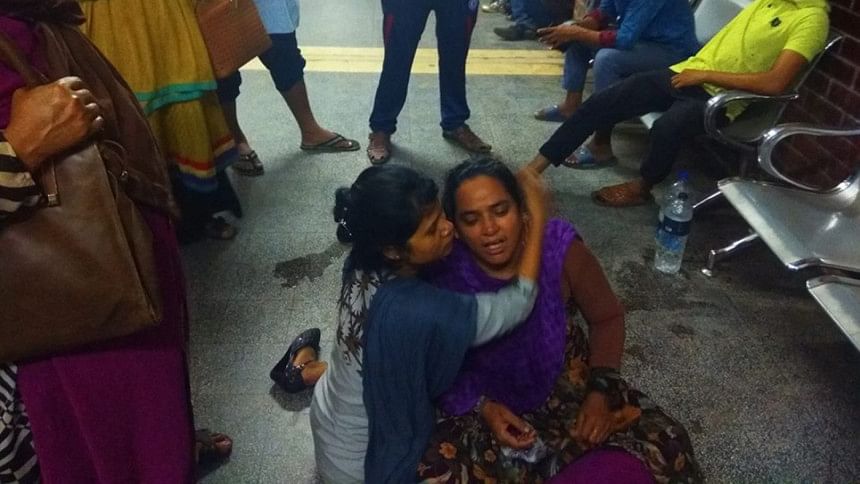 Ten people were killed and at least 11 others injured in road accidents in the capital and Mymensingh yesterday.
In Mymensingh, six people, including a father and his son, were killed as a bus rammed a CNG-run auto-rickshaw at Kakni in Tarakanda upazila, reports our district correspondent.
The accident happened on Mymensingh-Sherpur road around 3:15pm when the Dhaka-bound bus hit the three-wheeler, killing five on the spot and injuring another, said Mazharul Huq, officer-in-charge of Tarakanda Police Station.
The deceased are auto-rickshaw passengers Ayub Ali, 55, his son Abdul Karim, 24, Mazharul Islam, 19, Salim Uddin, 19, Nazim Uddin Bhuiyan, 45, of Haluaghat upazila, and driver of the vehicle Sona Mia, 35, of Phulpur upazila.
Injured Karim was rushed to Mymensingh Medical College Hospital where doctors declared him dead.
Police seized the bus, but its staff managed to flee, the OC added.
Hearing the news, locals put a barricade on the road for around half an hour. On information, police rushed to the spot and brought the situation under control.
In the capital, three people -- two students and a minor girl -- were killed and at least 10 others wounded as a bus hit a human haulier, popularly known as "Leguna", in Mirpur. All the victims were passengers of the human haulier.
Two of the deceased were identified as Shibli Sadiq, 27, a student of computer science and engineering department at American International University-Bangladesh, and Yeasin Shuvo, 24, a third-year student of electrical and electronic engineering department at Manarat International University.
The identity of the girl, aged around six, could not be confirmed.
AB Siddique, officer-in-charge of Shah Ali Police Station, said the bus coming from Birulia of Savar hit the human haulier in Diabari area around 2:00pm, injuring at least 13 people. 
Three of them were declared dead after being taken to Shaheed Suhrawardy Medical College Hospital. Two injured were undergoing treatment there, while four others were referred to Dhaka Medical College Hospital.
Yeasmin Begum, mother of Shuvo, said her son was returning home at section-6 in Mirpur from his university campus yesterday afternoon.
"My son used to tell me that he would help the family after completing his graduation. Now who will shoulder the responsibility of running my family?" she asked.
Police seized both the vehicles.
In another accident, Narayan Saha, 45, a private organisation employee, was killed in Uttara when he was taking his son to a coaching centre on a rickshaw yesterday morning.
A bus hit the rickshaw near Polwel Market around 9:00am, injuring Narayan and his son, said Sub-Inspector Anwar Hossain of Uttara East Police Station. 
The injured were taken to a local hospital. They were later moved to DMCH where Narayan was declared dead around noon.
The bus was seized, but the driver fled the spot, police said.
At least 87 percent buses and minibuses ply the roads in the capital recklessly in violation of traffic rules, creating anarchy in the public transport sector, according to a report of Bangladesh Jatri Kalyan Samity published in April.
Road accidents increased by 15.5 percent, deaths in crashes increased by 22.2 percent and the number of injured by about 2 percent last year from that in 2016, the report said.
At least 1,841 people were killed and 5,477 others injured in 1,779 road accidents between January 1 and April 20 this year. Of the wounded, 288 were maimed, the report added.