A hand lost, grim days ahead
He wakes up in a delirium every now and then, trying to find his right hand with the left one. He searches in vain, and goes back to sleep again.
He wakes up in a delirium every now and then, trying to find his right hand with the left one. He searches in vain, and goes back to sleep again.
Rajib Hossain, a third-year student of Government Titumir College, lost the hand after it got stuck between two speeding buses trying to overtake each other in the capital's Bangla Motor area on Tuesday.
Profusely bleeding, he was taken to Samorita Hospital in Panthapath. He was at the post operative intensive care unit (ICU) until yesterday noon.
Dr Hossain, medical officer at the ICU of the private hospital, said Rajib was under sedation and kept regaining consciousness after intervals.
The 22-year-old was shifted to Dhaka Medical College Hospital (DMCH) later in the afternoon.
"While in the ambulance, he [Rajib] woke up and asked me to help him straighten his hand. I could not answer him when he asked me 'why is my hand folded, khala?'" Rajib's aunt Jahanara Begum told The Daily Star. 
"How could I tell him that he doesn't have his hand? ... How would I console him?" Jahanara said and she burst into tears.
Rajib lost both of his parents. His relatives, who are already in shock, are struggling to bear his treatment costs.
"Till this [yesterday] morning, the medical bills at Samorita Hospital were Tk 1.26 lakh. How could we afford such a huge amount of money?" said Jahanara, a section assistant at the GPO (Government Post Office).
She paid around Tk 35,000 and signed a bond saying that the rest of the money would be paid later, she said. Earlier, Rajib's uncle Jahidul Islam paid Tk 17,000 for medicines. Also, a team from Government Titumir College gave them Tk 10,000 in assistance. 
Meanwhile, the High Court yesterday directed the owners of the two buses to bear all the costs for Rajib's treatment.
In response to a writ petition, the HC also issued a rule asking the government and the bus owners to explain in four weeks why they should not be directed to give Tk one crore to Rajib in compensation.
But what keeps worrying the relatives most is Rajib's future.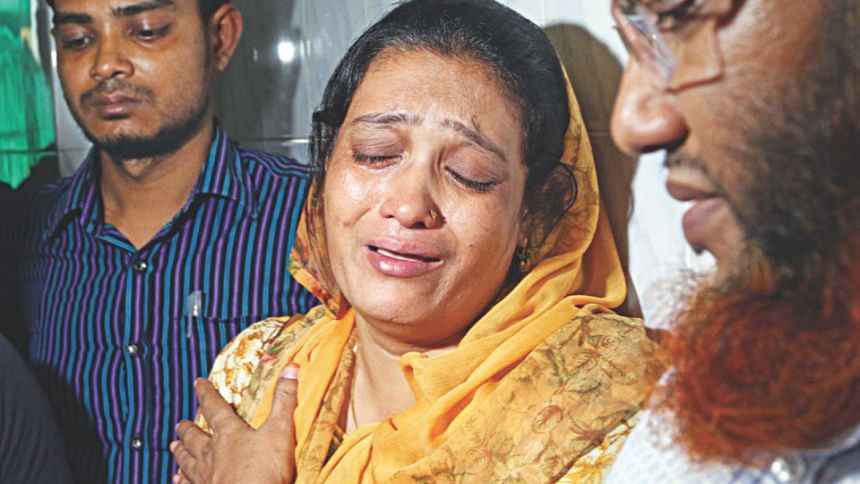 Eldest among three brothers, Rajib lost his mother around 10 years ago and father eight years ago. He paid for his education from the money he earned working at a computer shop in Dholaipar area.
His brothers -- Mehedi Hasan, 13, and Abdullah, 11 -- live in an orphanage at Mir Hazirbagh of Jatrabari. Rajib lives in a student's mess near the orphanage.
"After the death of his parents, the responsibility of raising his two younger brothers fell on his shoulders. Although we support them as much as we can, he tries his best to help his brothers from his earnings from the computer shop," said Jahanara, who lives with her family in Fakirapool.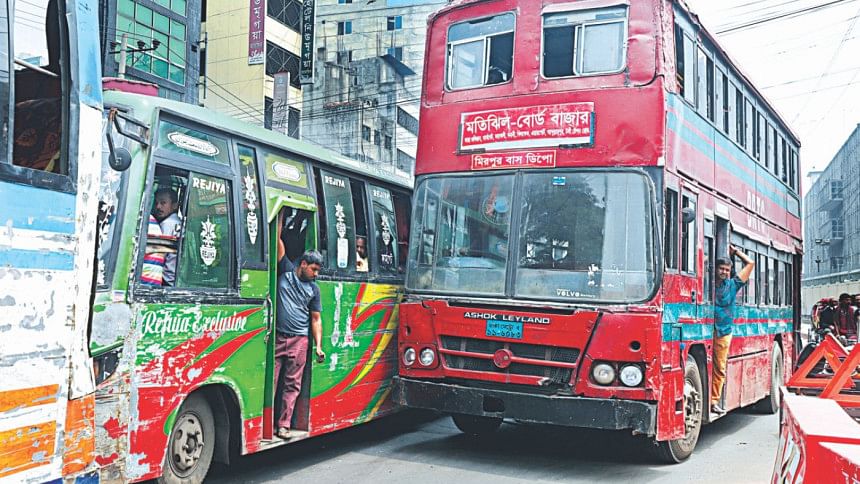 "For the last one year, he has been desperately looking for a job," she said.
Recently, Rajib got enrolled at BASIS Institute of Technology and Management at Karwan Bazar for a three-month training programme on graphic design.
On Tuesday, he was coming to attend his class at 1:30pm at the training centre when he had the accident.
"Everything is shattered now. Rajib dreams to become a lawyer. But we don't know whether he ever will be," she said, heaving a deep sigh.
Rajib's uncle Jahidul Islam, an office assistant at the education ministry, said his nephew struggled every day as he was looking after him as well as his brothers.
"But the race between the buses took away my nephew's hand and his future. Who will bear the cost of his treatment and what will be his fate?" he said.
"When would such illegal practices end and at what cost?" he asked.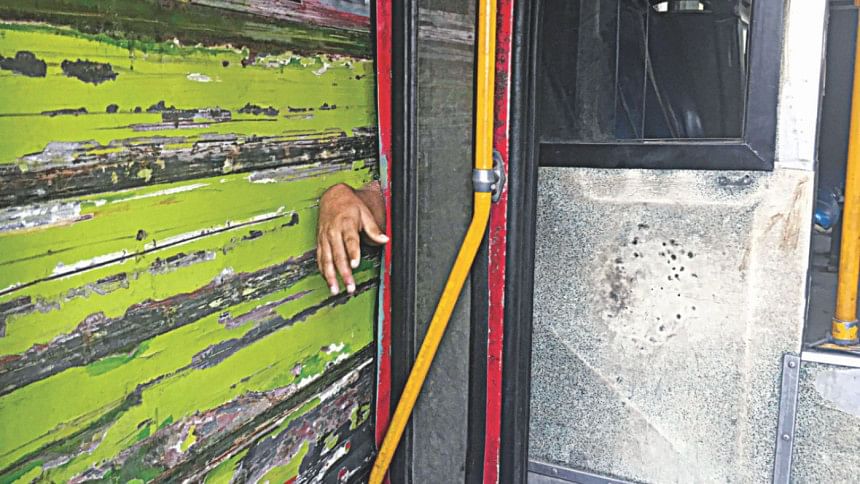 HIGH COURT ORDER
Apart from the directive on treatment cost, the HC, in the rule, also ordered the authorities concerned of the government to show causes why they should not be directed to strictly enforce the relevant laws and rules for free movement of passengers.
At the same time, the HC in the rule asked the authorities to explain why they should not be ordered to amend the laws and to formulate new rules for preventing such road accidents in future.
The HC bench of Justice Salma Masud Chowdhury and Justice AKM Zahirul Hoque came up with the order and rule following a writ petition moved by a Supreme Court lawyer Ruhul Quddus Kazal, seeking necessary order for the treatment of Rajib and ensuring free movement of people.