Protests rage on countrywide
PM visits Zafar Iqbal; IGP says the attacker self-radicalised
"The rise of militancy and fundamentalism is the outcome of religion-based politics. Forming strategic alliances with religion-based political parties for votes and reconciling with them only encourages these forces."
Rashed Khan Menon

President, Workers Party of Bangladesh 
Protests and condemnations continued to pour in yesterday over the attack on Muhammed Zafar Iqbal, an eminent writer and a professor at Shahjalal University of Science and Technology (SUST).
People across the country held human chains and rallies, observed work stoppage and organised cultural programmes protesting the attack and demanding exemplary punishment to all those involved.
Prof Iqbal was stabbed at his university around 5:30pm on Saturday and suffered injuries in the back of his head, one in his back and another in the left hand.
Prime Minister Sheikh Hasina yesterday paid him a visit at Combined Military Hospital (CMH) in Dhaka around 12:45pm yesterday.
She stayed there for 15 to 20 minutes, Maj Gen Munshi Md Mojibur Rahman, chief cardiac surgeon and consultant surgeon general of Bangladesh Armed Forces, told The Daily Star.
"Prime Minister Sheikh Hasina talked to Prof Iqbal and also inquired about his health.
"His condition is improving and he is doing well. He is getting proper sleep and taking meal."
Meanwhile, Inspector General of Police Mohammad Javed Patwary said Foyzur Rahman, who was caught red-handed after knifing the SUST professor, was "self-radicalised".
"We have so far come to know that the attacker was self-radicalised," he said while addressing an anti-drug and terrorism programme as the chief guest at Jagannath University yesterday.
"We have had little chance to interrogate the suspect. But we have begun investigation. We will brief you when we have more. We have also detained his family members," he said and vowed all the perpetrators to bring to justice. 
A case filed with Jalalabad Police Station is now being investigated by the Counter Terrorism and Transnational Crime (CTTC) unit of DMP.
Foyzur, now under treatment at Sylhet MAG Osmani Medical College Hospital, has not been produced before any court yet as his physical condition is not well, said Munadir Islam Chowdhury, assistant commissioner of SMP.
Three other detainees, including an uncle of Foyzur, are in Rab custody as the elite force is trying to get more information about the attacker, ASP Main Uddin Chowdhury of Rab-9 said.
FOYZUR FOLLOWS 'SALAFISM'
Some locals in Foyzur's home village at Koliar Kapon of Dirai upazila in Sunamganj told this newspaper that the youth was a follower of Salafism, an ultra-conservative reform branch within Sunni Islam.
Though Foyzur lived at Sheikhpara of Kumargaon in Sylhet Sadar upazila with his father and two brothers, he used to visit the home village regularly, they added.
His one brother and two uncles lived in Kuwait and another brother in Dhaka, local sources said.
Foyzur's family was "Ahle Sunnah" followers like other villagers but he turned to Salafism as his uncles and brothers are Salafist, said Abdus Shish, union parishad member of Jagadal in Dirai.
ABM Delwar, inspector (investigation) of Dirai Police Station, said Foyzur used to live in Sylhet and we got to know that he sold clothes from door to door when he went to his village home.
PROTEST CONTINUES
Teachers of SUST staged a two-hour sit-in and work stoppage from 11:00am to 1:00pm yesterday in protest at the brutal attack.
Gonojagoron Mancha in Sylhet arranged a cultural programme where Udichi Sylhet Sangshad, Nagarnat, Shikorh and Mrittikay Mahakal performed.
Students of Murari Chand College formed a human chain on its campus.
In Dhaka, Sammilito Samajik Andolan, a civil society platform, organised a rally in front of the National Museum.
Speaking at the rally, eminent media personality Ramendu Majumdar said, "We didn't get justice for the blogger killings. That's why the person like Prof Iqbal was attacked."
He demanded punishment to those involved in the killings of bloggers and also to those who supported the attack on Prof Iqbal on social media.
Dhaka University Teachers' Association formed a human chain at the foot of Aparajeyo Bangla on the campus, protesting the attack.
Attending the programme, DU Vice-Chancellor Prof Akhtaruzzaman said the zealots have become active again to spoil the continuation of democratic process in the country.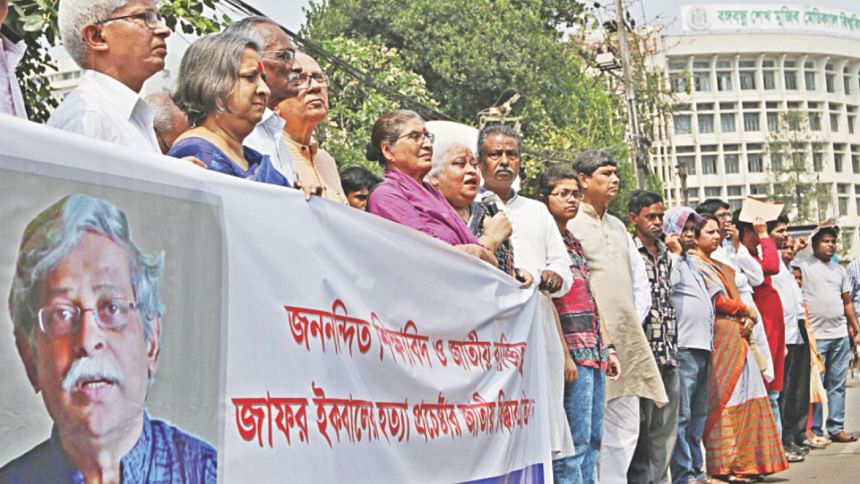 Workers Party of Bangladesh President Rashed Khan Menon said the attack on Zafar Iqbal proved how desperate the militants are.
"The rise of militancy and fundamentalism is the outcome of religion-based politics. Forming strategic alliances with religion-based political parties for votes and reconciling with them only encourages these forces," he also said while sharing views with Ekattorer Muktijoddha at the party office.
Under the banner of "Progressive Teachers Society", a section of Rajshahi University pro-Awami League teachers yesterday formed a human chain in front of the university's Senate Bhaban around 11:00am.
RU Vice Chancellor Prof M Abdus Sobhan said attacking Prof Zafar Iqbal means attacking the spirit of Liberation War.
Rajshahi University Teachers Association also formed a human chain on the same place over the same issue.
Chittagong University Teachers Association observed an hour-long work stoppage from 10:00am to 11:00am while some campus-based journalists formed a human chain.
Over a hundred students of Jahangirnagar University organised a concert and rally on the Shaheed Minar premises.
Similar programmes were also held in Patuakhali and Pabna.