Protest goes on in Kakrail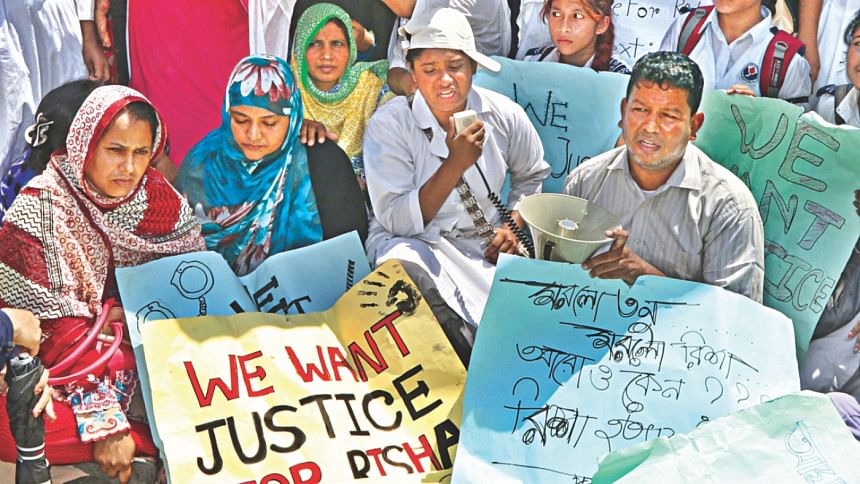 Guardians along with several hundred students of Willes Little Flower School yesterday barricaded the Kakrail intersection in the capital for two and a half hours, demanding arrest of the killer of fellow student Suraiya Akter Risha.
A week has gone by since stalker Obaidul stabbed Risha leading to her death, but police are yet to arrest him. Law enforcers, however, picked up his sister Khateza Begum and her husband Khadimul Islam in connection with the incident from Birganj of Dinajpur.
The August 24 attack reflected a culture of impunity, which the country is yet to come out of, said National Human Rights Commission Chairman Kazi Reazul Hoque.
Daughter of cable operator Ramzan Hossain and housewife Tania Hossain, Risha had been harassed by Obaidul for months by phone and stalked on her way home from school.
The day before Obaidul stabbed Risha on the Kakrail footbridge near the school, he waylaid her after she left school and tried to talk to her.
"I have lost my daughter. But the killer should be caught and punished so that no one else dares to commit such crime," Ramzan, who joined in the second-day demonstration, told The Daily Star.
Because of the demonstration that began around 12:00noon, vehicular movement came to a halt in the area resulting in long tailbacks, police and locals said.
Witnesses said the students continued their demonstration seeking justice for eighth grader Risha until 2:30pm and then left the place, vowing that they would demonstrate until the perpetrator was brought to book.
Meanwhile, visiting the Victim Support Centre in Tejgaon, NHRC Chairman Reazul told reporters that had the police been vigilant and active as they should Obaidul might not have dared to attack Risha in broad daylight.
Our Dinajpur correspondent reports that a team of Ramna police detained Obaidul's sister Khateza, 37, and her husband Khadimul, 45, in their village home at Miratongi under Birganj upazila yesterday morning.
During interrogation, the couple informed police that Obaidul came home last Thursday and left on Monday noon.
Abu Akkas Ahmed, officer-in-charge of Birganj Police Station, confirmed the detention of the couple.
Jahangir Alam, a neighbour, said he saw Obaidul on Monday noon at Laterhat in the upazila.
Shiblee Noman, assistant commissioner (Ramna zone) of Dhaka Metropolitan Police, said police were trying their best to arrest the killer.