Journalist Probir appeals for security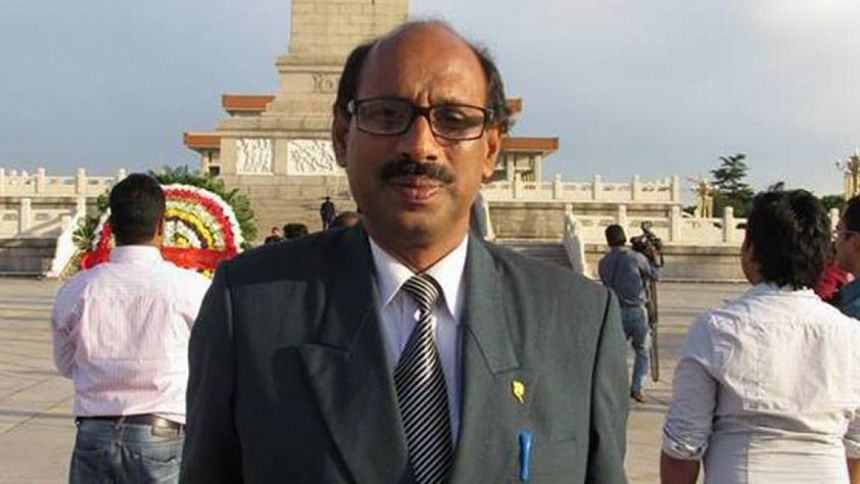 Journalist Probir Sikdar has appealed to Prime Minister Sheikh Hasina to ensure that he does not become a victim of forced disappearance or face harassment through false cases.
"Honourable prime minister and Bangabandhu's daughter Sheikh Hasina, please save me immediately," he said in a Facebook post on Thursday.
"Please ensure that no one harasses me through false cases or no one posing as detective picks me up for so-called interrogation and makes me a victim of forced disappearance."
He said the cause of his apprehension was that his only lawyer in Faridpur had been failing to collect a copy of the charge sheet in a case against him for the last three days.
"Who else is there other than you with whom I can share my pain?"
Probir also said he was not worried at all about the case filed in Faridpur under the Section 57 of the Information and Communication Technology (ICT) Act and the charge sheet in the case.
He expressed his hope that he would survive "if the judiciary functions independently".
Recently, a Faridpur court accepted a charge sheet in the case filed last year over one of Probir's Facebook posts.
Sub-inspector Monir Hossain of Faridpur Kotwali Police Station, also the investigation officer of the case, submitted the charge sheet to a cognisance court in the district, said Subir Roy, an inspector of the court.
Additional Judge Masud Ali also ordered transferring the case to the Cyber Tribunal in Dhaka and set May 25 for a hearing.
Probir, 55, editor of Bangla daily Bangla 71 and online news portal u71news.com, was arrested on August 16 last year at his office in the capital after a Faridpur Awami League leader, Swapan Kumar Paul, filed the case over the Facebook post of Probir.
In that post, the journalist said his life was under threat and that now Local Government and Rural Development Minister Khandker Mosharraf Hossain, businessman Moosa Bin Shamser and condemned fugitive war criminal Abul Kalam Azad would be responsible if he was killed.
The AL leader sued Probir for "tarnishing the image" of the minister.
Police produced Probir before the court on August 17 and took him on a three-day remand. However, he was freed on bail two days later.