Karwan Bazar fire: Probe report in 2 weeks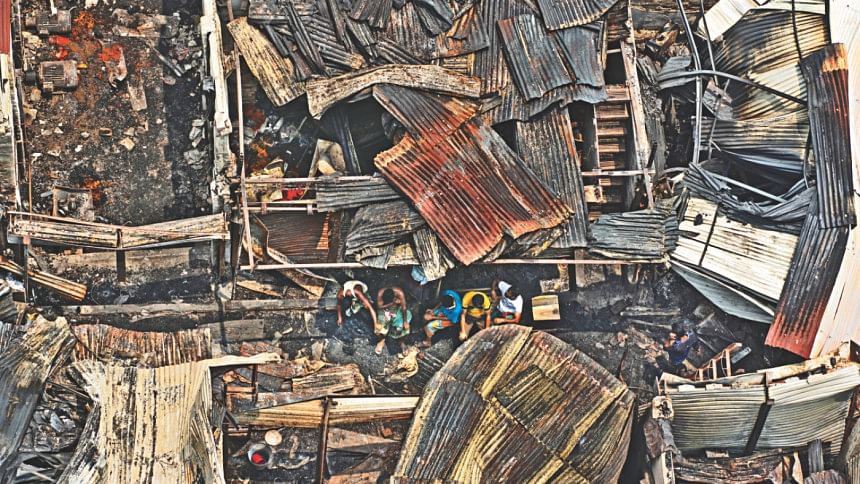 The fire service yesterday started a probe into the Karwan Bazar fire that gutted 186 shops on May Day.
Jahurul Amin, deputy director (operations) of Bangladesh Fire Service and Civil Defence, leads the five-member committee, said Brig Gen Ali Ahmed Khan, director general of the fire service.
Jahurul said they would submit a report on the cause of the fire and extent of the damage in two weeks.
The Dhaka North City Corporation had been trying to move the market elsewhere and a section of the shopkeepers suspect that it was a case of arson.
DNCC Mayor Annisul Huq also visited the spot yesterday evening and said there was no link between the city corporation's attempt to move the market and the fire.
The fire broke out in Uttar Karwan Bazar Babosayee Janakalyan Samity (Hasina) Market, which mainly sells fruits, spices and groceries, near Janata Tower around 8:00pm.
Most of the shops in the market were closed for May Day.
Locals told The Daily Star that the fire began right after a nor'wester and that they tried to douse it.
The fire engines reaching the spot ran out of water after some time, they said.
A total 26 fire engines eventually tamed the fire after two hours of effort.
Mohammad Ali Babu, owner of Star Mahbub Bedding Store said he had a tin-roofed shop in the market. His shop was on the ground floor and his storage on the first floor.
He said he lost almost everything that night and that his five employees have no jobs now.
Babosayee Samity Organising Secretary Monzur Hossain told The Daily Star that the loss in the fire incident would be about Tk 50 crore.
Monzur said almost all shops except four or five were gutted.
He said the traders were planning to build a multi-storied market on the 2.5 bigha land, which is owned by all the traders, and an agreement had already been signed with a developer for this.
Yesterday, some traders began repairing their damaged shops to start their business afresh but many who had lost everything were seen with a gloomy face in the area.