Pineapples in March
Rangamati farmers benefit from early harvest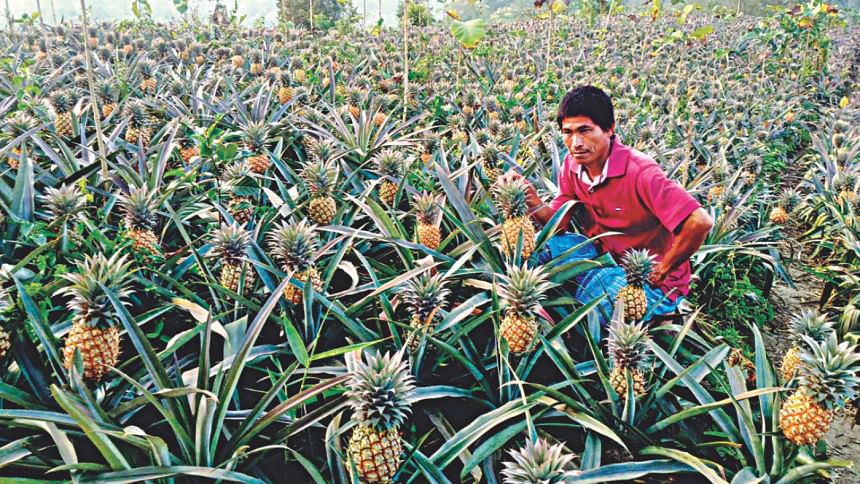 Usually associated with the monsoon months, the sweet taste of pineapple has arrived early in Rangamati. The district's pineapple farmers are currently busy harvesting, enjoying the additional income benefits of selling the fruit out of season.
"A pair of large-sized pineapples sells for as much as Tk 50," says grower Banarupa Samataghat, at the weekly college gate fruit market in the town.
"From my two-acre pineapple plot I have already earned Tk 80,000 this year," says Sattyajit Bikash Chakma, 35, from Bogachhari in Naniarchar upazila. "Last week I sold them for about Tk 40 per pair."
Another farmer Sudip Chakma, 42, also from Naniarchar, is likewise pleased with this year's harvest. "Last year I grew 10,000 pineapples on two acres," he says. "This year's production will exceed that."
Rajes Kumar Chakma, from the Rajbari area, meanwhile, is one satisfied customer. "I bought pineapples the other day and they're really tasty."
The Department of Agricultural Extension reports that around 1,797 hectares has been planted with pineapples in the district this year. The total harvest should top 50,000 tonnes.
As could be anticipated, fruit traders from the lucrative Dhaka and Chittagong markets are lining up for a piece of the action. "I go to as many weekly fruit markets in the Hill Districts as I can," says one Chittagong trader, Muhammad Kamal Hossain.
"There is always solid demand for Hill Tracts fruit in Dhaka and Chittagong," says another trader, Md Arsad Ali. "Fruit from this region is renowned for its taste."
"Pineapple growers in this area apply hormones to achieve early ripening and better production," says Paban Kumar Chakma, deputy director of Rangamati's Department of Agricultural Extension. "But it's not harmful to human health."