Now erosion takes toll on flood victims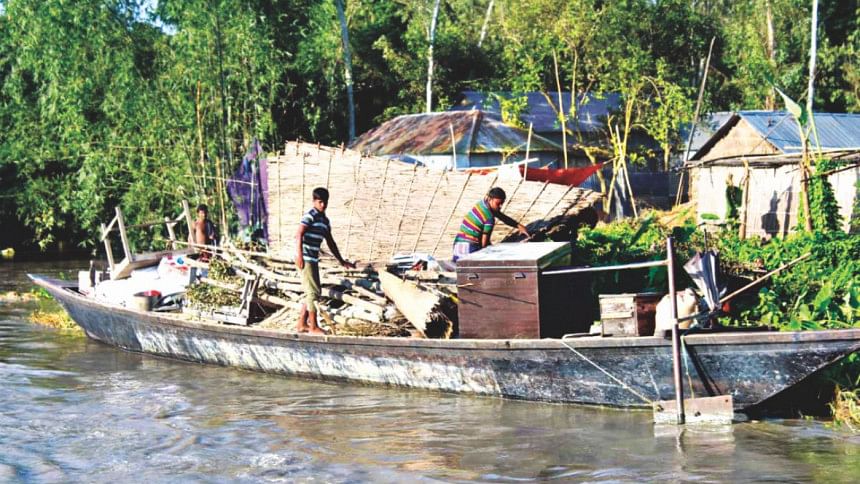 Flood situation is improving as water is receding, but river erosion has taken a serious turn in different parts of the country that devoured several households and farmland.
The erosion is turning worst especially in Tangail and Faridpur because of strong current in the Jamuna and Padma rivers.
Many people in the affected areas have been passing sleepless nights in fear of erosion, while many have already shifted their houses, report our district correspondents.
Besides, the people who have already lost their houses have taken shelter on different roads and flood control embankments or at their relatives' houses.
In Tangail, around 200 houses, several education and religious institutions, shops and vast tracts of cropland were devoured by the Jamuna in last one week.
During a visit to Char Poulee in Tangail Sadar upazila, it was found that several families were shifting elsewhere.
Flood victim Aklima Begum said, "My house was devoured by the river last year. I took shelter at a neighbour's house. But now this house is under threat."
Hazrat Ali, a grocer, said a large part of their union might be eroded if measures are not taken immediately.
Executive Engineer of Water Development Board Shajahan Siraj said they have already informed the matter to the higher authorities for necessary action.
In Faridpur, the Padma and Arial Kha rivers were receding gradually, but sufferings of people in char areas were increasing due to waterlogging and erosion.
Lal Mia Sarkarer Kandi and Omad Ali Dewaner Kandi areas are under serious threat of erosion due to strong current of the rivers.
As of yesterday, around 30 acres of farmland was devoured by the rivers, affecting around 585 families.
In Jamalpur, the flood situation has improved remarkably as the Jamuna was flowing 2cm below the danger level at Bahadurabad Ghat point.
Around 45,000 families and 226 houses in seven upazilas of the district were affected by the flood.
Disaster Management and Relief Minister Mofazzal Hossain Chowdhury Maya visited different affected areas in Lalmonirhat and distributed relief materials among the flood victims.