Transport workers attack BU students in private dorms
25 hurt; students block highway, torch bus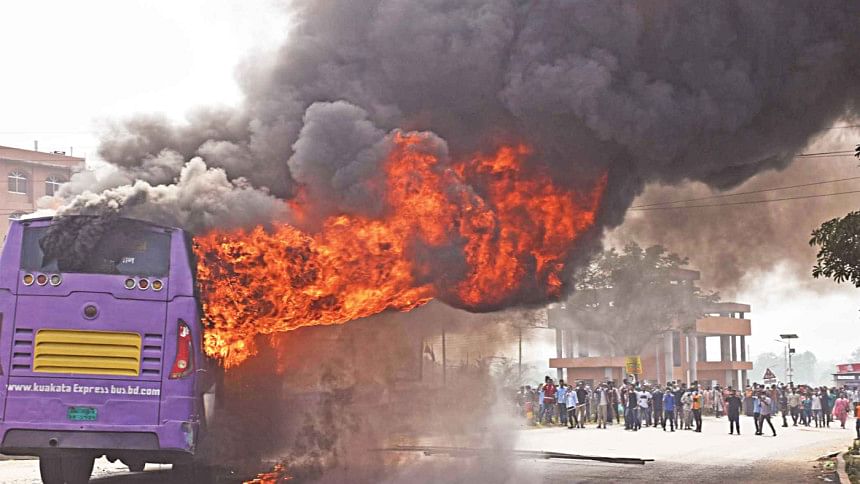 Several private dorms for Barishal University students in the city's Rupatli area were attacked early yesterday, leaving at least 25 students injured.
BU students said the attack was carried out by a group of transport workers in the district.
It happened after university students vandalised a BRTC bus counter and blocked the Barishal-Kuakata regional highway for two hours till 5:00pm Tuesday, protesting the stabbing of a fellow student, they said.
University sources said BU student Sajol and a female student went to the counter to go to Khulna on Tuesday afternoon. At that time, they got into an altercation with a transport worker named Rafiq. At one point, Rafiq allegedly stabbed Sajol.
After the attack on students' accommodations, agitated students demonstrated throughout the day yesterday, demanding arrest of the attackers.
They set fire to a bus and again blocked Barisal-Kuakata highway for around 12 hours till 6:00pm.
A tripartite meeting involving students, BU authorities and the police was held in the afternoon.
Following the assurance from the police that they would take steps against the culprits and ensure security of students, the demonstrators withdrew the blockade.
Meanwhile, the BU authorities suspended all exams till today.
After the attack, at least 13 injured students were admitted to Barisal Sher-e-Bangla Medical College Hospital, while the rest took first aid.
The injured students alleged that transport workers along with others attacked them with sticks, rods, and sharp weapons.
Of the wounded, Alim Salehi, Emon and Noor have head injuries and they had their CT scans done, said students.
Police arrested Rafiq after injured Sajol filed a case against him with Bandar Police Station.
Mahamudl Hasan Tamal, student representative of the university, said the transport workers attacked students' accommodations in the city's Rupatli area. The windows and gates of many houses were vandalised.
Another student Hasibul Hasan said their protest would continue until the attackers were arrested.
About the allegations of students, Kawsar Hossain Shipon, general secretary of Patuakhali Minibus Owners' Association, said outsiders were involved in the attack. No transport worker was involved there, he claimed.
BU VC Prof Sadequl Arefin said he contacted Barishal Metropolitan Police Commissioner Shahabuddin Khan and told him to take necessary steps to solve the problem.
The university will bear all medical costs of the injured students, the VC said.
Muktar Hossain, deputy commissioner of Barishal Metropolitan Police, said they were doing their best to handle the situation.