Tk 86,687cr projects get Ecnec nod
2nd biggest allocation at single meeting comes only days before the unveiling of polls schedule
The government yesterday approved 39 development projects involving Tk 86,687 crore in an apparent move to woo voters ahead of the next general election.
The Executive Committee of the National Economic Council (Ecnec) approved the projects in a special meeting four days before the Election Commission announces the polls schedule on November 8.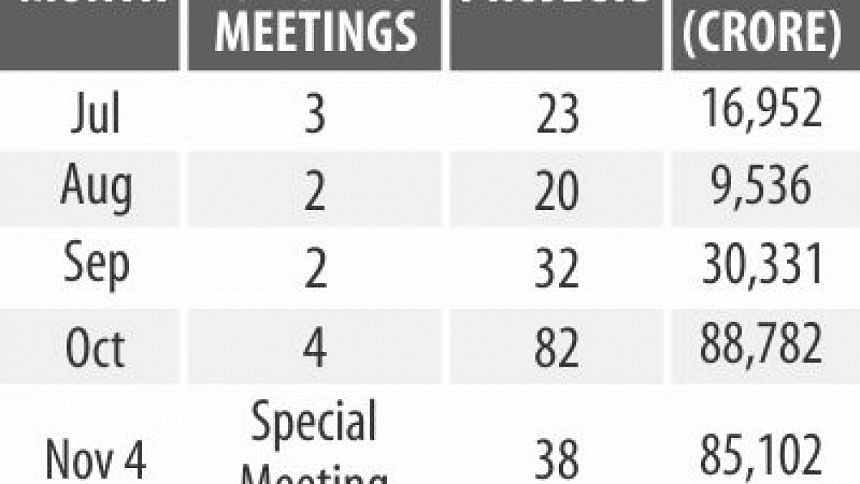 This was the second biggest allocation of money for development projects in a single Ecnec meeting during the tenure of the present government.
In December 2016, Ecnec gave the nod to the Rooppur Nuclear Power Plant scheme, which is the country's biggest ever project in terms of financial involvement, requiring an estimated Tk 1,13,092.91 crore.
Yesterday, the committee, with Prime Minister Sheikh Hasina in the chair, approved the 39 projects which included seven projects for law enforcers and government employees.
Thirty-one of the projects approved are new while the rest are revised ones.
Of the total cost, Tk 66,466 crore will come from the government fund, Tk 313 crore from the agency's fund and Tk 19,907 crore from foreign aid.
Contacted, former cabinet secretary Ali Imam Majumdar expressed doubts about the projects' implementation, as he thought it was "not possible to do due diligence for the many projects passed in the last few meetings".
"I have serious doubts about whether all aspects -- economic, environmental and others -- of a project are examined properly," said Imam, also a former member of the planning commission.
He said there was a chance that money would be wasted due to possible future project revisions because of the speed of the approvals.
Imam, also a trustee of Transparency International Bangladesh, further termed the high number of projects "not fair" as it might influence voters. 
Planning Minister AHM Mustafa Kamal, however, said they maintained all standards to approve the projects.
"We have placed the projects [at the meeting] after conducting 100 percent of the study required for them," Kamal told journalists after the meeting.
He said they had placed 40 projects at the meeting but one was not approved after scrutiny.
Replying to another question, he said, "There is a link between the election and passing of the projects because I will not be here. I will go to my area for the election campaign. For this reason, I am giving more projects."
Asked whether anymore Ecnec meetings would be held before the election, he first said it would but then changed his answer and said they would not do anything against the electoral law.
Usually, once the election schedule is announced, no projects are approved.
PROJECTS FOR LAW ENFORCERS AND GOVT EMPLOYEES
There are five projects for police, costing Tk 2,342.48 crore.
They are -- construction of nine residential towers for members of Dhaka Metropolitan Police; setting up a police centre for combating terrorism and other international crimes; constructing residential buildings for top police officials; purchasing vehicles and other equipments to enhance police capacity and a project for enhancing highway police capacity.
Ecnec also green-lighted the Tk 340.57 crore project for enhancing technical capacity of Rab.
A Tk 1,921.81 crore project was approved for constructing high-rise buildings at Azimpur in the capital for government employees.
Furthermore, another project, costing Tk 165.20 crore, for expanding the diving unit of fire service and civil defence was also given the nod.
PROJECT FOR SOCIAL MEDIA MONITORING
Ecenc also passed a Tk 125.39 crore project for monitoring social media.
Rab will execute the project between November 2018 and April next year and it will be fully funded by the government.
RURAL INFRASTRUCTURE PROJECTS
The government approved a Tk 3,347.24 crore project for making earthen roads in different villages more durable. Under the project, the government will also construct 13,000 bridges and culverts on village roads in 492 upazilas in the next three and a half years.
It approved two other projects costing Tk 6,578.20 crore and Tk 3,516 crore to construct 15-meter long bridges and culverts in the same upazilas and for repairing village roads respectively.
It also passed a Tk 949.65 crore project for Kushtia, a Tk 797.48 crore one for greater Dhaka, a Tk 1,106 crore one for Faridpur, Tk 1,123 crore one for Gopalganj, a Tk 749.10 crore one for the three hilly districts and a Tk 195.15 crore project for Kurigram and Jamalpur districts.
COMMUNICATION INFRASTRUCTURE PROJECTS
Ecnec approved a Tk 14,250.61 crore project for constructing dual-gauge double-track rail track from Joydebpur to Iswardhi. Of the total cost, China will provide Tk 8,756.76 crore while the government will provide the rest.
The committee also approved a Tk 10,329.66 crore project (revised) for digging a 100-meter canal from Kuril to Boalia in Dhaka and its outskirt. The original cost of the project was Tk 5,145.28 crore.
A Tk 3982.10 crore project was passed for constructing the first terminal at Paira Sea Port while a Tk 4,111.86 crore project for upgrading Dhaka-Khulna highway to a four lane road was also approved.
Furthermore, a Tk 9880.40 crore project (revised) for construction of tunnel under Karnaphuli River in Chittagong was green lighted. The original cost of the project was Tk 8,446.64. Of the total cost, Exim Bank of China will provide 5,913.19 crore.
A Tk 4,268.32 core project (second revision) was approved under the Greater Dhaka Sustainable Urban Transport Project to build Bus Rapid Transit from Airport to Gazipur. The original cost of the project was 2,039.85 crore. Of the total cost, Tk 2,842.51 will come from foreign aid, including from the Asian Development Bank.
Besides, a Tk 3,709.61 crore project was approved for the expanding runway of Cox's Bazar Airport.
URBAN INFRASTRUCTURE PROJECTS
The urban infrastructure development projects include: Tk 228.79 crore for development of infrastructure of Tangail municipality, Tk 210.61 crore for Tepakhola Lake development in Faridpur town, Tk 145 crore for five municipalities in Cumilla, and Tk 1,378.55 crore for setting up the Bogura-Rangpur-Syedpur gas transmission pipeline.
Besides, there are several projects for hospitals, universities and some government establishments.