Three killed in 'gunfights'
Leader of a criminal gang among the dead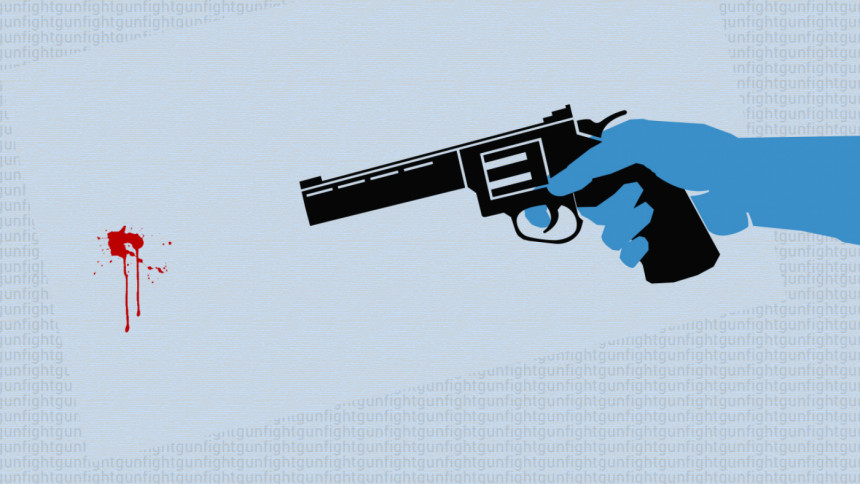 Three people, including an alleged leader of a criminal gang, were killed in separate "gunfights" with the law enforcers in Dhaka and two other districts yesterday.
Tanvir Ahmed Anik, 36, so-called ringleader of criminal gang "Seven-Star Group", was killed in a "gunfight" with Rab in the capital's Mohammadpur early yesterday, said Major Mohammad Alif of Rab-2.
Tipped off that Tanvir and his associates would gather somewhere in Basila, a team of Rab conducted a drive to arrest them.
Sensing presence of the law enforcers, the miscreants opened fire on them, forcing them to fire back that triggered a "shootout", Alif added.
Later, Rab members recovered Tanvir and rushed him to Shaheed Suhrawardy Medical College Hospital where doctors declared him dead, said the Rab official.
They also recovered a firearm and five bullets from the spot.
Two Rab members -- Habildar Abdur Rahman and Constable Md Enamul -- were also injured in the incident, said the Rab official.
The official claimed that Tanvir was accused in eight to 10 cases filed on different charges, including murder and abduction.
Two cases were filed with Mohammadpur Police Station in connection with the incident.
Meanwhile in Cumilla, Md Tofayel, 23, an alleged drug peddler, was killed in a "gunfight" with police in Cumilla's Sadar upazila early yesterday.
Abdullah Al Mamun, officer-in-charge of Cumilla Sadar South Model Police Station, said based on information, a team of police conducted an anti-drug drive in Rajapara Chowmohoni area around 2:15am, reports our Cumilla correspondent.
Sensing police presence, the drug peddlers opened fired on them, the OC said, adding that the "gunfight" ensued when police fired back in retaliation.
Later, police recovered Tofayel with bullet injuries and took him to Cumilla Medical College Hospital where doctors pronounced him dead.
Tofayel was wanted in at least six cases. Police seized a firearm, a cartridge, a knife, and 400 pieces of yaba pills from the spot.
In Narayanganj, Lipu alias Boma Lipu, 30, an alleged drug trader, was killed in a "shootout" with the Detective Branch (DB) of police.
Police said he was wanted in 16 cases.
DB police arrested Lipu on Wednesday evening and went on a drive to recover firearms in the city's Dapa Balur Math area. When they reached the scene around 3:00am, Lipu's associates opened fire on police forcing them to retaliate, said Kamrul Hasan, sub-inspector of DB police. 
Lipu came in line of the fire during the "gunfight" and was taken to Narayanganj General Hospital where doctors declared him dead, said the SI.
"We are conducting drive to arrest the associates of Lipu," added SI Kamrul.