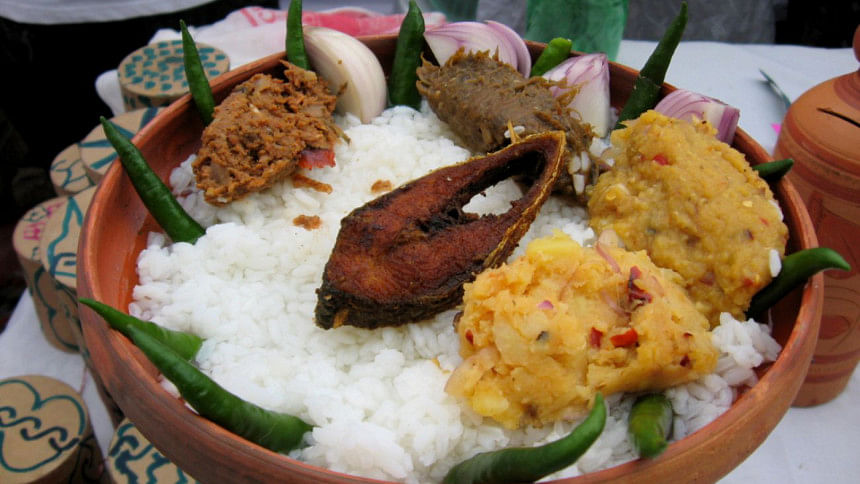 Pahela Baishakh celebrations seem incomplete without plates of Panta Bhaat, served with Bhorta or fish. For decades, Bangalees, on their New Year, have been treating themselves to the traditional delicacies. 
Many find in the practice an air of nostalgia, taking them back to a time when there was no electricity or refrigeration in rural Bangalee households. A typical family of peasants would save leftover rice from dinner by soaking it in water to have it as breakfast the next morning.
But along with traditional values, Panta Bhaat also has its nutritional benefits.
Recently, a study by the nutrition department of Bangladesh Agriculture Research Council (Barc) said Panta Bhaat has more nutrients than cooked rice and thus should be consumed throughout the year.
The study analysed usual and fermented rice of five varieties -- BRRI-28, Pari, Miniket, Aman and Balam -- and found the presence of micronutrients to be higher in soaked rice than in cooked rice.
It said the amount of calcium, iron, potassium and sodium increased many folds when rice is soaked in water for a prolonged period. 
For example, if Miniket rice is fermented for eight to 12 hours, calcium sees a 351.94 percent increase while iron increases by 11.66 percent and sodium by 47.53 percent, it said.
The study also said Panta Bhaat is high in nutritional value and helps strengthen body immunity and remove anaemia and iron deficiency.
"When normal rice is soaked for 8-12 hours in water, Phytic acid reacts with water and creates lactic acid which increases the nutrient quality of rice," states the report.
Talking to The Daily Star, Dr Monirul Islam, director (nutrition) at the Barc, said, "Fermented food is full of useful bacteria. According to scientists, there are around 10 trillion good bacteria in half a cup of fermented food."
In Bangladesh, people suffer from calcium and iron deficiencies, he said, adding that consumption of proper amounts of soaked rice can help solve the problem.
Monirul also said soaked rice helps boost the human body's immune system. "Girls in their adolescence face iron deficits. Fermented rice can minimise the problem."
Having Panta Bhaat on a regular basis could be useful as, according to the National Institute of Population Research and Training (NIPORT) 2016, about 5.5 million children under 5 (36 percent of the total number of country's children) suffer from chronic malnutrition (stunting or low height-for-age) and 14 percent are acutely malnourished.
Nutritionists said soaked rice keeps the body light and energetic as it is easily digestible. The body also feels less tired.
Prof Md Akhtaruzzaman of Dhaka University's Institute of Nutrition and Food Science, said the nutritional value increases in soaked rice as many vitamins and micronutrients are likely to be added.
"In normal rice, iron, potassium, calcium and sodium is less absorbable to the human body. But in fermented rice, it is easily absorbable and the amount also increases," he said.