Tasty fruit, hefty profit
Rangamati orange grower inspires many in his village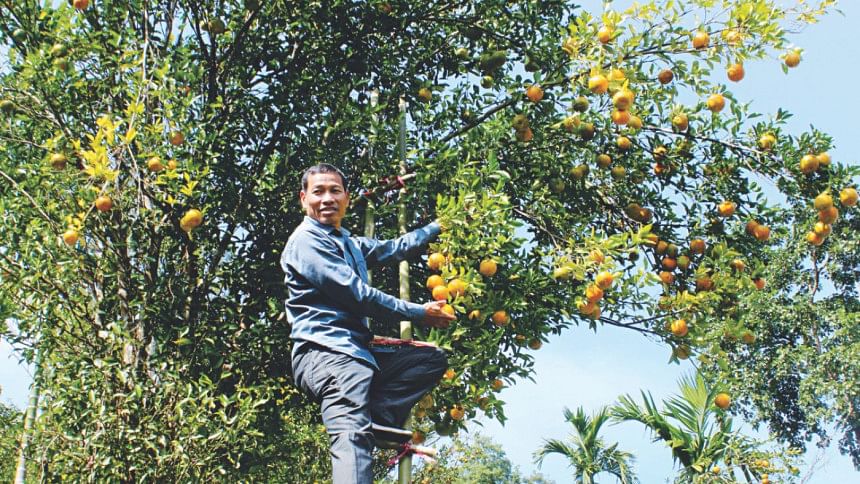 Madhusudan Talukder started planting orange saplings on two acres of land in Rangamati's Naniarchar upazila in 2007. By 2014, half of his 700 trees yielded fruits ready for sale.
Despite losing 200 trees, Madhusudan is now the proud owner of an orange orchard and an inspiration to many in Daane Sabekkhong Namakarbari village.
The 45-year-old owns 500 trees and enjoys plenty of profit.
During a recent visit, this correspondent found trees full of ripe oranges at Madhusudan's orchard. The oranges are large in size, taste sweet and weigh 300-400 gram each, drawing plenty of customers. One pair is sold at Tk 50 in the local market.
"Last year I sold oranges worth more than Tk 600,000. This year I have already earned Tk 500,000, and looking forward to earning around Tk 300,000 more by the end of December," Madhusudan told this correspondent.
Starting the work with only Tk 50,000, Madhusudan earned Tk 20-25 lakh over the last six years.
Many others who followed suit in the village are enjoying profits now. Kirti Moy Chakma, 32, Shanti Ranjan Chakma, 38, and Moharaj Chakma, 42 are some of them.
Kirti Moy Chakma said, "I was inspired by Madhusudan. I sold some oranges from my orchard this year."
Moharaj Chakma last year planted 1,500 trees on five acres of land. He hopes to see profit pouring in within a few years.
Oranges produced in Naniarchar are sweeter and popular among customers, Priti Moy Chakma, a trader who buys oranges from the upazila every year, told this correspondent.
Officials at Rangamati Department of Agricultural Extension (DAE) said oranges produced at Sajek in Baghaichhari upazila were once famous not only in the Chattogram Hill Tracts but all across the country.
Naniarchar upazila has recently gained name for orange production, they said.
This year, 8,000 tonnes of oranges were produced on 745 hectares of land in the hilly district, according to the DAE.
Paban Kumar Chakma, deputy director at Rangamati DAE, noted that weather condition had been suitable for production this year.