Sudan's Debt Relief: Bangladesh donates $7.7m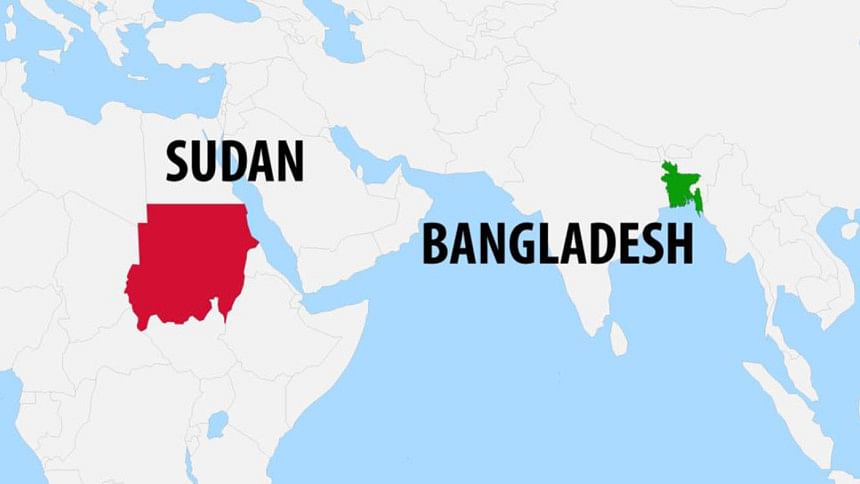 Bangladesh on Tuesday provided about $7.7 million to Sudan, which is rebuilding its $30 billion battered economy from years of corruption and sanctions.
In December last year, the US, after almost three decades, removed the African nation from the state sponsor of terrorism list, a move that is helping the African nation access much-needed debt relief, multilateral lending and western investment.
Soon after, Sudan opened talks with the International Monetary Fund and the World Bank to write off $60 billion in debts.
The help from Bangladesh came as part of the IMF's debt relief plan for Sudan, where a rise in food and fuel prices in 2019 sparked off street protests that went on to topple the three-decade-long dictatorship of Omar Al-Bashir.
The US put Sudan on the list in 1993 when Bashir's regime was hosting Osama bin Laden in Khartoum.
The Bangladesh government donated Tk 65 crore, equivalent to an SDR (Special Drawing Rights) of 5.3 million, to Sudan, according to a finance ministry press release.
SDR refers to an international type of monetary reserve currency created by the IMF in 1969 as a supplement to the existing money reserves of the member countries.
Last year, following a similar IMF initiative, Bangladesh provided Tk 8.2 crore, which is equivalent to an SDR of 0.7 million, to Somalia.
Bangladesh's helping hand to Sudan comes hot on the heels of its $250 million currency swap agreement with Sri Lanka to replenish the island nation's fast-depleting foreign reserve and ease pressure on its exchange rate.
"Before, we took on loans. Now, we have the capacity to lend," Finance Minister AHM Mustafa Kamal told reporters following a meeting of the cabinet committee on purchase yesterday.
The purpose of providing the loan to Sri Lanka was to build a relationship with the country and also get a good return, he said.
The Central Bank of Sri Lanka is expected to return the amount to Bangladesh in three months at the interest rate of LIBOR + 2 percent. If the tenure goes up to six months, the interest rate would be LIBOR + 2.5 percent.
LIBOR, the acronym for London Interbank Offer Rate, is the global reference rate for unsecured short-term borrowing in the interbank market and acts as a benchmark for short-term interest rates.
This week, the three-month LIBOR is 0.13 percent and 0.15 percent.
At present, all of Bangladesh Bank's investments pay less than 1 percent of interest.