(Watch) Students serving free sehri, iftar
1,000 hungry people get food on DU campus every day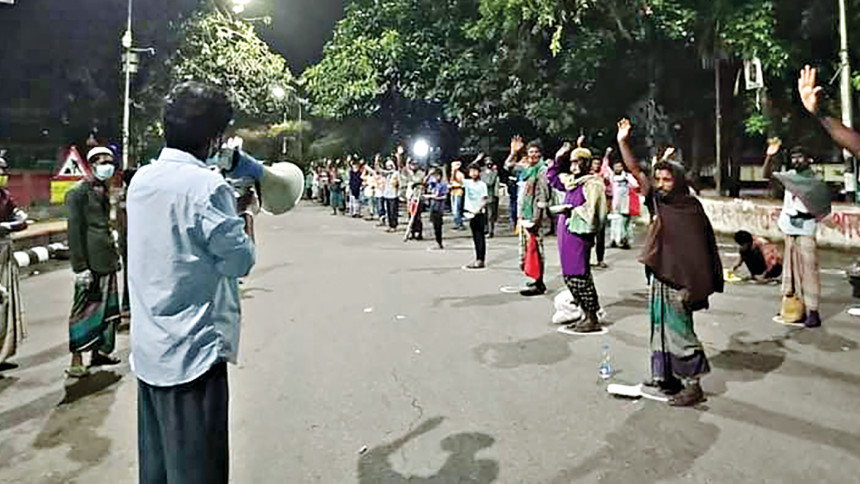 Hungry people, some with children, begin to gather near Raju sculpture on Dhaka University campus after midnight, and by 3:00am, there are almost 400 of them sitting down expectantly on the street.
Soon, DU student Tanbir Hasan Shaikat and four of his friends start handing out food packets among them.
"On the first day of the shutdown, I arranged some food for about 50 homeless people on campus. Then several professors, politicians, DU alumni members and my friends started chipping in and now we are feeding sehri and iftar to nearly 1,000 people each day," Shaikat, also a member of Dhaka University Central Students Union (Ducsu), told The Daily Star last week.
Initiatives like this by individuals, associations, voluntary organisations, and student bodies are much needed because the nationwide shutdown that began on March 26 caused a sudden drop in many people's income and rendered thousands unable to buy food. This has resulted in demonstrations and road blockade across the country by hundreds of desperate people demanding food for over a week.
As the day breaks at DU TSC, Shaikat and his friends put out the earthen stoves that would be used again in the afternoon for iftar.
"As a DU student, we feel that it's our duty to do something for them. There are at least five students who voluntarily help us with the task every day," he said.
Arman Ali, 28, employee of a private company, said he managed to make ends meet with his salary before the crisis. But he has not been paid in seven weeks and had no choice but to eat here. 
A university student was among those who were eating there. "I come here from Shantinagar. My parents have not been able to send me any money from the village because they are also struggling," he said.
Many of them told this correspondent that they used to have the ability to donate something to such initiatives before the coronavirus pandemic.
STUDENT BODIES ASSISTING FARMERS
Leaders and activists of Bangladesh Chhatra League (BCL), Chhatra Union and many other student associations have been reaching out to help those in need.
As farmers found it difficult to harvest paddy due to shortage of labourers amid the coronavirus restrictions, BCL men have been lending a hand to farmers across the country. 
Following Awami League Chief Sheikh Hasina's instruction, BCL President Al-Nahean Khan Joy and General Secretary Lekhak Bhattacharjee recently visited Munshiganj and urged activists to work with farmers.
BCL activists are also working in paddy fields in Narsingdi and Cumilla districts, he said.
"We will continue the efforts until the restrictions are lifted," Joy said, adding that his organisation has created a fund to help out poor students through the tough times.
Members of Bangladesh Chhatra Union, student wing of Communist Party of Bangladesh, have developed a hand sanitiser and are distributing it for free among low-income people.
General Secretary Anik Roy said they have distributed thousands of bottles last month.
"We are distributing the hand sanitisers mostly among labourers in old Dhaka, Paltan, Shahbagh, Kamrangirchar, and Faridpur, Moulvibazar, Shariatpur districts," he said.
Many journalists and front line healthcare employees also take the bottles from them, he said.
Students of pharmacy, chemistry and biochemistry departments at Dhaka and Jagannath universities are preparing the sanitiser, he added.